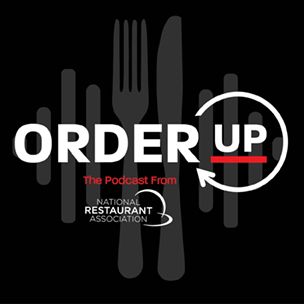 Episode 60
23:18
June 13, 2022
Celebrating Pride Month
Guest Speakers:
Isaac Rocha, Damian Hanft
This week on Order Up, Karly is joined by Damian Hanft, Vice President and Brand & Culture Ambassador for Inspire Brands, and Isaac Rocha, Director of West Zone McDonalds and Chief Inclusion Officer at Bama Companies, to discuss Pride Month and the LGBTQ+ community's essential role in the restaurant industry. Tune in to learn more about the significance of LGTBQ+ visibility in industry leadership and the policies and programs being enacted to support and protect individuals, in which everyone is encouraged to bring their authentic selves to the workplace.
(1:35) - Introducing Damian Hanft
(3:09) – Introducing Isaac Rocha
(4:38) – The impact of Pride Month
(8:30) – Celebrating diversity and inclusion at Inspire Brands
(9:41) – A people-first strategy
(10:46) – Enacting a transition policy and communication plan at Bama Companies
(14:45) – Creating structures to help a diverse workforce ascend industry ranks
(18:55) – Loren Eiseley's "The Star Thrower"
(20:22) – Educating yourself
Damian and Isaac are members of the board of directors for the Multicultural Foodservice & Hospitality Alliance (MFHA).
Click here
to learn more about MFHA.
Click here
for more information on Inspire Brands
Click here
for more information on Bama Companies.
The views expressed in this podcast are solely those of the speakers and do not necessarily represent the opinions of the National Restaurant Association (Association) and its affiliates. The Association does not warrant or guarantee the accuracy or suitability of any information offered. Listeners are encouraged to do their own research and consider the applicability and suitability of the information provided for their own individual circumstances.
If you'd like to receive new episodes as they're published, please subscribe to
Order Up
in
Apple Podcasts
,
Google Podcasts
,
Spotify
or wherever you get your podcasts. If you enjoyed this episode, please consider leaving a review in
Apple Podcasts
. It really helps others find the show.
Podcast episode production by Dante32.
Listen to the previous episodes
Episode 89

16:19

September 25, 2023

Best Practices in Food Safety and Hygiene

Guest Speakers:

For National Food Safety Education Month, Karly is joined by Dotti Haynes of Tork, an Essity Brand, to discuss providing a safe, hygienic experience for staff & guests across the restaurant industry.

Play Episode

Episode 88

31:46

September 11, 2023

From Concept to Franchise with Chef Erica Barrett

Guest Speakers:

This week, Karly speaks with Chef Erica Barrett about her new restaurant, Dough Boy Pizza, and the journey from catching the entrepreneurship bug as a child to appearing on Shark Tank.

Play Episode

Episode 87

12:36

August 28, 2023

Top 5 Policy Priorities for Remainder of 2023

Guest Speakers:

National Restaurant Association's VP of Public Policy Aaron Frazier returns to discuss recent advocacy on Capitol Hill and potential legislation and regulatory shifts impacting the industry.

Play Episode