Research
February 04, 2022
Restaurants added more than 100,000 jobs in January
The industry's workforce recovery continued in January, even as the omicron variant curtailed business operations for many restaurants.
The restaurant industry's workforce recovery continued at a moderate pace in January. Eating and drinking places* added a net 108,200 jobs in January on a seasonally-adjusted basis, according to preliminary data from the Bureau of Labor Statistics (BLS).
While January's gain was a positive sign, it wasn't enough to put a significant dent in the 1.5 million hospitality job openings on the last business day of December, as
reported by BLS
.
January represented the 13th consecutive month of eating and drinking place employment gains, which translated to nearly 1.7 million jobs being restored to payrolls. Despite the steady growth, this still left the industry nearly 1 million jobs – or 8% – below pre-pandemic staffing levels.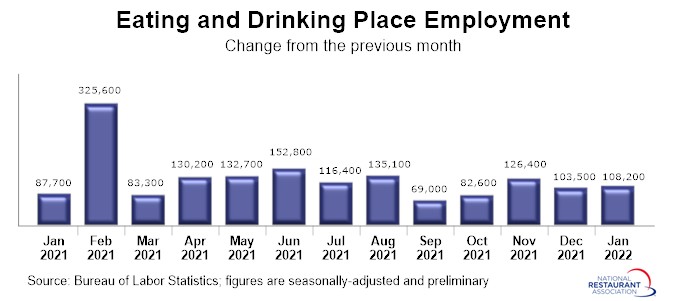 Omicron variant is negatively impacting business conditions

The omicron variant led to a rapid deterioration in business conditions for many restaurants in January. Eighty-eight percent of restaurants experienced a decline in customer demand for indoor on-premises dining in recent weeks, as a result of the increase in coronavirus cases across the U.S. due to the omicron variant. That's according to an Association survey of 4,200 restaurant operators fielded January 6-18.

This forced restaurants to take a number of actions:
51% reduced hours of operation on days that it is open
34% closed on days that it would normally be open
26% reduced seating capacity
10% changed to only offering off-premises for a period of time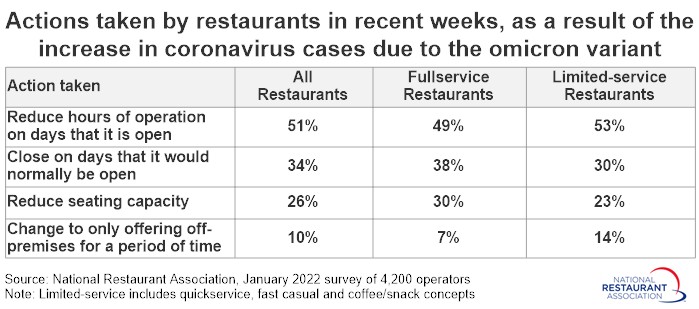 In the same survey, 76% of operators said business conditions for their restaurant were worse in January than they were 3 months earlier. Only 3% said business conditions improved during the last 3 months.
The latest data confirm that the industry's recovery remains incomplete, and restaurants across the country continue to face a challenging business environment.
*Eating and drinking places are the primary component of the total restaurant and foodservice industry, which prior to the coronavirus outbreak employed 12 million out of the total restaurant and foodservice workforce of 15.6 million.
Note: The January employment report included annual benchmark revisions by BLS. This resulted in downward revisions for eating and drinking place employment levels in 2020 and 2021.
Read more
analysis and commentary
from the Association's chief economist Bruce Grindy.