Research
February 03, 2023
Restaurants added nearly 100,000 jobs in January
January represented the 25th consecutive month of job growth, bringing restaurants within 166,000 jobs of their pre-pandemic peak.
Like many other sectors in the economy, the restaurant industry expanded payrolls at a healthy pace in January. Eating and drinking places* added a net 98,600 jobs in January on a seasonally-adjusted basis, according to preliminary data from the Bureau of Labor Statistics (BLS).

That ranked as the top job-creating sector in the overall economy, which added more than 500,000 jobs in January.

January marked the 25th consecutive month of employment gains in the restaurant industry – representing a total increase of more than 2.4 million jobs.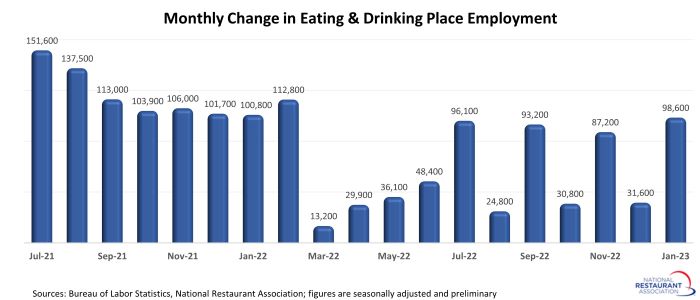 With the release of the January employment data, BLS incorporated their annual benchmark revisions. This process benchmarks the monthly establishment survey data to the Quarterly Census of Employment and Wages (QCEW), which counts jobs covered by the Unemployment Insurance (UI) tax system.

This resulted in significant upward revisions for eating and drinking place employment levels in 2021 and 2022. As a result, eating and drinking places are much closer to returning to their pre-pandemic staffing levels.

As of January 2023, eating and drinking places were 166,000 jobs – or 1.3% – below their February 2020 employment peak.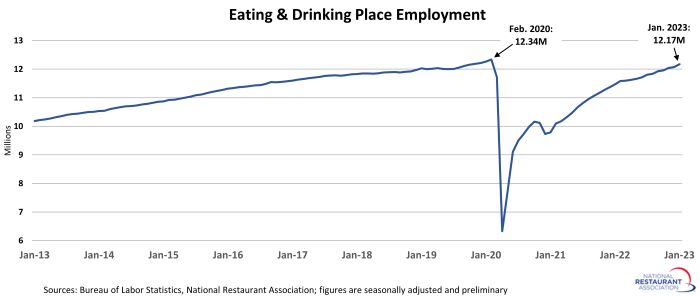 Fullservice employment remains well below pre-pandemic levels

The extent to which staffing levels are rebounding continues to vary significantly by segment. [Note that the segment-level employment figures are lagged by one month, so December is the most current data available.]

The fullservice segment suffered the most job losses during the initial months of the pandemic – and still has the longest path to recovery. As of December 2022, fullservice restaurant staffing levels were 311,000 jobs (or 6%) below pre-coronavirus readings in February 2020.

Job losses in the limited-service segments were somewhat less severe during the initial months of the pandemic, as these operations were more likely to retain staff to support their existing off-premises business. As of December 2022, employment at snack and nonalcoholic beverage bars – including coffee, donut and ice cream shops – was 120,000 jobs (or 15%) above February 2020 readings.

Staffing levels in the quickservice and fast casual segments were about 4,000 jobs (or 0.1%) above pre-pandemic levels. Headcounts at bars and taverns were 19,000 jobs (or 4%) above the pre-pandemic peak.

Employment counts in the cafeterias/grill buffets/buffets segment (-35%), foodservice contractor segment (-3%) and catering and mobile foodservice segment (-3%) remain below their February 2020 levels.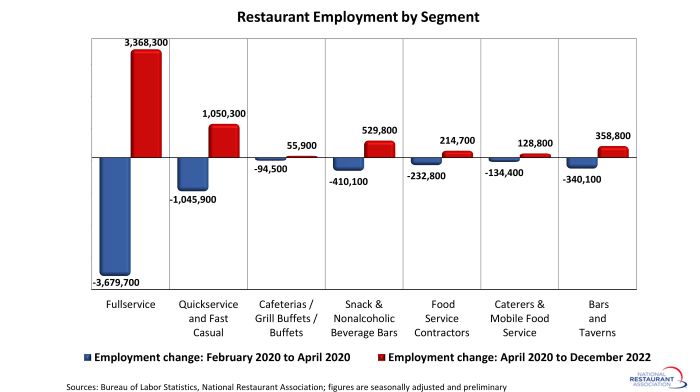 *Eating and drinking places are the primary component of the total restaurant and foodservice industry, which prior to the coronavirus outbreak employed 12 million out of the total restaurant and foodservice workforce of 15.6 million.

Read more analysis and commentary from the Association's chief economist Bruce Grindy.