Restaurant sales rose in March despite record gas prices
The current upward sales trajectory followed several months of stagnation.
Consumers shrugged off record gas prices and continued to boost their restaurant spending in March. Eating and drinking places* registered total sales of $75.4 billion on a seasonally adjusted basis in March, according to preliminary data from the U.S. Census Bureau.

That was up 1.0% from February's upward-revised volume of $74.6 billion, which in turn was a full 3.0% stronger than January's sales.

While just 2 months in duration so far, the current upward sales trajectory is a much-needed break from several months of stagnation. During the 6-month period between July 2021 and January 2022, eating and drinking place sales were essentially flat.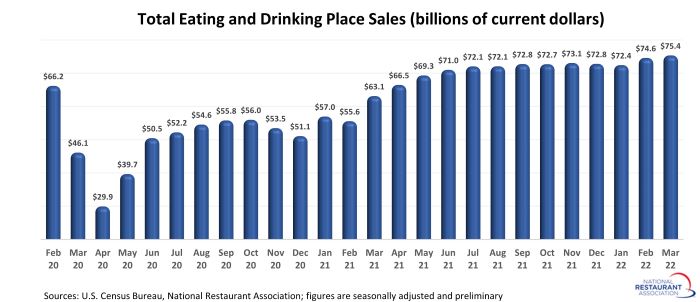 Pent up demand remains elevated
One reason why consumers continued to use restaurants in the midst of soaring gas prices is because they have yet to burn off the pent-up demand that they accumulated throughout the pandemic.
When asked in mid-March, 48% of adults said they are not going out to restaurants as often as they would like. While this was down from 83% of adults who reported similarly in April 2020, it was still slightly above pre-pandemic levels.
In the same survey, 38% of adults said they are not ordering takeout or delivery from restaurants as often as they would like. This was down 6 percentage points from pre-pandemic readings, which illustrates the extent to which the increasing variety of off-premises options were integrated into consumers' daily lives during the last 2 years.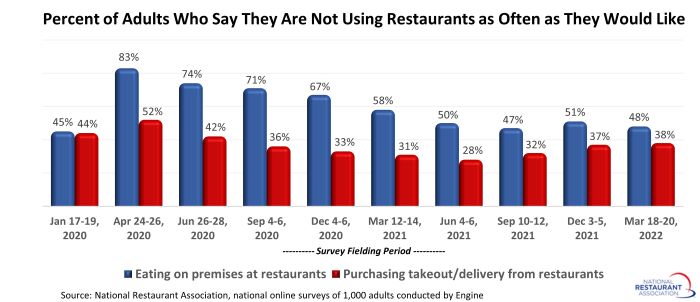 *Eating and drinking places are the primary component of the U.S. restaurant and foodservice industry, which prior to the coronavirus outbreak generated approximately 75 percent of total restaurant and foodservice sales.
Read more
analysis and commentary
from the Association's chief economist Bruce Grindy.