Restaurant sales continued to trend higher in June
Record gas prices didn't spoil consumers' appetite for restaurants in June.
The national average for a gallon of gasoline topped $5 for the first time on record in June, but that didn't appear to crowd out consumers' spending in restaurants.

Eating and drinking places* registered total sales of $86.1 billion on a seasonally adjusted basis in June, according to preliminary data from the U.S. Census Bureau. That was up 1.0% from May's volume of $85.2 billion, and represented the fifth consecutive strong monthly gain.

June's seasonally adjusted sales volume was more than $10 billion above January's level, which was dampened by the initial emergence of the omicron variant.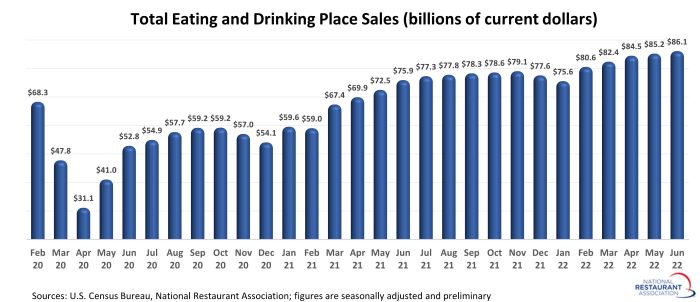 Gas prices are only part of the decision tree

June represented the fourth consecutive month in which gas prices stood above the $4 threshold. While elevated pump prices aren't the only thing impacting consumer finances, they certainly have a direct influence on the daily expenditures of many households.

The chart below illustrates the seasonally-adjusted percent change in consumer spending at selected retail categories between the first and second quarters of 2022, based on data from the U.S. Census Bureau. Note that the figures are not adjusted for inflation, so rising prices are a net positive to the growth rates.

It's not surprising that nominal sales at gas stations jumped 13.0% between the first and second quarters of 2022, given the sharp runup in pump prices. However, after adjusting for inflation, real sales at gas stations actually declined slightly in the second quarter.

Eating and drinking places ranked second among the major categories tracked by the Census Bureau, with total sales rising 7.3% between the first and second quarters of 2022. Factoring in menu-price inflation, real eating and drinking place sales rose 5.5% in the second quarter.

Gas prices may be grabbing the headlines, but many other factors also impact the spending decisions of consumers. Job growth remains strong, household balance sheets are sound, and pent-up demand is still elevated. Taken together, these have the potential to drive additional restaurant sales growth in the months ahead.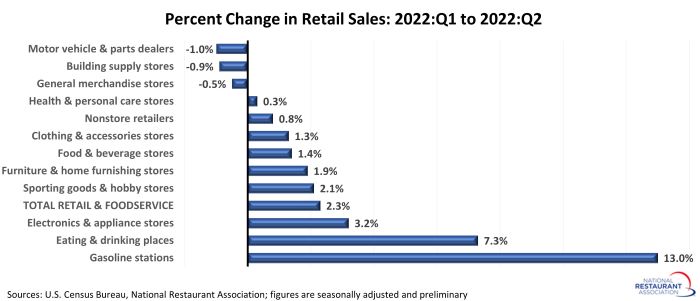 *Eating and drinking places are the primary component of the U.S. restaurant and foodservice industry, which prior to the coronavirus outbreak generated approximately 75 percent of total restaurant and foodservice sales.

Read more analysis and commentary from the Association's chief economist Bruce Grindy.