Research
November 04, 2022
Restaurant job growth was uneven in recent months
Restaurant employment growth slowed in October, but elevated job openings indicate continued strong demand for labor.
Restaurant employment continues to trend higher, but the gains were somewhat choppy in recent months. Eating and drinking places* added a net 6,000 jobs in October on a seasonally-adjusted basis, according to preliminary data from the Bureau of Labor Statistics.
That marked the continuation of an up-and-down pattern in recent months. A solid increase of 69,000 jobs in September was sandwiched between modest gains of just 6,000 jobs in both August and October.
Despite the uneven month-to-month gains, the trendline continues to move in a positive direction. October represented the 22nd consecutive month of restaurant employment growth – for a total of nearly 2.1 million jobs.
Still, eating and drinking places remain 565,000 jobs (or 4.6%) below their pre-pandemic staffing levels. That's the largest employment deficit among all U.S. industries.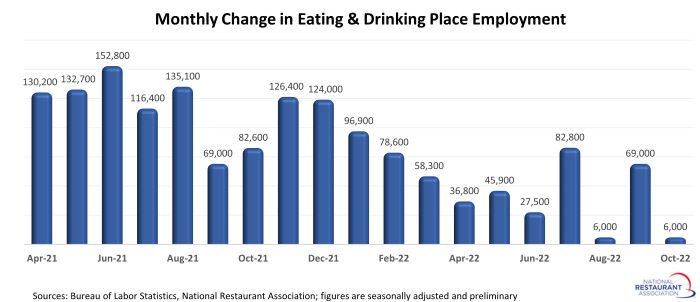 Competition for employees remains hot
It wasn't for a lack of trying that caused restaurant job growth to slow in October. The restaurants-and-accommodations sector had more than 1.4 million job openings on the last business day of September 2022, according to Job Openings and Labor Turnover Survey (JOLTS) data from the Bureau of Labor Statistics.
That represented the highest level since March 2022, though it was down somewhat from the record 1.8 million unfilled job openings recorded in December 2021.
September also marked the 18th consecutive month with at least 1 million unfilled job openings. Prior to this 18-month streak, hospitality sector job openings had only surpassed 1 million once during the entirety of the JOLTS data series which dates back to 2000.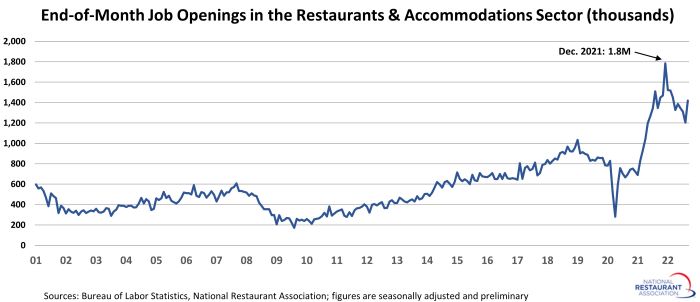 Note: The job openings data presented above are for the broadly-defined Accommodations and Food Services sector (NAICS 72), because the Bureau of Labor Statistics does not report data for restaurants alone. Eating and drinking places account for nearly 90% of jobs in the combined sector.
Restaurants aren't the only sector trying to boost staffing levels. Four different industry categories had more than 1 million unfilled job openings in September. This group was led by the professional and business services and health care and social assistance sectors, which each had roughly 2 million vacancies.
Retailers – who often compete with restaurants for employees – reported nearly 800,000 job openings in September.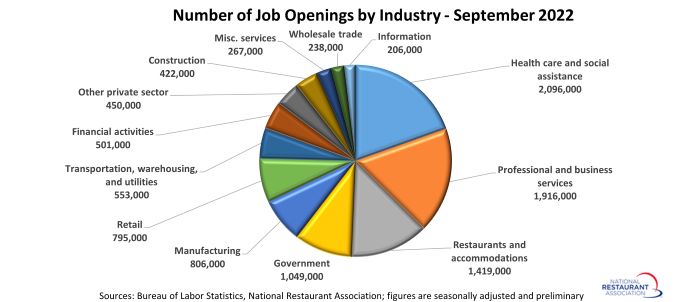 Labor pool remains shallow
In total, there were 10.7 million job openings in the U.S. economy in September 2022. This represented the 15th consecutive month with more than 10 million openings.
While September's reading was down from the record high of 11.9 million openings in March 2022, it was 3.7 million (or 53%) more openings than the economy had in February 2020 before the pandemic.
At the same time, the number of unemployed people available to fill these positions remained low. As of September 2022, there were only 0.5 unemployed persons per job opening. This matched the lowest level on record – along with the March-July 2022 period.
Put another way, there were 2 job openings for every person that was officially categorized as unemployed (which is defined as individuals who are currently not working and are actively looking for a job).
In comparison, during the peak of the Great Recession in 2009, there were more than 6 unemployed persons for every job opening in the U.S. By these measures, the labor market remains extremely tight in historical terms.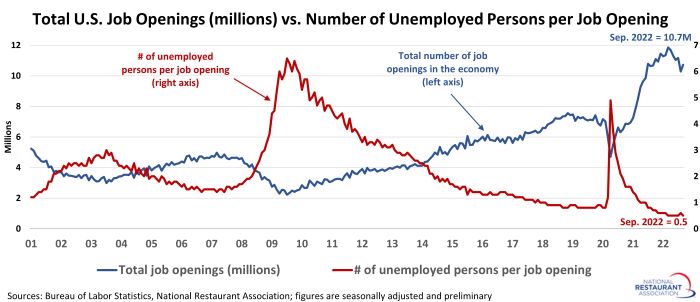 *Eating and drinking places are the primary component of the total restaurant and foodservice industry, which prior to the coronavirus outbreak employed 12 million out of the total restaurant and foodservice workforce of 15.6 million.
Read more
analysis and commentary
from the Association's chief economist Bruce Grindy.