Restaurant job growth slowed despite elevated openings
Restaurants are expected to continue adding jobs in the months ahead, even if the overall economy slows.
The rebuilding of the restaurant workforce continued in April, albeit at a somewhat slower pace compared to recent months. Eating and drinking places* added a net 24,800 jobs in April on a seasonally-adjusted basis, according to preliminary data from the Bureau of Labor Statistics (BLS).

April's increase followed moderate gains in February (45,400) and March (28,200) – both of which were revised lower from their preliminary readings.

April represented the 28th consecutive month of payroll expansion in the restaurant industry. The addition of more than 2.5 million jobs during that period ranked as the economy's top job creator. The professional and business services sector was the next closest industry, adding 2.2 million jobs during the 28-month period.

Despite the steady gains, the restaurant workforce has yet to reach pre-pandemic levels. As of April 2023, eating and drinking places were 87,000 jobs – or 0.7% – below their February 2020 employment peak.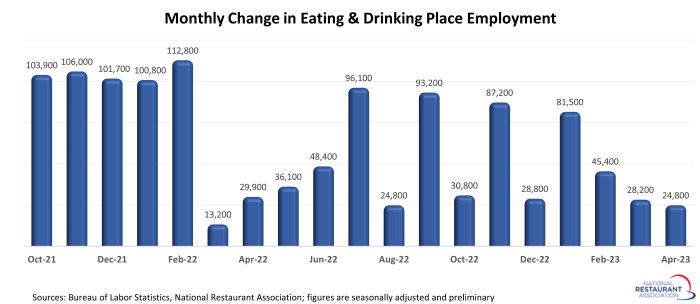 Job openings remain elevated

Although payroll growth slowed in recent months, job openings stood well above pre-pandemic levels.

On the last business day of March, there were nearly 1.3 million job openings in the combined restaurants and accommodations sector, according to Job Openings and Labor Turnover Survey (JOLTS) data from BLS. That represented the 23rd consecutive month with at least 1.2 million openings.

Putting that in the context of pre-pandemic readings, there were an average of 875,000 hospitality job openings each month during 2019. Using this as a proxy for normal business conditions, it means there were more than 400,000 job openings above normal in March 2023.

That leaves plenty of runway for continued restaurant employment gains in the months ahead, even if the overall economy continues to slow.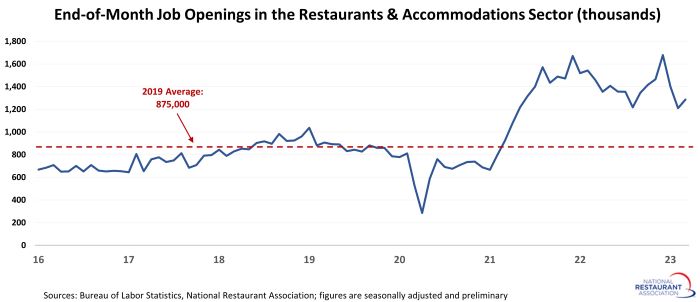 Note: The job openings data presented above are for the broadly-defined Accommodations and Food Services sector (NAICS 72), because the Bureau of Labor Statistics does not report data for restaurants alone. Eating and drinking places account for nearly 90% of jobs in the combined sector.

*Eating and drinking places are the primary component of the total restaurant and foodservice industry, which prior to the COVID-19 pandemic employed more than 12 million out of the total restaurant and foodservice workforce of 15.6 million.

Read more analysis and commentary from the Association's chief economist Bruce Grindy.