Research
November 16, 2022
Consumer spending in restaurants increased in October
Consumers remained resilient in recent months, but more than 8 in 10 say they are planning to be more cautious with their spending.
Consumer spending continued to rise in October, even in the face of steadily rising interest rates.

Eating and drinking places* posted total sales of $89.5 billion on a seasonally adjusted basis in October, according to preliminary data from the U.S. Census Bureau. That was up 1.6% from September's upward-revised volume of $88.1 billion – and represented the third consecutive monthly sales gain.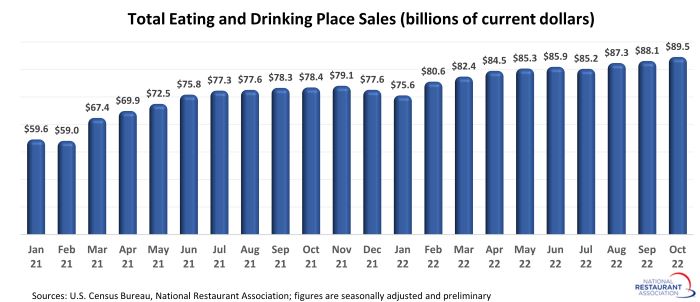 While total dollar spending in restaurants increased in recent months, much of that growth was due to rising menu prices. After adjusting for menu price increases, eating and drinking place sales remained relatively flat between April and October 2022.

Consumers remain resilient – for now

Despite the looming threat of an economy that is widely expected to slow – or even contract – in the coming months, consumers boosted their spending across several retail categories in October. However, that doesn't mean everyone is flashing their cash with reckless abandon.

When asked to describe their personal spending behavior right now, only 16% of adults say they are confident in their financial situation and are not holding back on spending. That's according to a National Restaurant Association survey of 1,000 adults conducted November 11-13, 2022.

The vast majority of consumers are proceeding with some degree of caution. Forty-seven percent of adults say they are taking the 'wait and see' approach and are holding back somewhat on spending until the economy improves.

Meanwhile, 37% of consumers say they are very concerned about the economy and are holding back significantly on spending.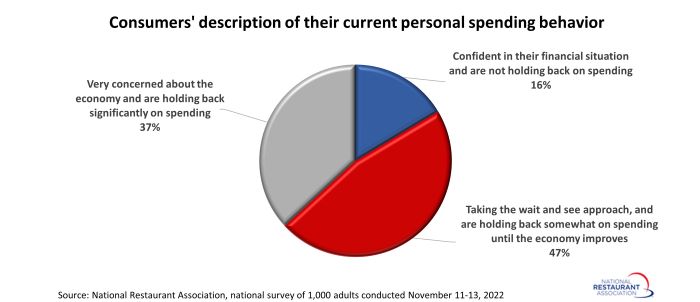 *Eating and drinking places are the primary component of the U.S. restaurant and foodservice industry, which prior to the coronavirus pandemic generated approximately 75 percent of total restaurant and foodservice sales.

Read more analysis and commentary from the Association's chief economist Bruce Grindy.