Survey: Moms want seafood, ethnic cuisine and steak on Mother's Day
New research from the National Restaurant Association shows that 35 percent of Americans plan to dine out on May 8; Mother's Day remains most popular holiday to dine out
(Washington, D.C.) New research from the National Restaurant Association shows that 35 percent of Americans plan to dine out on Mother's Day, and roughly one in 10 will order restaurant takeout or delivery, the association announced today.
When it comes to what moms would like to eat on Mother's Day, 26 percent of mothers surveyed say they prefer seafood, 18 percent say they want ethnic cuisine – such as Italian, Mexican, sushi or Mediterranean – 16 percent want steak, and 12 percent would like a variety of food from a buffet.
More Mother's Day stats:
13 percent of Mother's Day restaurant diners say they will opt for breakfast, 26 percent will choose brunch, 31 percent will select lunch, and 46 percent will dine out for dinner.*
69 percent of consumers who plan to have a celebratory restaurant meal on Mother's Day said they will select a casual dining restaurant, 21 percent will opt for fine dining, and 13 percent will choose a buffet-style restaurant.
45 percent of those who plan to dine out on May 8 will bring children under the age of 18.
For more National Restaurant Association research, visit www.restaurant.org/research.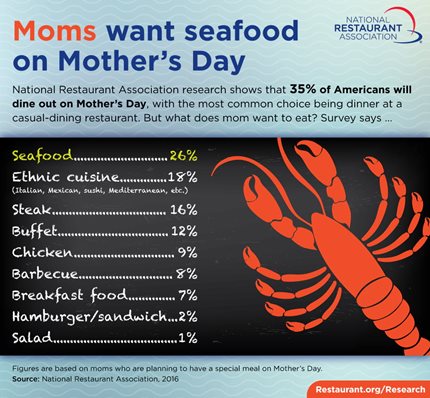 *Numbers may add up to more than 100 percent because some consumers plan to dine out or order restaurant takeout or delivery more than once on Mother's Day.
About the National Restaurant Association

Founded in 1919, the National Restaurant Association is the leading business association for the restaurant industry, which comprises nearly 1 million restaurant and foodservice outlets and a workforce of 15 million employees. Together with 52 State Associations, we are a network of professional organizations dedicated to serving every restaurant through advocacy, education, and food safety. We sponsor the industry's largest trade show (National Restaurant Association Show); leading food safety training and certification program (ServSafe); unique career-building high school program (the NRAEF's ProStart). For more information, visit Restaurant.org and find @WeRRestaurants on Twitter, Facebook and YouTube.