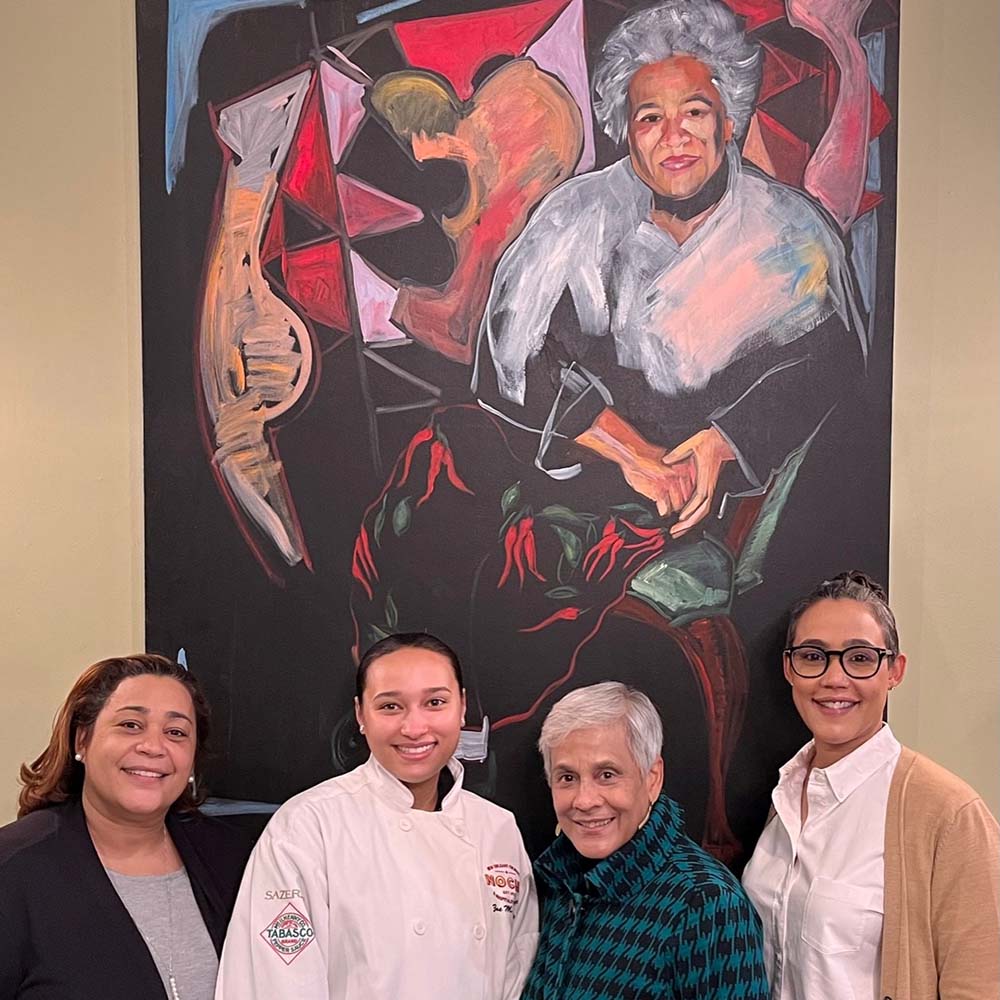 Leah Chase family
Tracie Haydel Griffin, Zoe Chase, Stella Chase Reese, Eve Marie Haydel
When you think of New Orleans and creole cooking, the name Dooky Chase's Restaurant is one of the first that comes to mind.
The restaurant, built in 1941, was the one place where people of color could dine out freely during a time when Blacks and Whites were segregated. It was owned by Emily and Edgar "Dooky" Chase, but gained fame and popularity once their daughter-in-law, Leah Chase, came in and started running the business.
A restaurant steeped in history
Known in culinary circles as the "Queen of Creole Cooking," Leah Chase, who died three years ago at age 96, helped change New Orleans' dining scene, and was the inspiration of many great restaurant chefs who followed in her footsteps. Her biggest contribution may have been providing a place of comfort and hospitality for the leaders of America's civil rights movement in the 1950s and '60s.
Today, four generations of Leah's descendants—her daughter Stella Chase Reese, granddaughter Tracie Haydel Griffin, great-granddaughter Eve Marie Haydel, and great-great granddaughter Zoe Chase, have taken over ownership and management of the restaurant. These generations work together to build on their illustrious history and navigate business during COVID-19.
"Our history is very rich," Chase Reese said, "but the most important thing is that we were here, and we were blessed enough, to be able to provide a place for African-Americans when they had no place else to go.
"My father was a big civil rights movement activist, and my mother kept the restaurant going while supporting his activism. They worked together, going door to door to get people to register to vote, and did whatever they could to promote social justice and equality."
Life lessons learned
When asked about the biggest lesson her mother ever taught her, Chase Reese unhesitatingly said she and her siblings were all brought up to appreciate who they were as African-Americans and to be proud of their culture.
"It didn't matter where we were or if we were welcomed at every place, but we had to have that conviction and pride in our own culture and who we were," she said.
"When you can appreciate who you are, then it's easy to listen and learn about others. We were never told we were beneath anyone, but we were never told we were above anyone, either. Our parents always taught us treating people fairly was the right thing to do."
Haydel Griffin's most vivid memory of her grandmother was the blueprint she had of how to live a good life.
"She'd say, 'We can solve the nation's problems by sitting down and talking over some chicken gumbo.'
"That really stands out to me, getting people of different backgrounds to sit down over a beautiful meal is so important. You know, we host a lot of meetings here; a lot of politicians and families, old families, come to our restaurant. We want to continue to be a place where people can sit down, talk, understand each other, and foster the solutions for what's needed today."
At 40, Eve Marie Haydel, Leah's great-granddaughter, says millennials are different than the generations of her mother, great-aunt, and great-grandmother. They have a need for their work to be tied to their beliefs and passions, or they won't invest in it.
"It's not just about working for a company, or the money you're paid," she said. "It has to have meaning. My friends don't necessarily care about working for a corporation per se; they want opportunities that will help them grow, learn from other people, and figure out what's really important to them. Many are active in the community, and want to see change there."
Zoe Chase, Leah's 21-year-old great-great granddaughter, is about to assume chef duties at the restaurant, and excited to include vegan options on the menu.
The women all agreed advancing in the restaurant industry takes hard work and perseverance. They offered 3 tips on moving forward:
Know the business. Running a restaurant isn't just about cooking. Understand all aspects of the operation, especially how to calculate and manage costs.
Be confident. Be that person who can step into any room and interact with everyone, from the staff to the vendors to the highest-ranking executive in the company.
Learn everything you can. Stay ahead of the trends. Keep on reading and talking to people. Expand your knowledge base.
To learn more about DEI in the restaurant industry, visit
MFHA's website
.