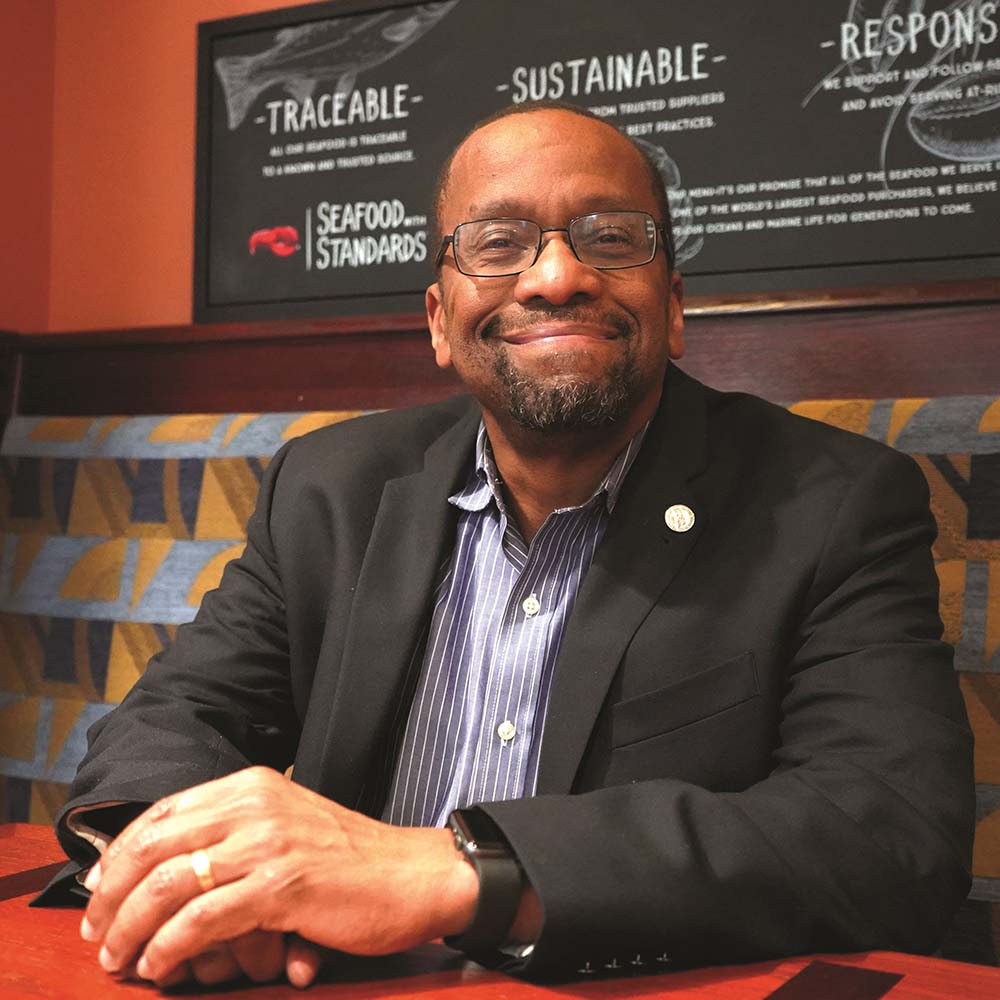 Horace Dawson
Executive Vice President and General Counsel, Red Lobster
Horace Dawson means it when he says he's led 'a blessed life.' But don't be fooled; it hasn't been without challenges.
The son of a diplomat, Dawson grew up in multiple countries before returning stateside. He said the experience helped him immensely and got him into great schools, which gave him an educational foundation he'd put to use throughout his life.
Cultural exposure builds perspective
After living some of his youth in Uganda, Nigeria, and Liberia, his biggest challenge was having to readjust to life in America at age 14.
"It was challenging in a lot of ways," he said. "I'd been used to living in African countries where all the leaders were African. People from other countries were accepted as expatriates, but they weren't looked at as being 'less than.' Returning to the states from that environment was very tough."
During this period especially, his father was an important mentor, sharing his experiences of growing up in the south under extreme prejudice and segregation. Dawson also credits enrollment in a small Quaker school with helping to keep him grounded.
"My father had a perspective on how things had gotten better and continued to get better [over time]," he said. "Still, he thought we had to be careful, and work harder to get the respect that might come to others more easily. He told me that people wouldn't expect me to be successful or capable and that I'd have to demonstrate my abilities very clearly."
Armed with an MBA and law degree from Harvard, he started working as an entertainment lawyer, but also dreamed of practicing international law.
Becoming general counsel at Hard Rock Café achieved both goals.
Hooked on the restaurant business
"Hard rock was involved in entertainment, concerts, restaurants, and retail, so I was able to get closer to the business side of things and work as a lawyer," he said. "The company was also expanding internationally, so I got to do the international work I'd always wanted to do, too. It was a fantastic opportunity that instantly hooked me on the restaurant business; I found it very rewarding."
After Hard Rock, he joined Darden Restaurants where he served as its general counsel, and then at Red Lobster after it spun off from Darden in 2014.
Acknowledging the advantages that helped him reach the executive suite, Dawson said he tries to pay his good fortune forward by helping others achieve professionally.
"Throughout my career, I've worked to mentor team members," he said. "Paying it forward has been a big part of what I do. Not everyone has had the opportunities I've had, so I feel it's my obligation to give something back."
Dawson also said Red Lobster is making good strides in diversifying its C-suite, adding more minorities and women to top executive posts, including CEO.
"I'm fortunate to be a part of this group," he said. Two of us are African-American, and two are women. Our CEO is a woman, and that's something you don't see that often anywhere. Companies are diversifying their C-suites, diversifying their boards. It's happening."
Asked to advise the next generation of diverse executives, Dawson offered 3 tips:
Be endlessly curious. Reach out of your area of expertise to learn from others. Expand your focus. The industry is under great pressure and it's changing and evolving. If you can learn and evolve with it, there'll be opportunities for advancement.
Join industry groups and organizations. Become a National Restaurant or State Restaurant Association member. They're really helpful in providing a broader, more expansive view of things.
Expand your knowledge. Know what's happening in the restaurant business, in technology, food production and talent management, so you can help lead. Reach outside of your comfort zone and take on challenging assignments that broaden your perspective. It'll help you learn things that will be useful in your career. You'll also develop friendships and relationships with people in areas you might not otherwise encounter.
To learn more about DEI in the restaurant industry, visit
MFHA's website
.