Articles
November 10, 2023
You're hired! Training programs offer boundless opportunities
Apprenticeships teach job skills, build connections, and prime candidates for career success.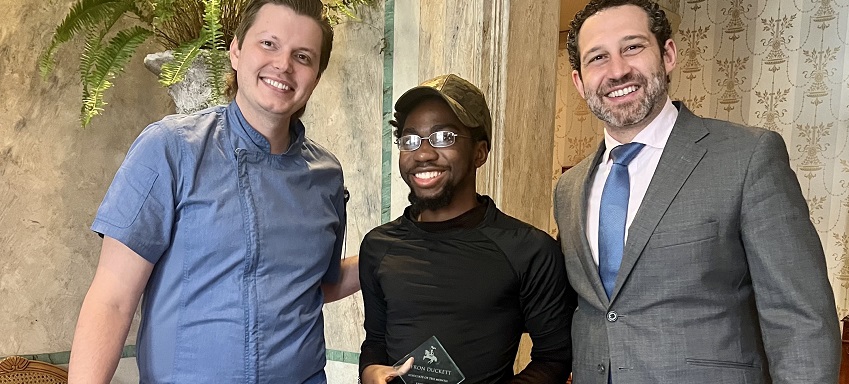 Byron Duckett, center, with Chef de Cuisine Alexander Kuzin, left, and General Manager Ralph Mahana, right, of The Windsor Court, was named Employee of the Month last March.
Apprenticeships open eyes and doors for those pursuing a profession in the foodservice industry.
Different than regular on-the-job training, apprenticeship programs give you an opportunity to learn more about what the restaurant industry is and what it offers, says Julian Garcia of BriDer Rotisserie & Kitchen in Denver.
Garcia knows this firsthand. He is enrolled in apprenticeship programs developed by the
National Restaurant Association Educational Foundation
(NRAEF), funded with grants from the Department of Labor. The NRAEF's
Restaurant & Hospitality Leadership Center
(RHLC) offers three accredited training programs that community organizations, restaurants, and foodservice operations can use to train line cooks, kitchen managers, and restaurant managers.
Garcia, who recently completed his line cook certification, is currently enrolled in the RHLC's restaurant manager training program. Besides learning his way around a commercial kitchen as well as the whole restaurant operation, he says one of the best things he's gotten from the experience is an understanding of the importance of hospitality.
"You won't just take a linear path toward the job you train for. You learn about everything that happens in a restaurant, from back-office operations to culinary production. Today, I not only have more of an understanding of what it's like to work in a restaurant, I also know how to make customers feel welcome and cared for."
A program that works
Every year we celebrate
National Apprenticeship Week
, and this year it's Nov. 13-19. Since 2008, through bipartisan efforts and expansion grants, our government has expanded registered apprenticeships in this country. In 2020 alone, the Department of Labor administered approximately $250 million in active grants; the NRAEF is one of its recipients.
Through a combination of hands-on learning coupled with coursework and study, the RHLC's
Hospitality Sector Registered Apprenticeship
(HSRA),
Restaurant Youth Registered Apprenticeship
(RYRA), and
Veteran Apprenticeship and Labor Opportunity Reform Act Military Apprenticeship
(VALOR)—work with employers to identify and enroll trainees who go on to earn nationally recognized credentials when they complete the programs.
To date, more than 1,800 committed apprentices and 300-plus employer apprentice commitments are attached to the NRAEF programs. Some were among the 150 workforce development partners and program participants who gathered in Washington, D.C., in August for the NRAEF's inaugural
Hospitality Pathways Conference
, an event designed to explore ways of strengthening and expanding restaurant and hospitality career opportunities.
Among the attendees was Byron Duckett, who started working in foodservice at a local McDonald's restaurant but left when the pandemic started. Highly motivated, he's worked for a foodservice linen supplier, taken a job at Centerplate, which provides foodservice and hospitality management at stadiums and arenas, and hustled courtside at NBA basketball games for the New Orleans Pelicans and the 2022 Final Four college basketball tournament at the Mercedes-Benz Superdome. Then, while attending pre-apprenticeship training at the New Orleans Job Corps Center, he joined the staff of the prestigious Windsor Court Hotel, a position he says is the most rewarding and challenging he's had.
"It can be tough, something you have to be mentally and physically prepared for," he says. "You can work long shifts sometimes, and it can be very fast paced. But in the end, the most important part of the job is making sure the guests are happy. That's what pays off."
Earlier this year, Duckett received the hotel's Employee of the Month award for upholding the hotel's core values of learning, teamwork, and excellence.
A fellow attendee, also from New Orleans, was Sophia Elder, who learned about the NRAEF's apprenticeship initiative through a program called LAUNCH, which helps young people explore different career paths and professional goals as they enter the workforce.
Enrolled in the apprenticeship program as a line cook trainee at Alon Shaya's Middle Eastern restaurant Saba, she says she's passionate about improving her culinary skills and possibly becoming a chef one day. "I really love spending time in the kitchen," she says. "Once you master one thing, you move onto the next, and there's so much to learn that you can take anywhere you go in life. That's what makes it so cool. Plus, working with food is like making art."
Elder says even though line cook training is challenging, the sense of community and camaraderie she feels has been one of the best parts of the experience. That, and the connections she's making as she pursues her training. "Searching for a job is hard enough," she says, "so these connections are huge. It's literally how most people get their next jobs. Having such a supportive team working with you to help you meet your goals is invaluable. This program is one of the best opportunities you can get. As far as advice goes, I'd say learn all you can, and be curious, passionate, and humble."
Garcia, a former ProStart student at Cherry Creek Innovation Campus in Arapahoe County, Colo., says he now sees himself eventually taking on a managerial role, with a focus on opening new restaurant locations and, perhaps, owning his own Mexican restaurant one day. "This has been life-changing for me. It's opening a lot of doors and has really helped me expand my passion for this industry. If you're thinking about applying to this program, just be open-minded and explore everything."