Articles
November 23, 2021
What's hot in your favorite daypart?
New Association research reveals top items for breakfast, lunch, and dinner in 2022.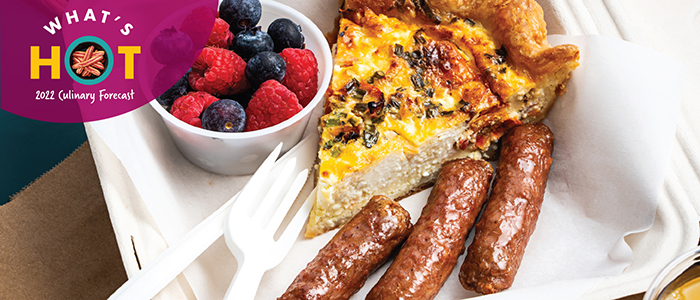 The pandemic changed a lot of things about what and how people want to eat at restaurants. What remains consistent is their desire—in all dayparts—for more healthful, less expensive, globally-influenced foods, new National Restaurant Association research finds.

According to the National Restaurant Association's What's Hot 2022 Culinary Forecast, conducted in partnership with the American Culinary Federation and with an assist from marketing research firm Technomic Inc., 350 chef-members ranked a list of 109 items to predict what they believe consumers will want in the coming year. The survey found plant-based proteins at breakfast, grain-based bowls for lunch, and less-expensive cuts of beef and chicken for dinner, topped the daypart lists.

Interest in globally-influenced foods started ramping up before COVID-19 took hold. Now, however, restaurant-goers, missing the bold, global flavors they experienced dining out, are re-emerging to frequent restaurants they love, and dig into the regional Asian, Caribbean, and South American items they crave.

Top 3 trends by daypart

The chefs in the survey shared their thoughts on what's hot for breakfast, lunch and dinner:

Breakfast
Nontraditional breakfast proteins (like chorizo and vegan bacon or sausage)
Plant-based breakfast sandwiches
Egg-based breakfast bowls

Also popular for breakfast: globally-influenced breakfast foods, like shakshuka, a spicy egg dish.

Lunch
Plant-based sandwiches
Globally inspired salads
Grain-based bowls

Also hot for lunch: salads with pickled ingredients, fried chicken sandwiches, reinvented classic salads, and poke bowls.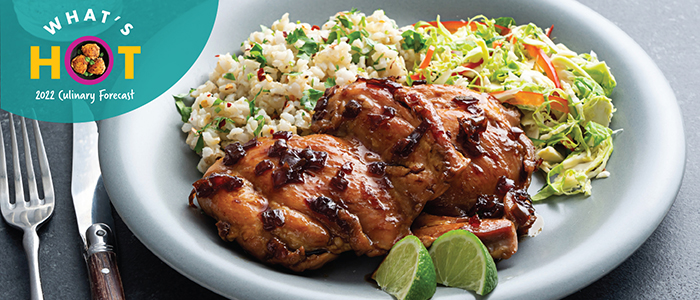 Dinner
Less-expensive chicken cuts (like thighs instead of wings)
Plant-based burgers
Less-expensive beef cuts (like beef chuck instead of loin)

Also popular for dinner: meal kits, cauliflower carb alternatives, ramen or mazemen, and less expensive cuts of pork.

Less expensive cuts of proteins may show up more on menus for a number of reasons, including supply issues, rising food costs, culinary exploration, or all of those influences combined.

Download the full What's Hot 2022 Culinary Forecast today!