What to know before you go to the Show!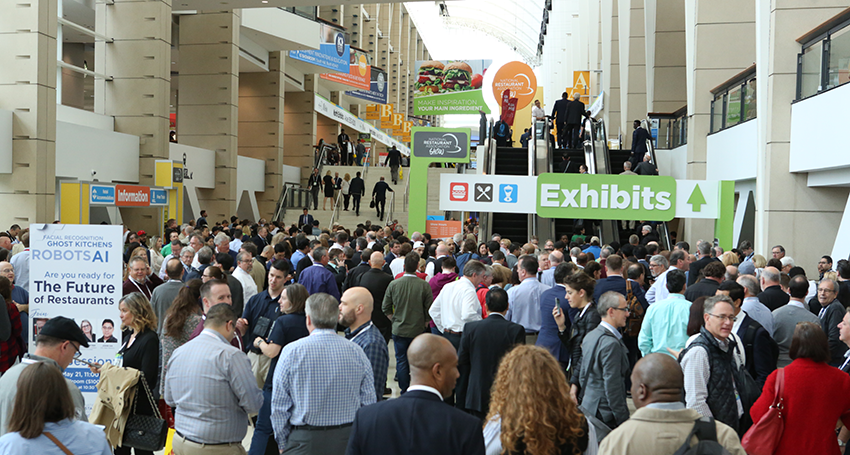 The
National Restaurant Association Show
is back for the second time after its two-year hiatus, and it promises to be better than ever. Now's your chance explore, learn, celebrate, and network with the largest gathering of foodservice professionals in the Western Hemisphere.
Expected visitors include representatives from more than 2,100 manufacturers of food, equipment, supplies and services in 900-plus categories, and more than 54,000 of your peers with purchasing responsibility for every segment of the industry from QSRs to the armed services to B&I.
The show has one of the most exciting schedules of events in recent memory, offering an array of expert-led sessions and deep-dive workshops that will provide you with critical industry insights. Included are demonstrations and celebrations of cutting-edge food, equipment and technology products that can change your business, and industry speakers and panelists who will inform and inspire you. Here are a few highlights.
Keynote '23
– Grand Ballroom, South Building Level 1–2:30 p.m., Sun., May 21.
Association President & CEO Michelle Korsmo joins top restaurant visionaries Danny Meyer, founder & executive chairman, Union Square Hospitality Group, New York, and Pinky Cole, philanthropist and CEO & founder, Slutty Vegan, Atlanta, to discuss some of today's biggest opportunities and issues impacting the broad foodservice landscape.
Where to find what's new
The Beverage Room
– Lakeside Center, Level 3 – E354.
This pavilion showcases the top mixologists, ingredients, goods and services appealing to beverage program buyers and includes beer, wine, spirits, bar specialty equipment, cocktail ingredients, mixers, garnishes, drinkware, bar technology and more to keep your beverage program on the cutting edge.
The Culinary Experience
– Lakeside Center, Level 3 – booth 10448.
Here, the world's best chefs and top industry leaders take the stage to share their experience, techniques, and tips on some of today's hottest culinary topics and trends.
Startup Alley
– South Hall (between booths 648 & 655)
This new-company pavilion features 41 exhibitors this year and gives buyers a sneak peek at new food and beverage items, new equipment and supplies, new technology, and more.
Back and better than ever
These pavilions are back with more exciting products and programs. Check the
floor plan
for their locations throughout the complex.
FABI Award winners – The record-setting 42 Food & Beverage Award winners are scattered throughout the Show floor. FABI Awards tastings of the judges' favorite eight will be held in "Connections" – 10148 Lakeside Center.
Kitchen Innovations Awards – South Hall. Booths from each of this year's 18 award-winners are featured.
Bellavita Italian pavilion (42 exhibitors) – Lakeside Center.
Iberica Spanish pavilion (9 exhibitors) – Lakeside Center.
Global Food Expo (39 exhibitors) – Lakeside Center.
A Taste of the States (117 exhibitors) – North Hall. Looking for local sourcing? Check out this partnership of the National Association of State Departments of Agriculture (NASDA), the National Restaurant Association, the USDA's Foreign Agricultural Service (FAS) and State Regional Trade Groups (SRTGs).
Tech Pavilion (20 exhibitors) – North Hall.
Featured presentations and workshops
Among the many educational opportunities to learn more about running your business in the most effective way possible are several that headline our own Association experts.
"Unique Off-Premise Strategies to Help You Stay Ahead in the Alcohol To-Go Revolution" – The Beverage Room Stage, Lakeside Center, 11155 – 11:15 a.m.–12 p.m., Sat., May 20. Features Mike Whatley VP, State Affairs and Grassroots Advocacy at the National Restaurant Association, and introduces brand new consumer research from the Association.
"ServSuccess Restaurant Leader Workshop" – South Building, Level 4, Room S406a – 9–11 a.m., Sun., May 21 and Mon., May 22.
The Association's new ServSuccess includes an online collection of learning suites, courses, and exams designed to enhance and certify the competencies and knowledge of working industry professionals.
"Investing in People: The Secret Sauce to Hiring & Retention" – Education Super Center, South Hall, 2778 – 3:15–3:45 p.m., Mon., May 22. Features the Association's Dr. Ed Walden, director of Professional Advancement for the National Restaurant Association Educational Foundation (NRAEF).
"Navigating Multicultural Conflicts: How Effective Relationship-Building is Essential for Business" – Education Super Center, South Hall, 2778 – 3:15–4 p.m., Sun., May 21. Learn how to navigate conflict to build understanding and trust with your employees, customers, and communities, and to ultimately help grow your business. Features Gerry Fernandez, founder and president of NRAEF's Multicultural Foodservice & Hospitality Alliance.
"Navigating the Ever-Changing Regulatory Landscape of Alcohol Sales" – The Beverage Room Stage, Lakeside Center, 11155 – 10–10:30 a.m., Sun., May 21. Trevor Estelle, VP, ServSafe Alcohol & Regulatory Services, and Jonathan Lounds, compliance associate, will walk you through the ever-changing maze of beverage alcohol-related laws.
For more information on the Show and why you should attend, read our
FAQs
.
Registration
for the Show takes just a few minutes online.
Already planning on coming? Be sure to visit us at booth #6600 and stop by the ServSafe booth #7202 next door, too. And check out the latest products from Association partner
Heartland
, booth #3140.
See you in Chicago!
Sponsored by
Heartland

Heartland

Heartland provides entrepreneurs with software-driven technology to manage and grow their business. The company serves more than 400,000 merchants nationwide, delivering trusted solutions for payment, payroll and human resources, point of sale, customer engagement and lending. Heartland is a leading industry advocate of transparency, merchant rights and security. Heartland is a Global Payments Company (NYSE: GPN). Learn more at

heartland.us

.