Articles
December 23, 2020
Tourism-related spending in restaurants fell sharply in recent months
The coronavirus pandemic is having a devastating impact on the restaurant industry. The perfect storm of mandated business closures, capacity restrictions, and a cratered economy led to the industry's most challenging business conditions in history. For restaurants that rely on tourism for their business, the negative impact of the pandemic is even more significant.
In a typical year before COVID-19, an average of 41% of sales in the fine dining segment came from travelers and visitors to the area, according to Association research. For some fine dining restaurants, it is a much larger proportion: 1 in 4 fine dining operators say travelers and visitors accounted for at least 60% of their sales pre-COVID.
In the family dining, casual dining and coffee-and-snack segments, approximately one-third of sales came from travelers and visitors in a typical year before COVID-19. Travelers and visitors accounted for roughly 1 in 4 dollars spent in the quickservice and fast casual segments pre-COVID.
With both personal and business travel significantly curtailed, tourism-related spending in restaurants fell sharply in recent months. In the fine dining segment, travelers and visitors were responsible for only 19% of sales during the June – November 2020 period. It's important to note that this proportion is based on a much lower sales volume, which means the drop in tourism-related sales is significantly larger than the decline in spending by local customers.
The story was similar in each of the other 5 major segments, as the percent of sales coming from travelers and visitors in recent months was less than half of what it was before COVID-19. Restaurants that depend on tourism for their business will likely find a longer road to recovery than their counterparts that derive most of their sales from local customers.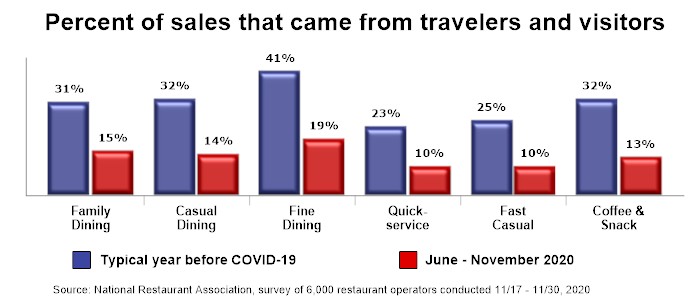 Read more analysis and commentary from the Association's chief economist Bruce Grindy.