Top hiring tips for seasonal demands
Summer's almost here, and customers are making leisure plans. Better your odds to attract staff to handle the increased traffic.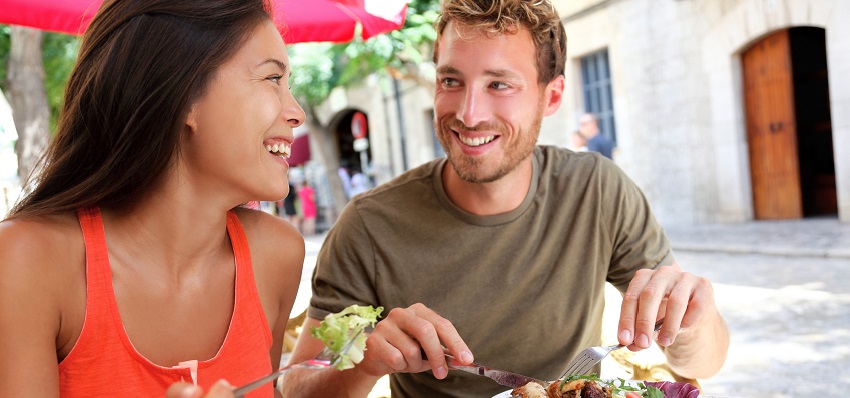 With outdoor dining, you expand seating capacity but you'll need to staff up to serve al fresco spaces.
As of early April, the U.S. Department of Labor's (DOL) Bureau of Labor Statistics (BLS) reported February job numbers that showed the accommodation and foodservice sectors still had about 1.2 million job openings. Summertime and holidays create even more demand for labor as people tend to eat out more often.

Seasonal employees can help you staff up for this increased business. Here are some hiring tips.

1. Get started now. Ideally, you should give yourself 120 days to find and hire staff, but it's not too late to start. Identify your restaurant's needs. Determine the dates you need temporary workers and the positions you need filled.

2. Publish and promote job listings. Emphasize the experience, not just the duties.
Target the right applicants. In the summer, students and teachers will be your best source of recurring seasonal employees as they're more likely to be searching for jobs when they're not teaching or studying.
Contact local schools and universities to advertise job postings through their job boards.
Post your job listings to restaurant-industry specific job sites like Poached, Culinary Agents, or RestaurantZone.
Geo-locate want-ad media to within about 10 miles of the job location.
Hire your biggest fans—your customers. Advertise seasonal openings through your restaurant's social media.
Partner with other restaurants to host a seasonal job hiring fair.
Ask current employees for referrals. Offer an incentive to permanent staff if their recommendations get hired.
Keep expectations clear in the job description; make sure it's current, accurate, complete, concise, and easily understood.
3. Attract seasonal hires with what they want most:
Flexible scheduling.
A chance to make a difference. Gen Z's are looking for meaning. For example, highlight your efforts to be sustainable, or your menu's emphasis on real ingredients and real purpose, which resonate with young job seekers. Let them know you'll empower them to be part of that.
Open and transparent communication. Gen Z (or "Zoomers") aren't satisfied with just being told to do something—they also want to know why.
A sense of community. Make them feel they'll be part of something bigger.
To work with friends and have fun.
Financial incentives. Offer a signing bonus—a restaurant gift card, or cash. Give them $1.00/hr. more for taking an extra shift, $2.00 for two shifts, etc.
Consider jobs for younger teens. Check local ordinances for ages and hours teens can work in the summer. Restaurants are historically great first job opportunities.
4. Use tech to reach applicants, especially younger ones. The BLS indicates that by next year, the 16-24-year-old demographic will have declined by 2.8 million since 2017. You'll have to compete hard to attract talent from a smaller pool.

Simplify applications so they fit on a text screen and reduce the number of questions needed to get an interview. Use social media—Instagram, TikTok, Facebook, LinkedIn, etc.—to engage potential applicants with a link to your "Jobs" or "Careers" page. Once a candidate has applied for a job, take some decisive action within 24 hours, and interview them via texts.

5. Hire the best talent. Look for emotional skills (see Personality traits below) when applicants come to you with minimal industry experience.

6. Stay on brand. Your messaging to applicants should display your company's culture. If your restaurant is casual and fun, your messaging should be, too. If you operate a white tablecloth fine dining restaurant, your appeal should reflect that.

7. Use technology to simplify the onboarding process. Software and/or apps can help speed the paperwork.

8. Use permanent staff for training. They know your operation and your culture, and will acclimatize new hires faster. And they'll have a vested interest in making sure new hires get up to speed quickly. Pairing veterans with newbies also gives seasonal employees quick feedback on how they're doing, raises self-confidence on both sides, and improves service.

9. Give them a reason to come back. If you have valuable seasonal employees, offer them incentives to come back next year. Keep their contact info for the following year's hiring campaign.

10. Stay in touch and ask for their feedback. You may think you only need seasonal staff, but your needs can change quickly and often. Restaurant turnover is higher than in almost any other industry, and having a list of potential seasonal or permanent employees is worth its weight in gold. Ask seasonal employees how you can improve the hiring process or their employment experience.
Personality traits to look for
Danny Meyer, founder and executive chairman, Union Square Hospitality Group, New York, has suggested in interviews and his memoir, Setting the Table, that certain personality traits can be more predictive of a job applicant's success in a restaurant than experience on a resumé.

Emotional skills he looks for are:
Kindness and optimism. The restaurant industry can be bruising and brutal. Long hours are more tolerable when surrounded by friendly, upbeat people.
Intellectual curiosity. People who approach each moment as an opportunity to learn something new will provide great service, advance quickly and bring value to your organization.
Work ethic. Being able to learn how to do a job is one thing, but the desire to do it as well as it can be is even more valuable.
Empathy and self-awareness. People who are aware of how their actions affect others and who have empathy will put customers and co-workers first.
Integrity. Doing the right thing, even when no one else is looking, is a sign of how someone will treat your staff, your restaurant, and your customers.