Don't get boxed in: Do's and don'ts in package sourcing
The Foodservice Packaging Institute says half of consumers now use disposable food packaging at least weekly, and are picky about it.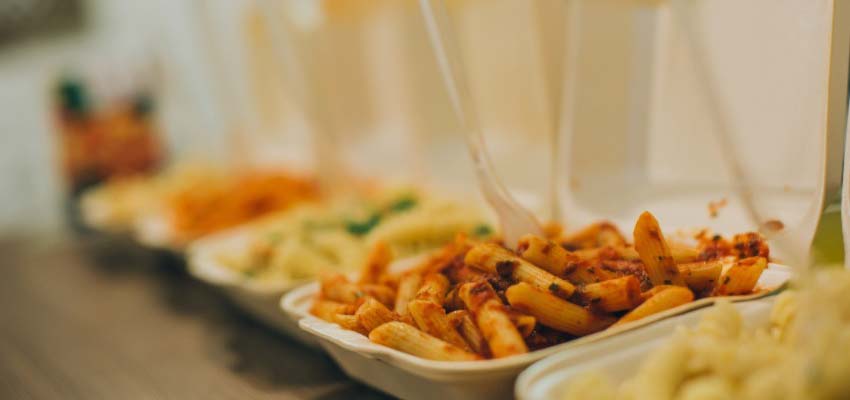 A majority of diners say it's most important that containers be leakproof, spill proof, and that they block grease stains.
Takeout and delivery account for a greater proportion of restaurant sales every year. The Foodservice Packaging Institute reports that half of U.S. consumers now use disposable food packaging at least weekly—and they're picky about it.

Among the diners it surveyed, 64% said it's most important that containers be leakproof and spill proof; 60% said blocking grease stains is important. Quality packaging can even encourage customers to experiment with new menu items: 88% of adults surveyed for the National Restaurant Association's new State of the Industry Report said they would likely try more foods for takeout or delivery if the restaurant's packaging helped the items maintain the same taste, temperature and quality as those served in the dining room.

There's a lot riding on your disposables decisions. To help, FPI has published a Strategic Sourcing Guide that highlights what to consider and what to avoid when sourcing packaging for your restaurant.
Do's
Evaluate packaging decisions early during menu development. That's even more important during the current supply-chain delays.

Communicate to your supplier all the features and functions the packaging should have:
Are you replacing existing packaging?
What will go in the package—food or beverage, single or multiple portions? How many ounces?
At what price do you expect to sell the item? What's your expected order volume, and will it change seasonally? What's your target price for packaging? Will the supplier deliver packaging to one location or several?
How long must the packaging keep hot items hot, cold items cold, frozen foods frozen?
What other features are important—tamper resistance? Leak resistance? Limiting absorption of grease or liquids?
What material—paper, plastic, aluminum, something else? Should the packaging be light or heavy? Should base and lid be hinged or separate? Are clear lids important? What should be the container's shape and color?
Will workers fill the package at your restaurant or store, or in an offsite kitchen? Will you store it in a display case or under a heat lamp? Will you reheat the packaged item?
Do you expect customers to heat the food in the package? Store it in the fridge for later? Freeze it? Open and close the package repeatedly? Serve or eat directly from the container?
Test samples by using them, not just looking at them when they're empty. (Use packaging under the maximum condition or environment.) Don't just take the supplier's word for it. Prepare your menu item, then check how long the container keeps it hot, cold or crispy; tip over the container to see if it leaks; note how easy it is to open and close.

Consider the environmental attributes of the packaging. Should it be recyclable? Compostable? Made with recycled content, or from bio-based or renewable materials?

Think of your foodservice packaging as potential advertising. Consider colors, embossed or printed graphics such as a logo or special design, and/or labels that can be affixed to the packaging to call attention to your brand or menu.

Review the packaging budget prior to moving forward with a custom package. You'll also need to discuss lead time, which will be longer for customized packaging.
Don'ts
DON'T assess only the lowest-cost option. The look and quality of your disposable packaging should align with the look and quality of your concept and menu.

DON'T assume that custom packaging is the best option. A national or high-volume brand may need customization and will deal directly with a packaging manufacturer. A restaurant with lower volume may need only off-the-shelf packaging or basic customization services and can go through a distributor.

DON'T conclude that all foods and beverages can go in the same packaging. Keeping hot foods hot, cold foods cold and leak-prone foods contained are missions that may require different packaging and materials.

DON'T neglect any regulatory or compliance requirements based on where the package will be sold. For example, it's illegal in California to label a plastic product "biodegradable." Your packaging supplier should be on top of regulatory requirements.

DON'T forget to periodically assess your packaging to make sure it still meets your needs.