The price of running a restaurant
Rising costs and supply chain issues during inflationary times are rocking the industry and changing the playing field.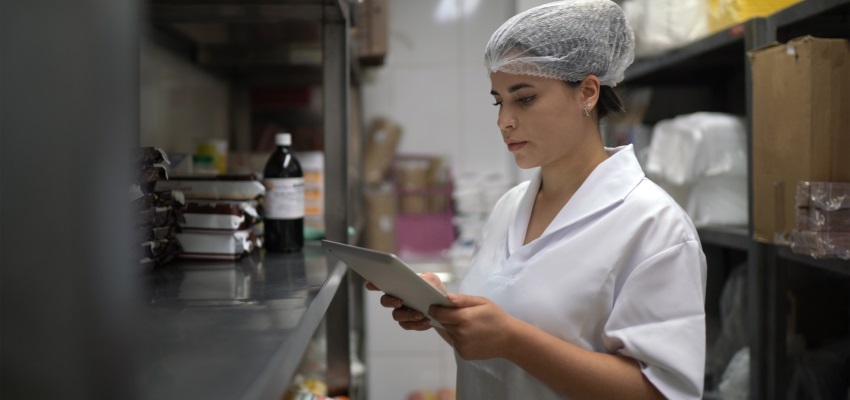 Focus Brands' Supply Chain SVP Anissa Mandell-Chance advises operators to look for opportunities to simplify and reduce operational complexity, and focus on executing top menu mix items well.
As inflation grips the nation, restaurants and retailers are facing skyrocketing food prices, with no short-term relief in sight.

The increased costs are related to several factors: the spike in fuel prices, the war in Ukraine, weather events affecting crop growth, ongoing supply chain labor shortages, and the re-emergence of Avian flu, which has reduced the number of chickens and other birds available for egg and poultry production.

The Bureau of Labor Statistics indicates average wholesale food prices rose 17.5% year over year, from April 2021 to April 2022, the largest 12-month increase in nearly five decades. In May, food prices were up 15.6% year over year.

In addition, average hourly earnings of eating and drinking place employees increased 10.6% during the last 12 months. As a result, menu prices rose 7.4% on average between May 2021 and May 2022.

According to Hudson Riehle, the National Restaurant Association's senior vice president of Research, the foodservice industry is still on target to reach $898 billion in sales this year, but when adjusted for inflation that figure is 11.5% below pre-pandemic 2019 sales.

"Food, labor and occupancy costs are the largest line items for restaurants," Riehle says. "Combined, they account for roughly 70 cents of every dollar of sales during normal times. For the vast majority of operators, those three categories are taking up a larger share of sales than they did prior to the pandemic."

Commodities analyst John Barone, president and CEO of MarketVision Inc., cites those and other unanticipated reasons for the current volatility in the market.

"A multi-year drought in the western half of the U.S., the pandemic, and Russia's invasion of Ukraine, plus COVID-19, just about crushed everyone except for amazon.com and pizza takeout," he says. "In the spring of 2020, businesses were forced to close down, and many filed for bankruptcy. Restaurant and supplier employees moved to other industries. Then, when the flood of pent-up consumer demand arrived in the spring of 2021, no one could handle it. There were capacity issues and shortages at every level of the supply chain."

But, he says, the biggest cost-side issue has been the price per gallon of diesel fuel. On June 14, it reached a record-high national average of $5.78 per gallon, up 79.5% from $3.22 a year ago.

"Fuel increases are rippling across the supply chain as raw goods move to manufacturers and processors, then to distribution, and then to restaurants," he says. "When Russia invaded Ukraine on Feb. 24, diesel was still $4.10."

Barone further notes that the bird flu outbreak has upended the supply chain as well. As of June 10, it's led to the culling of 31.4 million egg layers, 5.5 million turkeys and 2.4 million broilers. And, more bad news: the USDA raised its 2022 large egg price forecast from $1.36 per dozen to $1.92.

All of this chaos is putting intense pressure on the industry, says Anissa Mandell-Chance, Focus Brand's senior vice president of Supply Chain.

"Because food, fuel, labor, and other costs are up, they all contribute to margin erosion. We're a franchise organization, and our franchisees are primarily small business owners," she says. "There's only so much businesses can insulate before having to pass on some of those increased costs to the consumer. It's a delicate balance for restaurants to focus on daily operations, manage costs, and drive traffic in this difficult environment."

Mandell-Chance also offers the following suggestions to manage some of the ongoing supply chain issues.
Streamline menus. Look for opportunities to simplify and reduce operational complexity. Focus on executing top menu mix items well, since they drive sales. Get creative with your culinary team to determine whether you can use existing ingredients to fuel the innovation pipeline vs. introducing new products or suppliers. Also, make tough and timely decisions on what to remove from the menu.
Be transparent with customers when removing menu items. It's OK to tell customers you're not offering certain items. Typically, they'll trade for something you do serve. But, remember to share that information with them on your websites or apps. Now, more than ever, customers will understand due to the myriad supply availability issues foodservice and retail operations are facing.
"There's no panacea; we're not going to be able to wave a magic wand and fix the macro issues quickly," she says. "It will take time, but it will get better."