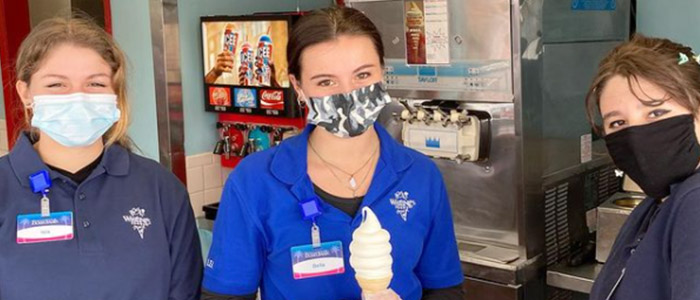 Whiting's Foods, which employs more than 300 teens, says Gen Zs want to work with their friends.
With restaurants facing a historic labor shortage, many operators are turning to teenagers—Generation Z—to help fill their job openings. Fast casual giant Chipotle is intensifying its Gen Z recruiting efforts by tapping into newer social media platforms like Discord and TikTok, while upping its efforts on Instagram, a favorite with Gen Z.
In May, Chipotle became the first company to conduct a job fair over Discord, an online platform where teens hang out together, playing games and chatting. Starting in July, Chipotle will accept video applications through TikTok Resume, an upcoming offshoot of the teen-centric video-sharing platform TikTok.
Choosing a medium for your message is only part of recruiting Gen Z, individuals born in the late 1990s and early 2000s, also known as "zoomers." "You can use the coolest platforms," says Mike Miller, director of Talent Acquisition for Chipotle. "But the platform is just a tool; it's an enabler to your message."
Keep in mind what zoomers are looking for in a job:
Friends and fun. Chipotle promotes that team members "get paid up to $750 to work with friends." "Have your crew become part of our crew," the company encourages. Looking to hire 20,000 employees this year, the company launched a $200 bonus for referring a crew member and $750 for an apprentice or general manager.
"Teens want to work with their friends," says Ken Whiting, co-owner and president of Whiting's Foods, which employs over 300 teens in a typical summer at its 26 concession outlets on the Santa Cruz, Calif., boardwalk. Whiting's Instagram feed showcases teens playing pre-shift games and hanging out together at the beach after work. Team members earn $150 to $200 for each friend they bring onboard.
Resumé boosters. Whiting's Instagram feed features successful employee alums fondly reminiscing about their time with the company. "The message is: You can start your career here," says Margie Whiting Sisk, co-owner and vice president of Human Resources. The counter-service jobs help teens develop people skills, teamwork abilities, and a sense of responsibility. For teens looking for an internship experience, Whiting's offers opportunities to use their skills in writing, graphic design and social media.
Chipotle touts that motivated team members can learn transferrable skills or can stay and climb the career ladder. "In three-and-a-half-years, you can become a restaurateur [the company's highest level general manager] earning six digits," says Chipotle's Miller.
A chance to make a difference. Gen Z's are "looking for meaning," Miller says. The company highlights its efforts in sustainability and its emphasis on "real ingredients" and "real purpose," which resonate with adolescents. Whiting's empowers teens to become "memory makers," who help guests experience an unforgettable beach day. "That ice cream cone dipped in chocolate that you give to a 7-year-old, that's not just food, it's part of the experience," Sisk emphasizes to applicants.
Information transparency. Zoomers aren't satisfied with just being told to do something—they also want to know why. "They're used to getting answers anytime they want," says Whiting. To quench their curiosity, the company includes explanations for all workplace policies in an online employee manual available 24/7.
Flexibility. Today's teens want to set their own schedules, working around school, activities and family vacations. "We give them a ton of flexibility, but they need to play by the rules," says Sisk. Team members simply specify their availability in advance. If they want a last-minute change, they're expected to try to find a substitute themselves.
A sense of community. "Even though we're a company with 94,000 employees, there's a sense of family," Miller says. The company spotlights diversity and inclusion in its "People of Chipotle" Instagram feed.
Whiting's Food encourages its managers to get to know team members. "Find out at least one thing about them that doesn't relate to their work," Sisk advises. When a beloved teen employee took his life a couple years ago, Sisk and Whiting were heartbroken. In response, Whiting's launched its #YouMatter campaign to remind teens how important they each are, that they make a difference, and that they have a place in the company.
Financial incentives: Chipotle's application numbers jumped after announcing a starting-wage increase to $11-$18 per hour. Whiting's "work more, make more" promotion incentivizes team members to schedule additional shifts, and has helped the company operate smoothly with fewer employees. Crew members receive a $1-per-hour pay bump for working four shifts in a week and a $2 hourly increase for working five shifts. Says Whiting, "It's been a real win-win."