Articles
February 19, 2020
Tap into the 4 hottest restaurant trends
Customers are clear about what they're looking for. Are you delivering?
Pent-up demand for restaurants is running high according to the latest National Restaurant Association research, so it's important to stay top of mind with your customers through sustained, effective promotional efforts.

This pent-up demand sets restaurants apart from most industries. Think about it; customers actually want to use restaurants more than they do now! And their craving for restaurant fare can go even higher when you add in the convenience of takeout and delivery.

The ability to stand out from your competition is as important as ever, as is the ability to influence customers to choose you.

What do customers want? According to more than 600 professional chefs participating in our What's Hot 2020 Culinary Forecast, healthfulness, sustainability and creative menus that masterfully mash up what's familiar with what's edgy — rank at the top of the list.

"These trends reflect Americans' desire to combine the tried-and-true with the new and different," says Hudson Riehle, senior vice president of research. "This mix of comfort and edginess is a microcosm of the world we live in. Consumers want something different, but to keep what satisfies them at the same time."

To keep current — and even ahead of those demands — restaurateurs are adding items such as plant-based proteins and healthy, hearty, all-in-one bowl meals to their menus. Understanding today's dining preferences, they're making sure their menus are set up to offer delivery-friendly options. That includes looking for eco-friendly packaging, the number one trend out of 133 items rated in the survey. "Responsible" packaging appeals to customers' sense of social responsibility and sends the right message about reducing waste, recycling and reuse.

In order, here are the What's Hot 2020 top four restaurant trends customers are responding to:
1. Eco-friendly packaging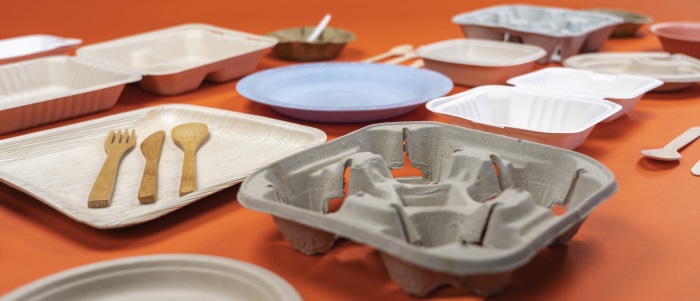 Consumers say they want their off-premises food packaged sustainably and efficiently. To meet that expectation, operators are exploring packaging made from recycled and compostable materials that is strong enough to hold all types of foods easily, retaining food quality temperature. They also want restaurants to cut down on the amount of packaging used in general.
2. Plant-based alternatives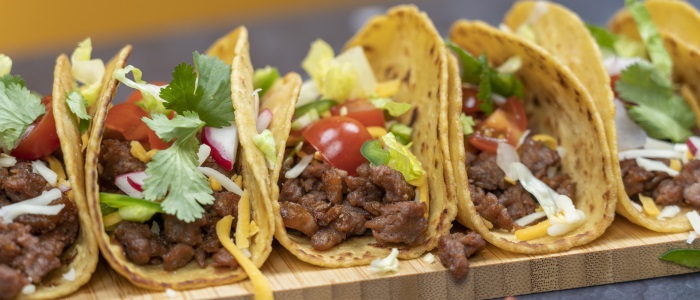 American diners want plant-based proteins that taste great, truly mimic meats and fit a variety of diets. From quickservice to fullservice restaurants, it seems everyone wants to get in on the act. The items' popularity is making it tough for suppliers to keep up with demand in some cases.
3. Delivery-friendly options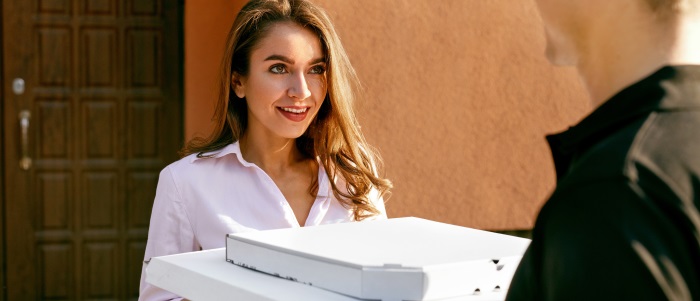 Off-premises dining, projected to account for 60% of restaurant traffic this year, is growing. Consumers, time-pressed and spending more hours than ever on the road and at work, want easy-to-eat, on-the-go meals that maintain their quality in transit, whether it comes from takeout, delivery, drive-thru, curbside pickup or a food truck.
4. Healthy bowls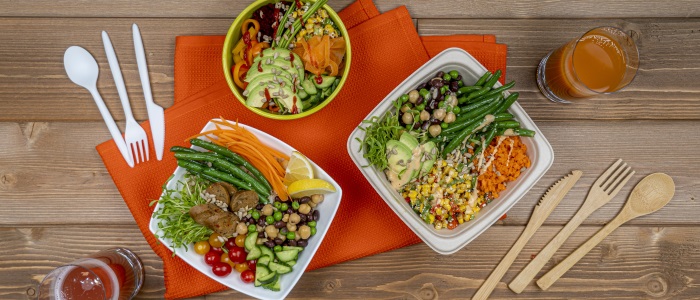 Both limited and fullservice restaurants are offering healthful meals in bowls that are easily handled and portable. Chefs are creating options that combine lean proteins with leafy greens, legumes, nuts, seeds, root veggies and whole grains. Bowls are filling, travel well and can command a good profit margin. They lend themselves well to innovative ingredients and seasonings, too.