Taking pride in finding the right employees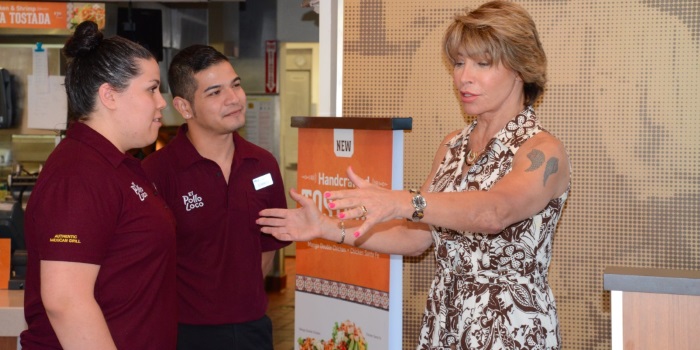 El Pollo Loco franchisee Michaela Mendelsohn, right, and her nonprofit organization, TransCanWork, are committed to helping the transgender community find good jobs in safe environments.
Finding a good job can be challenging, but for the transgender community, the task can get complicated.
The National Center for Transgender Equality finds more than one in four transgender people have lost a job because of bias, and more than three quarters of them have experienced some form of workplace discrimination.
That's one reason why Michaela Mendelsohn, a transgender franchisee with El Pollo Loco Restaurants in Los Angeles, started TransCanWork in 2015. The 501c3 nonprofit helps transgender employees find work and develop a plan for career success. The California-based organization has partnerships with the Human Rights Campaign, as well as several public- and private-sector companies and agencies. It holds job fairs that help potential employees connect with companies committed to hiring them. In addition, several of its clients have found employment—and safe havens—in Mendelsohn's franchised restaurants.
Mendelsohn, who transitioned about 12 years ago, often says she achieved much of her business success as a privileged white man. An industry veteran, she started her career at 15, working in her father's pizza restaurants. Today, her franchise company is El Pollo Loco's largest in California.
Embracing her identity
She says she's experienced gender inequality as a transgender woman and has had to work harder to get her ideas heard. She also says she's been treated differently, depending on who she's had to deal with and their feelings about her and the LGBTQ community. Because of those struggles, she's even more committed to ensuring smoother transitions for transgender employees seeking their own professional careers.
---
To learn more about El Pollo Loco franchisee and TransCanWork founder Michaela Mendelsohn, listen to the new episode of our podcast, Order Up
---
Mendelsohn hired her first transgender employee about nine years ago. The employee was the victim of violence at the restaurant she'd previously worked at. She set out to help her and hire more transgender employees at her restaurants.
"In many cases, these employees come to us with very low self-esteem because of how they've been treated in the workplace," she says. "To watch them grow, get their footing in the workforce for the first time, and support for their true gender identity is amazing. It's why we started TransCanWork, to establish culturally supportive spaces. We're representing job seekers who are applying for jobs at companies we work with, who we make sure are ready to hire them.
"We've placed a lot of employees within the restaurant industry—more than 1,000 in the last three or four years. We're tiny now, but we're growing."
Job fairs are key approach to recruitment
One way TransCanWork helps place employees is through a series of job fairs it holds throughout the year. The job fairs stopped during the pandemic, but are ramping up again now.
Celia Daniels, TransCanWork's COO, says the job fairs are integral to the successful placement of employees. The pandemic presented several challenges initially, but innovation and technology are having a positive effect on the fairs' future.
A technology industry executive, Daniels notes that the job fairs will probably end up a hybrid of virtual and in-person meetings between potential workers and companies. Plans this year call for one in Los Angeles in July, which will be all virtual. Others are set for Dallas, Chicago, Philadelphia, and Washington, D.C.
Daniels, also transgender, says the job fairs, run solely by TransCanWork employees, are easy to market and put on. They send out flyers and emails to job seekers, explaining how to access the event online and how to navigate the portal.
The organization provides them with the names of participating companies—about 30 or so, and they can choose the ones they're interested in. They then upload their resumés and speak with the job recruiters remotely.
Employers are given a login, can provide videos introducing their companies to applicants, and conduct interviews with the job seekers. The job fairs can run for as little as three hours or as long as two days, she adds. Participating companies and agencies have included Blue Cross, Kaiser Permanente, CalJOBS, NBC Universal, and Sony Pictures.
The process is secure since a two-step verification process is in place so information stays protected.
"We're helping this community move forward," she says. "We're training them to succeed in areas where they might need a little help. We're not only focused on providing jobs, but investing in the lives of trans people. We're helping make sure that companies who hire them retain them."
She claims that the next wave of job opportunities is in the food, travel and hospitality industries, retail, and information technology, but that those companies must be prepared and ready to make essential changes to accommodate this workforce. She offered three pieces of advice to prospective employers:
Change in an organization begins with genuine acceptance of how trans people identify, even to the facilities they use. If you want to make a change in your organization, start there.

Be more inclusive and empower all your employees. Invest in your workforce; invest in training. When you invest in them, they will be loyal to you and feel more excited to work for you. Their attitudes effect productivity, and that will increase your outcome.
Don't hire workers, employ changemakers. All of our employees are advocates for our organization. That's really the most important thing for CEOs to keep in mind.