State of the Industry: Sustainability's back on menu
Local, eco-friendly food and packaging are tops with consumers—and restaurateurs.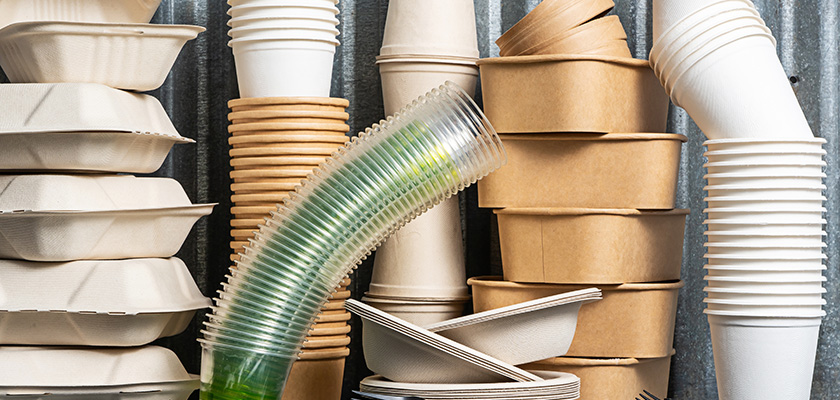 Consumers want packaging for off-premises orders to be made with better, ideally more sustainable, materials.
For many consumers, especially millennials and Gen Zs, being more environmentally aware and sustainable in their actions is more important than ever.

As the world emerges from two years of the worst pandemic in a century, many of us are more mindful about health and well-being. That includes the foods we eat—whether at home or in restaurants.

Consumers dining at restaurants say they want more sustainable and locally-sourced foods on menus. And restaurants, where and when possible, want to provide them.
The lure of local
According to the National Restaurant Association's 2022 State of the Restaurant Industry report, the desire for local sourcing is definitely impacting the dining scene.

Of adult consumers polled in this year's survey, 38% said they're more likely to choose a restaurant that offers locally-sourced foods over one that doesn't. Another 30% said they'd likely choose a restaurant offering food grown in an environmentally-friendly way or raised organically over one that doesn't. Restaurants that serve locally-sourced wines and beers also appeal, especially among younger generations. The research finds 48% of millennials and 40% of Gen Zs favor that approach.

"Consumers like spending their money locally," says Larry Reinstein, president and CEO of LJR Hospitality Ventures. "It gives them a good psychological feeling. Not only do they feel like they're helping their communities, they also learn more about where the food and drink they order comes from."

Reinstein adds that knowing a craft beer or wine comes from a small, local brewer or winery instead of some large, faraway facility is a more enjoyable experience for some.

"Customers relate to the fact it's a local business, and, quite honestly, that it's better for the environment," he says. "The product doesn't have to travel thousands of miles to reach them, and a lot of people are interested in creating smaller carbon footprints."

Laura Abshire, the Association's director of Sustainability Policy agrees. She notes that the thinking is a byproduct of millennials and Gen Zs growing up with stronger environmental and social principles than previous generations.

"They want to know what a business stands for and what it's doing to minimize the environmental impact," she says, "They want to support businesses that align with their values."
Sustainable packaging is on trend, too
Food and drink aren't the only items trending in consumers' sustainability mindset. They also want packaging for off-premises orders to be made with better, ideally more sustainable materials and that retain quality and travel well.

"The pandemic increased consumers' reliance on and use of the off-premises market," says Hudson Riehle, the Association's senior vice president of Research. "At the same time, consumers are even more conscious of being eco-friendly. The convergence of those two long-term trends has resulted in a greater need for more sustainable food-and-beverage packaging."

Among the report's Top 10 food and menu trends this year, sustainable, reusable, and recyclable packaging ranked first, while packaging quality and temperature concerns followed second and third on the list.
Customers will pay more for better packaging
The survey further found that 70% of millennials and 72% of Gen Z adults said they'd be willing to pay extra for to-go orders to cover the cost of upgraded packaging.

To that end, a number of restaurant operators are already investing in better packaging options, the report finds. In fact, seven in 10 full-service operators, plus a majority of limited-service restaurants say they've upgraded their packaging during the pandemic. Another one in four say they plan to devote more resources to upgrades this year.

However, Riehle says continued supply-chain issues during the pandemic can make the purchase of those products more challenging at present.

The National Restaurant Association's 2022 State of the Restaurant Industry report is considered the authoritative source for restaurant industry sales projections and business trends. The report is free to members (a $349 value).