State associations, Kitchen Cabinet get industry employees vaccinated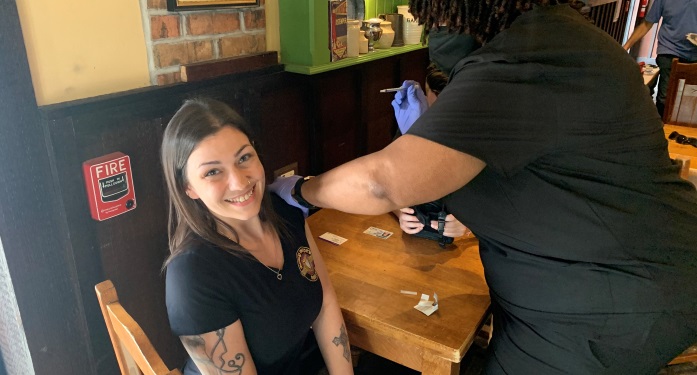 Carolann McClemen, a bartender at Marty Magee's Irish Pub in Philadelphia, gets vaccinated at a Pennsylvania Restaurant & Lodging Association pop-up clinic. Photo: Joe Magee
While the U.S. is expected to miss the Biden Administration's target to get 70% of all adults vaccinated by July 4, state restaurant associations and the National Restaurant Association are working together to make it easier for industry employees to get their shots.
The Association's Kitchen Cabinet, a grassroots advocacy group made up of industry leaders seeking to boost the role restaurants play locally, has earmarked funds for members to use to promote vaccination drives in their states and local markets. The goal is to help as many industry employees as possible get vaccinated so they can live and work safely as the country continues to reopen following the pandemic.
Most recently, state restaurant associations promoting vaccine drives include Pennsylvania, Louisiana, and Illinois.
"This pandemic hit the restaurant industry the hardest—both financially and from a labor perspective," says Mike Whatley, Association vice president of State Affairs & Grassroots Advocacy. "Restaurants can't return to normal operation until everyone feels comfortable dining indoors, and the only way to get there is for the country to reach herd immunity via vaccines. Accomplishing this is good for everyone—our customers, employees, and businesses."
The Biden Administration set the initial goal to have 160 million Americans fully vaccinated by July 4 but amended the goal on June 22 to get 70% of Americans, 27 or older, injected with at least one shot before the holiday weekend ends.
The Pennsylvania Restaurant & Lodging Association earlier this month launched an aggressive vaccine initiative for hospitality employees, their families, and community members, aiming to get 100% of them vaccinated against the virus.
PRLA partnered with the Association, the Garces Foundation, Jefferson Health, Penn Medicine, Puentes de Salud, 15 to Know, and Temple Health. Dubbed "Vaccinations for All," the campaign served as a call-to-action for workers and owners to hit that 70%+ goal.
Using social media, a paid advertising campaign, and colorful signage outside of participating clinics, PRLA sought to educate vaccine-hesitant people in Philadelphia's northeast, south and west neighborhoods. It also teamed with member restaurants who provided incentives, including free cheesesteaks, ice cream, restaurant gift cards and craft beer, to increase interest.
"We can't stress enough how important it is to get hospitality employees and their families vaccinated," says Ben Fileccia, PRLA's director of Operations and Strategy. "Our industry has suffered long enough, and the faster we all become vaccinated, the better off we'll all be in the long run."
To serve its Latinx communities better, PRLA is also working on holding pop-up clinics at Mexican restaurants and in neighborhoods where participants will feel safe regardless of their citizenship status.
Those locations, Fileccia says, will provide the positive environment necessary for vaccine-hesitant individuals with concerns ranging from language barriers to immigration status to misinformation about the vaccine, lack of insurance, and transportation challenges.
The Illinois Restaurant Association also worked with Kitchen Cabinet to get the word out on vaccination events it's hosted with the city of Chicago. Matt Quinn, director of Government Relations and Communications, says that in May, the IRA partnered with members and health-care providers to set up pop-up clinics, where industry employees could get vaccinated.
So far, they've held events, which were free and did not require appointments, at Rogers Park, Humboldt Park, in Bridgeport and the South Shore. The goal: to get vaccinations to as many service industry employees and their families as possible, regardless of their immigration status.
In an effort to increase vaccination rates in its state, the Louisiana Restaurant Association, with assistance from Kitchen Cabinet, rolled out three videos on social media last month. One features New Orleans Mayor LaToya Cantrell and several hospitality workers sharing the news that they got vaccinated.
The LRA created the Take Your Shot campaign to encourage vaccinations among New Orleans' Black and Latinx communities as the percentage of vaccinated individuals in those populations was lower.
"This is a huge step in getting our lives back to normal, and in the recovery of the restaurant industry," says Wendy Waren, LRA's vice president of Communications.