Articles
February 06, 2023
Share the love with your customers on Valentine's Day
Get your customers in the mood for love—and food from your restaurant—with Valentine's Day promotions.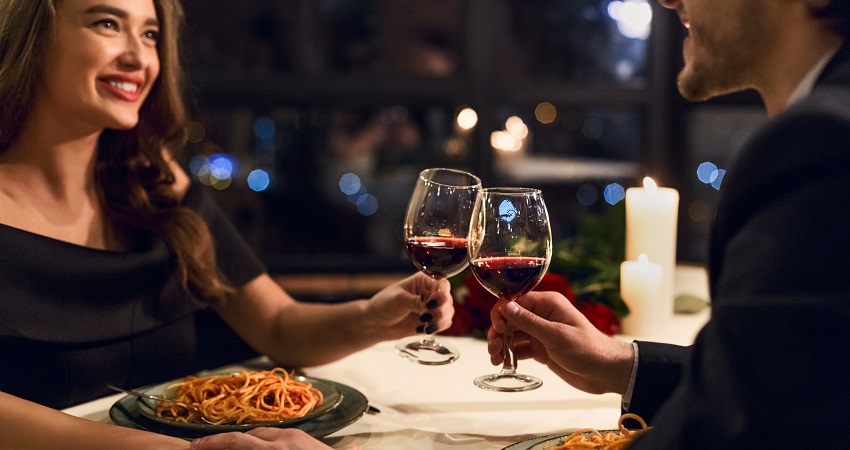 Even spaghetti can be the food of love if the ambience—and the deal—are right.
It's not too late to celebrate Valentine's Day with your customers. Consumers plan to spend an estimated $25.9 billion for Valentine's Day, according to a National Retail Federation and Prosper Insights & Analytics survey. About 52% of consumers plan to celebrate the holiday, spending an average of $192.80 per person, an increase of 9.9% over last year.

Nearly a third say they'll give a gift of dining out.

To take advantage of the holiday, consider offering a Valentine's themed promotion. First, decide on your objective, whether it's driving traffic, encouraging sign-ups in your rewards program, making customers aware of a new menu item, appealing to a wider target audience like families, or boosting takeout sales.

Then figure out what or how much value you want to offer. Common promotions you can wrap a theme around are BOGO—buy one, get one; dollars off; package or meal deals; buy this item, get a complementary drink/dessert/appetizer; a complementary beverage for VIPs or loyalty program members; and contests. Finally, decide on a theme. Here are a few ideas.

Share the love. Give customers ways to share your food. Package special Valentine's Day meals for two for takeout. Offer two sodas for $2.00. Make "shareable" desserts—double-size portions or mix-and-match for a special price. Let customers pay one price for any two items you want to promote.

That's amore. Put together a menu of foods said to be aphrodisiacs. Topping the list are artichokes, asparagus, chocolate, figs, oysters, spicy chili peppers, strawberries, caviar, and
watermelon. But even spaghetti can be the food of love (remember "Lady and the Tramp?") if the ambience—and the deal—are right. It's all about creating a little romance.

Family date night. Kids like Valentine' Day, too. And let's face it, without love there would be far fewer kids. Offer free meals from your kids' menu, or a box of candy hearts to kids who come in with parents. Provide a kid activity kit to tables with families or a fun placemat with conversation starters. Offer heart-shaped kids' entrees—pizzas, burgers or even pancakes—or Valentine's Day desserts like red velvet cupcakes.

Will you be mine? Hold a contest for a free romantic meal. Ask Valentine's Day diners to share a story of how they met (or married couples for the story of how they proposed), or ask them to share a photo of their meal on social media or your website with the reason they chose it. Make sure all contest entrants get something of value they can use after the contest is over—a dollars-off coupon for their next visit, or free delivery on their next takeout order, for example.

Can you feel the love tonight? Provide your customers with a Valentine's Day experience beyond just your food. Have a trivia contest about love. Provide entertainment. Host a chef demo; stream it live on your Instagram, Facebook or web page for takeout customers.

I'm late, I'm late, for a very important date. Nearly 40% of Americans celebrate Valentine's Day after the fact to get a better deal, according to a 2021 Finder.com study. Extend your promotion or make your deal good for a few days or even a week after Feb. 14.

Lonely hearts club. A lot of singles don't want to go out and find themselves among all those lovey-dovey couples. Offer takeout specials on all the indulgent items they like to order. Or promote specials on all the items people wouldn't order on a first date like garlic-cheese bread, peel-and-eat shrimp, and bbq ribs.

All my exes are from Texas. #ShredYourEx, an idea Hooter's ran in 2021, is a promotion idea for all those customers who've experienced a broken heart or gotten dumped. Offer a free cocktail or appetizer to anyone who brings in a photo of their ex and runs it through a shredder.

Calling all besties. Galentine's Day—yes, it's a real thing—is (un)officially on Feb.13 every year. A chance for women to get with their BFFs, the day can be even more special if you offer menu and price specials. Pairings of items to be shared, rosé tastings or specials on wines from women vintners, music playlists featuring queens of rock, soul, hip hop, pop or country, and Galentine's Day cocktails are all in order (#GirlsJustWannaHaveFun #WomenSupportWomen #GirlsDayOut #FemaleFriendships #GirlsNightOut #Galentines #GirlPower). And don't forget the guys. Start a "Palentine's Day" a day or two after Feb. 14 to foster bromances everywhere.

Love Lyfts all. Team up with a local cab company or ride-share service and foot the bill for a portion of your customers' rides home. Customers will feel better about getting home safe after that extra glass of wine or dessert drink, and the upsell on their checks will help you offset your investment.

Happy Valentine's Day!