Articles
October 19, 2022
Secure rooftop equipment before natural disasters hit
Scientists predict natural disasters will increase in number and intensity. Protect your business now.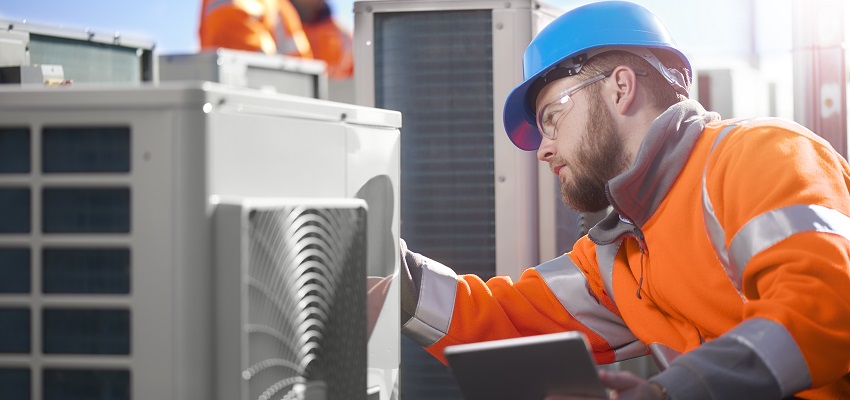 Restaurants can mitigate the potential for storm loss by taking design and preventive maintenance steps on rooftop equipment.
While individuals, businesses and insurance companies total up the damage wrought by the latest hurricane, the destruction serves as a reminder that a natural disaster can strike anywhere, at any time.

Rooftops, in particular, are vulnerable to damage from the elements, especially those brought on by extreme weather events. High winds, snow, hail, rain, and ice all can cause major damage to roofs, but also to all the HVAC and commercial kitchen ventilation (CKV) equipment restaurants locate on their rooftops.

You can mitigate the potential for loss by taking design and preventive maintenance steps. Four key areas to address are the integrity of the roof, how your equipment is fastened to the roof, the roof drainage system, and additional equipment protection. If you're in the design and construction phase of a restaurant, an engineer should be looking carefully at each of these areas. For existing structures, follow this guide.
Secure the roof
"All roof systems can perform well if they are properly designed and installed," says Chuck Miccolis, managing director of Commercial Lines, Insurance Institute for Business & Home Safety (IBHS), Richburg, S.C. "This stands true for wind design and proper water drainage." Miccolis and IBHS recommend the following:
Roof edge flashing, where the roof cover system meets the walls, is a roof's first line of defense against severe winds. Edge flashing should be well sealed and secured to the building. Roof edge flashing, coping, and counter-flashing should comply with SPRI ES-1. Have a qualified roofing contractor check it; if flashing is improperly secured, there are methods to attach it to the wall.
Roof perimeter and corner zones experience the greatest uplift forces during severe windstorms. Securing the roof cover and roof deck in these zones will significantly reduce the vulnerability to these forces. Again, a licensed and insured roofing contractor can make this determination. They can also add fastening in these areas if there is a need for it.
Secure the equipment
Curbs, the supports that elevate the equipment above the roof, provide a seal surrounding a large roof opening below the equipment. They are often made of wood and include a caulked metal fascia to help keep it watertight. "Roof-mounted structures and equipment and their attachments should be designed in accordance with ASCE 7 Minimum Design Loads for Buildings and Other Structures," Miccolis says.
Check to make sure curbs are properly attached to the roof, since they keep the mechanical equipment from tipping over and sliding across the roof.
If the equipment-to-curb attachment isn't adequate to keep equipment from tipping in a high wind event, install high-strength stainless steel straps or cables over the top of the equipment and attach them to the curb or roof deck. Use stainless steel fasteners and turnbuckles, which resist corrosion most effectively.
Clear your drains
Roof drainage is particularly important to prevent roof leaks, Miccolis says. "During the design and construction of a building, an engineer should design the drainage and gutter systems to ensure proper drainage, no matter what type of roof system is installed. Gutter systems should be designed for high wind and meet ANSI-SPRI GD-1 or GT-1."
Check to see that all drains, scuppers, gutters, and downspouts are free of debris and leaves.
Make sure all gutters slope to the downspouts to maintain proper drainage.
Clear any debris around equipment before a snowstorm so water can't pool and refreeze later.
After a heavy snow, have a service remove snow from around equipment if temperatures remain below freezing.
Protect your equipment
In hail-prone areas, or heavily treed areas where wind-blown debris could compromise your rooftop HVAC and CKV equipment, consider taking steps to add another layer of protection
Hail guards. Hail guards are specially designed protection systems that cover outdoor equipment components while allowing for adequate airflow.
Hail netting or intake filter screens. These screens are designed to be strong and durable for high volume/velocity HVAC equipment such as air conditioner condenser coils and cooling tower fills.
IBHS recommends inspecting your roof and roof-mounted equipment with each seasonal change, prior to and after a severe weather event, and after any work done on the roof or equipment. Hire a licensed and insured roof contractor to do periodic inspections of your roof. If staff must inspect the roof:
Inspect only during sunny day conditions.
Do not get too close to the edge.
Follow OSHA restrictions and requirements for fall protection relating to being on a roof.
Clear loose debris on the roof.
Look for improperly attached equipment.
Check for roof leaks, especially where there's a vertical transition such as around the bases of curbs, parapets, chimneys, and roof hatches.
Clear drains and gutters.
For more information, consult IBHS resources, and download the Association's free "Always Ready: Natural Disasters" booklet for natural disaster preparedness tips.
---
A special note
In the wake of Ian's devastation, rebuilding has begun. Restaurants often play unique roles in disaster recovery, providing food, power, and information to those who need it most.

If you are an operator impacted by Hurricane Ian, there are local resources available to help in your recovery.

The Florida Restaurant and Lodging Association has resources and recovery information for local operators on its website.

South Carolina operators impacted by Ian can get the latest recovery information from the state Department of Health and Environmental Control.

If you want to support the recovery efforts in Florida, please consider donating to the Florida Disaster Fund or World Central Kitchen.

Restaurant Disaster Relief Fund
DoorDash, in partnership with Hello Alice, will provide $10,000 relief grants to eligible local restaurants affected by state- or federally-declared natural disasters through the $1M. Restaurant Disaster Relief Fund. If your restaurant is experiencing hardship due to natural disaster, has three stores or less, employs fewer than 50 employees per location, and has revenues of $3M or less per location in the last 12 months, apply today.