Scholarship opportunities for industry's hospitality students
NRAEF awards more than $1.2 million each year! Apply by March 15.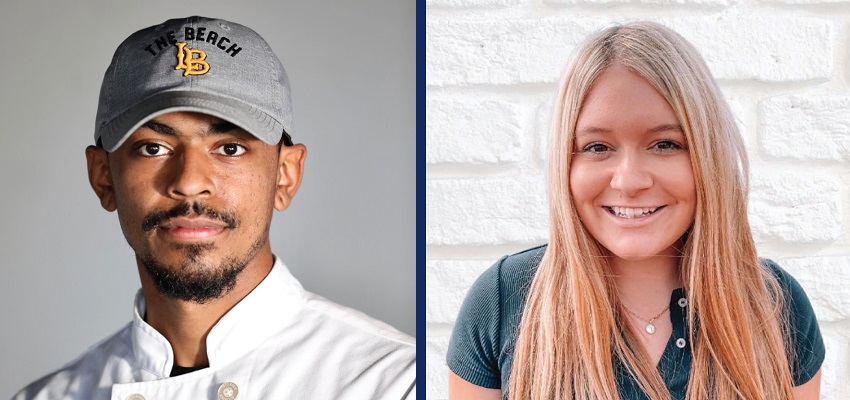 Kevin Cooper of California State University, Long Beach and Mckenna Voisin of Northern Arizona University are two of the students who've benefited from the NRAEF's scholarship program.
Each year, the
National Restaurant Association Educational Foundation
awards more than $1.2 million in scholarships to individuals pursuing a post-secondary degree in the restaurant, foodservice and hospitality industry. More than 280 scholarships were awarded last year. Applications for the 2023–24 school year are due March 15.
Meet two of our past scholarship winners, and find out what an NRAEF scholarship has meant to them:
Kevin Cooper: California State University, Long Beach
As a kid, Kevin Cooper didn't have any role models who had graduated from college. In fact, no one is his family had gone to college.
What he did have was a passion for food and cooking. He would sit glued to the TV watching "Good Eats" and "Iron Chef America" on Food Network, mesmerized as the TV chefs created culinary masterpieces. That passion led him to the foodservice industry and eventually to college at California State University, Long Beach, where he'll graduate this year, at age 30, with a bachelor's degree in restaurant and hotel management, partly thanks to the financial assistance he received through an NRAEF scholarship.
In high school, Cooper participated in a career readiness program in culinary arts and interned at a small chef-owned-and-operated restaurant where he honed his culinary skills. After graduation in 2010, he stayed on as garde-manger, a cook who oversees cold food preparation, and learned to make sauces, dressings and more from scratch. From there he went to work for Wolfgang Puck Express, Ace Hotels and Marriott.
His love for the culinary arts was growing every day—and it was helping to pay the bills, which included supporting his young son. "I worked two jobs for a long period of time," Cooper recalls. "I would work all throughout the day, doing prep work in the morning and working as a line cook at night."
After several years, Cooper noticed his career plateauing. He decided: "I want to go back to school to open up more opportunities." That meant juggling college and work, just to pay living expenses for his growing family. (He now has two sons.) "I was strapped; I really didn't have any cash to fund my classes . . . That's why I applied for scholarships."
Cooper hadn't heard of NRAEF scholarships when he started college, but luckily a professor filled him in. "I took the time to study the organization—to see its core values and whether they aligned with mine—and then I went for it."
For the past two years, he's received NRAEF's David R. Parsley Endowed Scholarship for Supply Chain Management, which fits with Cooper's career path. He currently works as foodservice operations manager of California's Inglewood Unified School District. He's on a mission to reimagine cafeteria food, incorporating farm-to-table, scratch cooking.
"I had a revelation," he says. "Why aren't our students getting the food that we like to get when we go out? If we have the right staff and we have the right equipment, why can't we make school breakfast and school lunch meals to remember?"
He describes the NRAEF scholarship as "a life-changing opportunity," that has opened doors for him and provided the chance to network with industry experts, including the individual that the scholarship is named for: David Parsley, retired SVP of Supply Chain Management for Brinker International, Inc. (parent company for Chili's and Maggiano's) and former chairman of the National Restaurant Association's Supply Chain Management Expert Exchange. "The scholarship's financial benefits are obvious," Cooper says. "But I truly believe that the support that I have received from all of the leaders within this industry and the Foundation itself has been the greatest gain for me."
Mckenna Voisin: Northern Arizona University
Mckenna Voisin can sum up what she loves about the hospitality industry in one simple word: guests. The senior at Northern Arizona University (NAU) and NRAEF scholarship recipient fell in love with the industry as a teenager in Orange County, Calif., where she attended a high school culinary arts program and developed a passion for serving guests.
Her high school classes taught her culinary fundamentals, including knife skills, cooking techniques, and pastry baking, as well as the basics of hospitality management. She quickly put her skills to use, launching her own catering company at 15, where she delighted in making bridal showers and wedding receptions extra special for the guests of honor.
As a high schooler, she also landed a job as a personal chef for a family with two children with celiac disease, where she focused on making kid-pleasing, gluten-free meals. "It's hard when you're a kid and you can't have fun desserts," Voisin says. "They asked if I could make a gluten-free pie, and I was like, 'I've never made a gluten-free pie, but I'll figure it out.'"
As a high school senior, Voisin interned at Montage resort in Laguna Beach, Calif. She quickly embraced the luxury resort's philosophy on "wowing" customers, be it by surprising a travel-weary conference-goer with a complimentary treat or by teaming up with a guest to help orchestrate a dinner where they "pop the question."
Given her passion for the industry, it's no surprise that Voisin decided to study hotel and restaurant management in college. But the question remained: How would she fund her college tuition and expenses? As a high school junior, she competed in the California ProStart Cup, a culinary and restaurant management competition run locally by the California Restaurant Foundation.
There she learned about the National Restaurant Association Educational Foundation, which not only runs the national ProStart Invitational competition, but also offers scholarships to students pursuing a post-secondary degree in the restaurant, foodservice, and hospitality industry. When it came time to apply for scholarships, Voisin thought she might be a good candidate.
Filling out the application required just a bit of time and the willingness to share her experiences and interests. In return, she received financial assistance that allowed her to concentrate on her studies and graduate without any financial burden. "I'm big on saying 'yes' to all the opportunities that come my way," Voisin enthuses. "I've told all my friends who are in the same major: Apply, there is no downside."
NRAEF awards scholarships on a one-year basis, encouraging eligible students to reapply in future years for additional funding. Voisin received an NRAEF scholarship all four years of college. She also received scholarships from the California Restaurant Association, the American Hotel and Lodging Association, and NAU. "I was blessed to go to college with a full ride," she says. "I've gotten four scholarships all four years."
College has been an eye-opening experience, introducing her to the industry's many segments. "There are so many cool jobs you can have within this industry," Voisin says. She's developed an interest in hospitality sales and can see herself working in sales for a large hotel or resort, where she can help shape the guest experience from the start.
Wherever her career path takes her, she wants to continue "wowing" guests. "When I go on vacation, I love it when the hotel staff goes above and beyond to make my experience great. That's what I always like to do for my guests," Voisin says. "I try to make their experience as perfect as possible."
The National Restaurant Association Educational Foundation is accepting scholarship applications through March 15.

Apply today!