Articles
December 15, 2022
Safe serving tips for alcohol to-go sales
Alcohol-to-go sales pose special safety challenges; here's how to help keep customers you can't see safe from harm.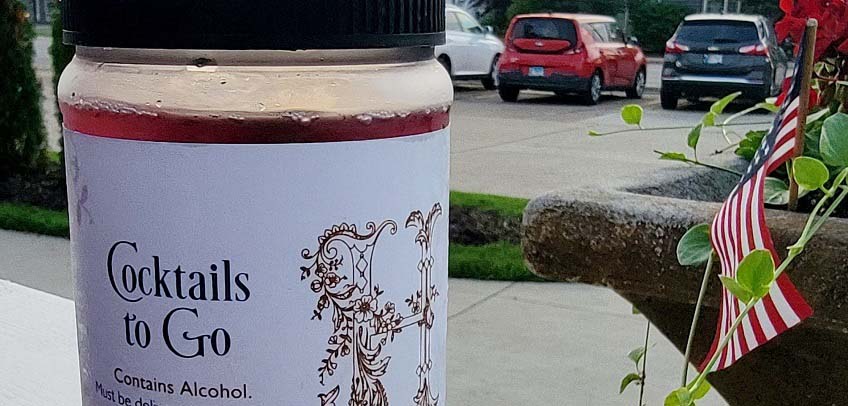 Serve to-go alcohol in appropriate containers, but make sure to note that laws vary by state and municipality.
To help restaurants hang onto customers during the COVID-19 pandemic, 39 states passed legislation allowing the sale of alcohol to-go for a certain period of time. As of now, at least 18 states have made those laws permanent, and others are considering legislation that would allow to-go sales (see sidebar, "Who's in, who's out").

Alcohol to-go sales, though, may pose challenges beyond those you may have with on-premises beer, wine and cocktail service.

Here are three tips for safe off-premises service from the Association's ServSafe Alcohol program if you have or are considering an alcohol-to-go program.
Check the alcohol-to-go laws in your locale. Laws vary not only by state, but may vary by county or city, too. Contact your state liquor control board to find out the latest rules that apply to selling alcohol to-go.
Find out if you're allowed to deliver alcohol, with or without food. A number of states limit alcohol to-go to pick-up only, requiring customers to order and pick up drinks directly from the restaurant or bar. In states or localities that allow delivery, some allow 3rd-party delivery, while others require that restaurant employees deliver orders. You should also check what training requirements are in place in your state for those that deliver alcohol.
Serve to-go alcohol in appropriate containers. Again, laws vary by state and municipality. Typically, states that enacted to-go laws during the pandemic require beverage alcohol to be sold and delivered in sealed containers of one gallon or less. But several states allow cities to set their own rules. The result is a hodge-podge of regulations. In Tampa, Fla., for example, restaurants along the Tampa Riverwalk are allowed to sell two open plastic containers per customer between 11 a.m. and 1 a.m. Mobile, Ala., allows open plastic containers as long as they're printed with the name/logo of designated licensees.
In Michigan, the law allows restaurants to sell beer, wine and cocktails in sealed qualified containers of one gallon or less, with a printed label that says, "Contains Alcohol. Must be delivered to a person 21 years of age or older." To retain customers during the pandemic, the Hummingbird Lounge, New Buffalo, Mich., decided to offer cocktails to-go, but most quality packaging was out of stock due to increased demand and supply chain issues. Owner/operator Ben Smock found some new peanut butter jars that met the state's requirement, and printed the necessary label. "They will keep a cocktail cold for well over an hour with ice," he says. "Some of our cocktails contain unpasteurized juice, so maintaining proper temperature is important for food safety."
Always check the customer's ID before serving or delivering to-go cocktails. This is especially important when delivering beverage alcohol since the restaurant itself can't verify a customer's age remotely.
Use delivery drivers who are at least 21, preferably those who have had beverage alcohol service training. Almost all jurisdictions require drivers be at least 21 to deliver alcohol, though there are a few exceptions. Delivery drivers, even 3rd-party drivers, face many of the same liability issues as restaurants and bars; training drivers in safe alcohol service techniques will help them deal with issues they encounter with delivery.
Know the signs of intoxication, and refuse service to anyone who appears to be intoxicated. ServSafe's ServItUp online resource center has downloadable materials that address this and other issues related to serving alcohol.
Be prepared to handle difficult situations. The ServSafe alcohol program teaches bartenders, servers, and delivery drivers the skills they need to appropriately deal with intoxicated customers, underage people trying to buy alcohol, and many other real-life scenarios. Knowledge learned from the program includes your right to refuse service to intoxicated persons, the steps you should take before and after stopping service, how to prevent guests from becoming intoxicated, and best ways to communicate with intoxicated guests.
ServSafe Alcohol prevents underage access, drunk driving, and intoxication without over-sensitizing servers," says Trevor Estelle, VP, ServSafe Alcohol & Regulatory Services. "This is an important distinction because we don't want to make servers afraid to serve; we just want to make sure they have the skills and confidence to provide responsible alcohol service."

"We have a relatively 'green' service staff," Smock says, "and the ServSafe Alcohol course has given them the tools they need to do their jobs safely and responsibly. They also understand that they have a personal responsibility to look after their guests, so they pay closer attention to guests' behavior when alcohol is being served. These rules don't change when selling alcohol to go."
---
Who's in, who's out
Ariz., Ark., Del., Fla., Ga., Iowa, Kans., Ky., Mont., Mo., Neb., N.M., Ohio, Okla., Ore., R.I., Texas, Va., W.Va. Wis. and D.C., have all made alcohol-to-go legislation permanent.
States that passed legislation to allow sales of alcohol to-go on a temporary basis include
Colo. (set to expire July 1, 2025); Conn. (set to expire June 4, 2024); Ill. (expires Jan. 3, 2024); Maine (extended to 2025); Md. (local option—expires June 30, 2023); Mass. (extended to April 1, 2023); Mich. (expires Dec. 31, 2025); N.J. (considering permanent status); Tenn. (expires July 1, 2023); Vt. (expires July 1, 2023); and Wash. (expires July 1, 2023).