Restaurant sales pulled back from a healthy January
After starting 2021 with a robust increase, restaurant sales slipped back somewhat in February. Eating and drinking places* registered total sales of $54.2 billion on a seasonally-adjusted basis in February, according to preliminary data from the U.S. Census Bureau.
February's volume was down 2.5% from January's upwardly revised total of $55.6 billion – a level that nearly matched September as the monthly highpoint of the pandemic. Taken together, eating and drinking place sales in January and February were 5.1% higher than the last two months of 2020.
The recent uptick in consumer spending likely reflected the additional economic impact payments that were deployed early in the year. As the next round of stimulus checks hit bank accounts, consumers should once again be poised to burn off some of their accumulated pent-up demand for restaurants.
While the general upswing in sales is a positive sign, business conditions remain far from normal. Eating and drinking place sales in February remained more than $11 billion – or 17% – below their pre-pandemic level in February 2020.
Indeed, most restaurant operators believe it will be several more months before they experience a normal operating environment.
In total during the first 12 months of the pandemic, total restaurant and foodservice sales were down $270 billion from expected levels, according to Association estimates. This includes the sales shortfall at eating and drinking places, plus a sharp reduction in spending at foodservice operations in sectors such as lodging, arts/entertainment/recreation, education, healthcare and retail.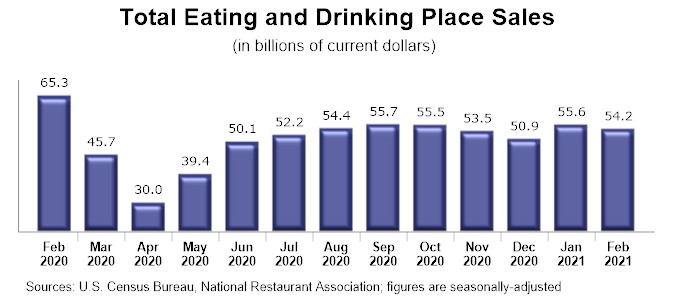 *Eating and drinking places are the primary component of the U.S. restaurant and foodservice industry, which prior to the coronavirus outbreak generated approximately 75 percent of total restaurant and foodservice sales.
Read more analysis and commentary from the Association's chief economist Bruce Grindy.