Articles
December 16, 2020
Restaurant sales fell for the second consecutive month
Restaurant sales fell sharply for the second consecutive month in November, as business conditions for the industry continue to deteriorate. Eating and drinking places* registered sales of $53.2 billion on a seasonally-adjusted basis in November, according to preliminary data from the U.S. Census Bureau.
That was down $2.2 billion (or 4%) from October's volume of $55.4 billion, and represented the industry's lowest monthly sales total since July.
This means the restaurant sales recovery has not only stalled, but that the industry has likely fallen into a double-dip recession. Eating and drinking place sales remain more than $12 billion – or 19% – below their pre-coronavirus levels in January and February.
One reason for the deteriorating business conditions is the end of the outdoor dining season in many parts of the country. In late November, 52% of fullservice operators said their restaurant offered on-premises outdoor dining in a space such as a patio, deck or sidewalk. That was down from 74% in early September. Forty-six percent of limited-service operators offered outdoor dining in late November – down from 60% in September.
Even though a sizable number of restaurants continue to give customers the option of eating outside, there is a big difference between offering outdoor seating and having a packed patio. With cold weather descending on much of the country, an increasing number of outdoor tables are sitting empty.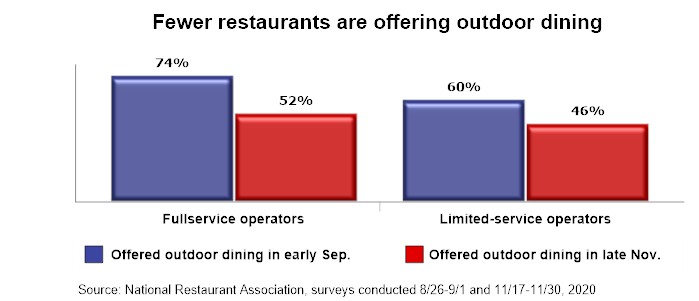 While the rollout of the vaccine provides a glimmer of light at the end of the tunnel, it will be several more months before business conditions even begin to resemble normal for restaurants. With that in mind, a strong majority of restaurant operators are pessimistic about their sales prospects during the winter months.
Eighty-three percent of fullservice operators expect their sales to decrease from current levels during the next 3 months, while only 3% think their sales will increase. Among limited-service operators, 67% think their sales will decline during the next 3 months; only 9% expect sales to rise.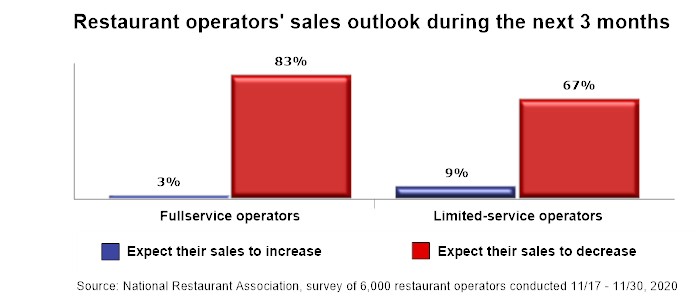 While the Census Bureau's seasonally-adjusted figures offer a directional look at spending trends from month to month, they don't provide a complete picture of the sales losses that have been experienced by restaurants during the coronavirus pandemic. For this, the unadjusted data set is a better measure, because it represents the actual dollars coming in the door.
In total between March and November, eating and drinking place sales were down nearly $192 billion from expected levels, based on the unadjusted data. Add in the sharp reduction in spending at non-restaurant foodservice operations in the lodging, arts/entertainment/recreation, education, healthcare and retail sectors, and the total shortfall in restaurant and foodservice sales likely reached $235 billion during the last nine months.
*Eating and drinking places are the primary component of the U.S. restaurant and foodservice industry, which prior to the coronavirus outbreak generated approximately 75 percent of total restaurant and foodservice sales.
Read more analysis and commentary from the Association's chief economist Bruce Grindy.