Articles
October 25, 2021
Restaurant jobs remain below September 2019 levels in 49 states and DC
Restaurants continued to have difficulties boosting staffing levels in September, as job growth slowed significantly from recent months. After seeing average monthly gains of nearly 200,000 jobs during the first seven months of 2021, restaurant employment leveled off in August and September. As a result, eating and drinking places remained more than 900,000 jobs below pre-pandemic staffing levels.
On the state level, job losers exceeded job gainers by a wide margin September. Forty-four states lost restaurant jobs between August and September, while only six states and the District of Columbia saw employment levels rise.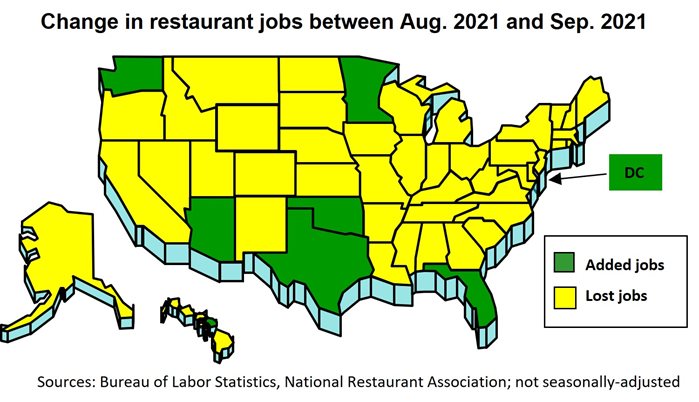 Several of the states that were among the leaders in restaurant job losses have a sizable seasonal workforce during the summer, so it's not surprising that staffing levels declined in September. Massachusetts and New Jersey typically rank within the top five states for summer hiring – each boosting their restaurant staffing levels by more than 25,000 seasonal positions.
Wisconsin, Michigan, Virginia, Maine, Ohio and North Carolina also see eating and drinking place payrolls expand by more than 10,000 jobs during the summer months.
While September staffing declines are normal in many states, it is likely that many operators would prefer to hold on to some of the seasonal workforce, given that 78% say their restaurant
does not have enough employees
to support existing customer demand.
In 49 states and the District of Columbia, restaurant employment in September 2021 remained below the comparable pre-pandemic readings in September 2019. This group was led by the District of Columbia, which had 28% fewer eating and drinking places jobs in September 2021 than it did in September 2019.
Vermont (-23%), Alaska (-23%), Hawaii (-23%) and New York (-22%) were also well below their September 2019 restaurant employment levels.
Only Idaho had more eating and drinking place jobs in September 2021 than it did in September 2019.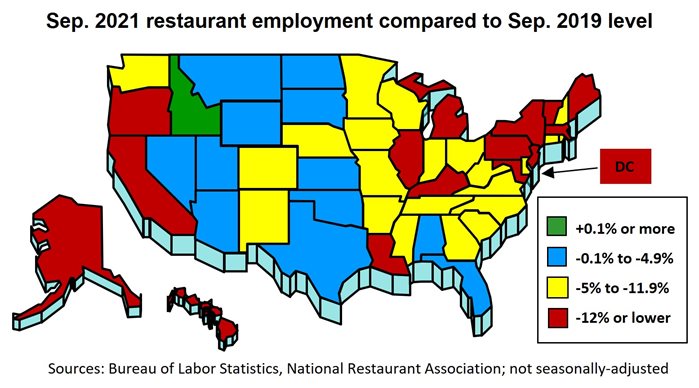 As of September 2021, California had 229,400 fewer eating and drinking place jobs than it did in September 2019. Restaurant staffing levels were also well below September 2019 readings in New York (-150,100), Illinois (-69,500), Pennsylvania (-60,300) and Michigan (-50,500).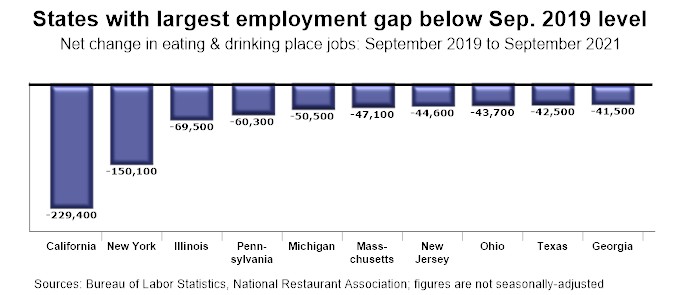 View the employment
data
for every state.
*Eating and drinking places are the primary component of the total restaurant and foodservice industry, which prior the coronavirus outbreak employed 12 million out of the total restaurant and foodservice workforce of 15.6 million.
Read more
analysis and commentary
from the Association's chief economist Bruce Grindy.