Articles
September 03, 2021
Restaurant job growth stalled in August
Job growth in the restaurant industry screeched to a halt in August, providing additional evidence that the road to a full employment recovery will be rocky. Eating and drinking places* cut 41,500 jobs in August on a seasonally-adjusted basis, according to preliminary data from the Bureau of Labor Statistics.
August represented the first monthly decline since December 2020, and followed a 7-month period in which the restaurant industry added nearly 1.4 million jobs. Despite the solid gains in recent months, eating and drinking places remain nearly 1 million jobs – or 8% – below their pre-pandemic employment peak.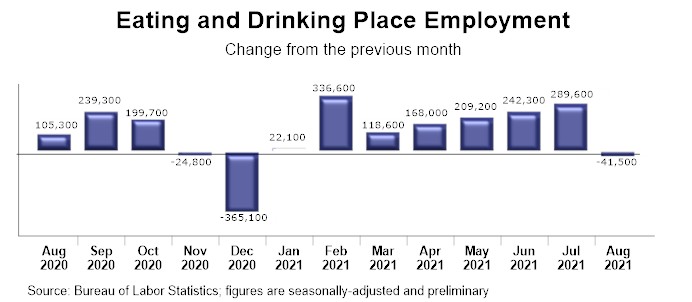 [Note: The BLS monthly employment dataset measures jobs during the payroll period that includes the 12th of each month. Changes in restaurant staffing levels – both negative and positive – have occurred rapidly during the coronavirus pandemic, as restaurants quickly adjust their operating status in response to evolving regulatory and economic conditions. As a result, significant changes likely occurred during the weeks between each measurement period, and the monthly data may not fully capture the total job losses experienced during the coronavirus lockdowns. Based on surveys of restaurant operators, the National Restaurant Association estimates that more than 8 million eating and drinking place employees were laid off or furloughed during the peak of the lockdowns.]
*Eating and drinking places are the primary component of the total restaurant and foodservice industry, which prior to the coronavirus outbreak employed 12 million out of the total restaurant and foodservice workforce of 15.6 million.
Read more analysis and commentary from the Association's chief economist Bruce Grindy.