Articles
September 15, 2021
Reopening Roti provides new chance to make first impression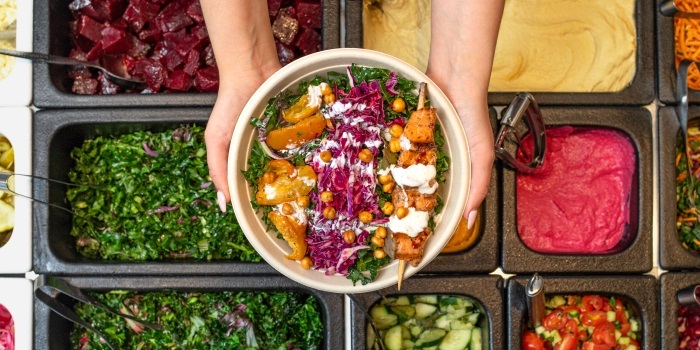 Roti has simplified its menu to bowls, salads and pitas, and added new flavors, ingredients and ingredient combinations.
For Roti's reopening strategy, "We're looking at data all the time," says Nicolas "Nico" Nieto, Marketing and Brand vice president.
"We're reopening locations based on where there are people going back to work in buildings, going to places like museums, and where there's an uptick in tourism, traffic, or commuting activity. Roti owns 43 restaurants across the United States, and 24 are currently open. We've reopened 10 locations since we spoke last summer. Our plan is to reopen as many locations as we can and open new stores in the future. We hope to have about 28 open by the end of September."
Nieto shared some of the brand's reopening strategies.
What has reopening looked like for you?
This is our second chance to make a first impression. We developed a new menu, with new branding, and updated our restaurant experience to include digital menu boards.
We wanted to create a menu that was appealing to our customers, but also simpler for our staff to execute so they could deliver the quality we're known for. Everything is prepared from scratch, and the menu was redesigned with 20% more efficiency on prep time. Customers love the new items, and the staff is happier with the preparation process the new items take to execute.
What's new on the menu?
We've simplified the menu to bowls, salads and pitas, and added new flavors, ingredients and ingredient combinations. For example, our culinary director created new flavor combinations, including the Fire and Rice bowl with spicy steak on saffron rice, curried carrot salad, dill cucumber, pickled onions, and classic tahini. We also introduced cauliflower rice as a vegetable-forward option to our traditional saffron rice.
We built the new menu and flavor profiles with our customers' input, gathering data from assorted taste tests. We used curbside pick-up, Zoom calls, and surveys to do extensive, but pandemic-safe, market research. Our customers would pick-up the food, bring it home, and tell us what they thought.
We used their feedback and insights in our menu development. The biggest trend we saw was a desire to eat more healthfully. Our goal is to continue to offer flavorful meals packed with healthful, balanced, fresh, and colorful ingredients.
We enlisted our team to help name some of the new menu items, and the results are great—I Dream of Tahini, Flip the Bird, and El Toro Toro are examples.
Do you feel that health is a consumer driver during the pandemic?
Our customers don't have to choose between healthy and delicious. When the pandemic hit, most people wanted comfort food. But over time, many of us are realizing that we can't keep up with that lifestyle, and we need to find a balance. Our food is good to eat every day.
Have you had issues hiring or retaining employees?
There are definitely issues with labor today. We had to get creative, open up the lens and see what we could do differently. We're not only looking for people with restaurant experience, we're looking in the entertainment and hospitality industries for those looking for employment. Personality and hospitality are the 'Roti Vibe.'
Our teams have been a transformative force in helping us drive innovation across our business. Their expertise translates into great ideas and initiatives that make us better; we're stronger because of them. And, we always strive to take care of our people; we've created an environment where they feel safe coming to work, and we communicate with them frequently. Because of that, our retention rate is good.
Our teams are excited about all of the innovation. Things like having our staff taste our food before it goes to market and the invitation to name new menu items create a sense of belonging, which is so important these days.
What is Roti doing to recruit new employees?
We've implemented a new hiring and training model. Our recruitment team created a super basic and easy-to-fill-out job application that's prominent on our website. We're also trying innovative approaches to reach new groups, including working with Tik Tok Resumes. Applicants can submit a Tik Tok video to apply for a job with us.
We have taken a different approach to find great people. We're not only looking for people in the food industry, but people from all different backgrounds and experiences. We know we can onboard and train them through our processes and programs but finding good people with the right personality that have the potential to deliver our 'Roti Vibe' is paramount.
So, whether you're a theater performer or a high-school senior looking for a first job, we have a place for you. Our pipeline of candidates is growing, and we're looking forward to expanding our team.