Reopening design strategies: Managing the BOH and receiving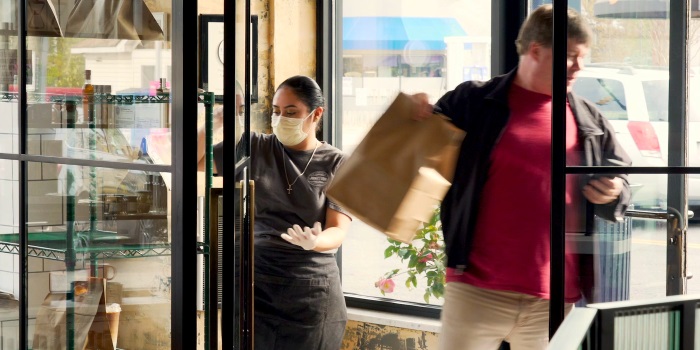 Set up food "exchange" areas from BOH to FOH with safety in mind. Setting to-go orders by the door for example minimizes interior traffic.
With a good food-safety training program such as ServSafe in place, your employees already know how to prevent foodborne illnesses. Mitigating the potential spread of the coronavirus, however, means thinking about ways in which you can add layers of protection and reduce risks of contamination throughout all restaurant procedures.
Since person-to-person transmission is the primary source of infection, reopening strategies focus on reconfiguring your restaurant to maximize social distancing and sanitation. That means tracking and managing the flow of people — kitchen staff, waitstaff, guests, suppliers, delivery drivers — to minimize exposure to one another.
In addition to the food safety practices you already use, perhaps the best way to help ensure your BOH setup minimizes contact points is to reconfigure the flow of food through your restaurant in the same way you've done for people.
Deliveries
Designate one entrance for all deliveries (even small packages from UPS or FedEx).
Clear a receiving area where deliveries can be off-loaded, sorted, unboxed and inspected. The area should be easy to keep clean and sanitized.
If deliveries come to your restaurant through a public space, such as a common hallway or elevator, make sure those spaces are cleaned and sanitized before moving food deliveries through them.
Be sure food and supplies are taken directly to their designated storage area, whether frozen, refrigerated or dry. Clear space for new supplies in advance.
Prep and cooking
If possible, create a staff entrance separate from your guest entrance.
Set aside a space to check employees for COVID-19 symptoms upon arrival. Create a standing questionnaire to ensure your shift leader asks all the right questions about how employees are feeling, recent exposure, recent travel, etc. Take employees' temperatures with a surface thermometer.
Where possible, stagger kitchen workstations or set up additional ones to provide six-ft. separation between employees. Otherwise, consider other options, such as face coverings (masks, shields) or barriers (plexiglass, curtains — non-cooking areas only), and clean and sanitize surfaces frequently.
Stagger employee breaks so they don't congregate in groups in break areas.
Exchange areas
Set up food exchange areas between the kitchen and the front-of-the-house with a one-way path from the kitchen to the exchange/pick up area for food, and a one-way path back for dirty dishes.
On the FOH side of the exchange area, you may want to set up one area where waitstaff pick up orders for seated customers, and a totally separate area (ideally near the door?) for customers and delivery drivers to pick-up to-go orders.
Clean and sanitize exchange areas after each order has been picked up.
Think about installing a temporary or even permanent handwashing station near the exchange areas so employees and customers can wash their hands before getting orders or before they eat.
For more information, consult these resources: