Ready restaurants to reopen with this kitchen equipment checklist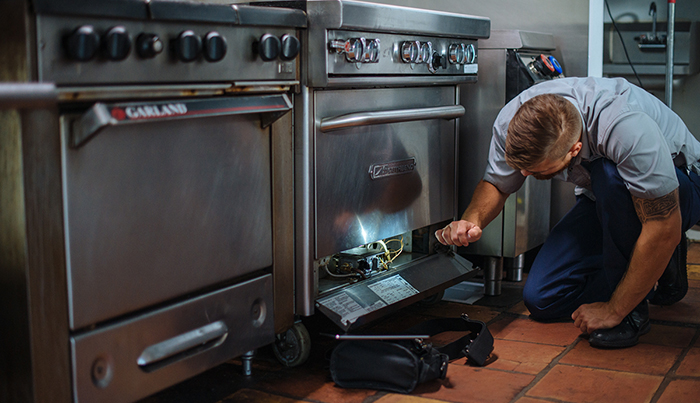 Restaurateurs readying to reopen their 'til-now-shuttered businesses have a lot to do before they're ready to welcome guests again. One of the most important is ensuring their kitchen equipment is not just clean and sanitized, but in good working order.
For detailed instructions on starting up your specific equipment, always consult the manufacturer's maintenance and startup instructions, most of which are readily available online.
For a good general-reminder checklist, Parts Town, the Addison, Ill.-based OEM parts distributor and parent of Heritage Parts, has a number of tips on what to look for as you fire up your kitchen equipment.
Among the more general reminders:
Check all gas equipment connections for gas leaks. Ensure pilot lights are on.
Make sure utilities are on, including electric circuit breakers and water valves, in addition to gas.
Ensure your exhaust ventilation system is balanced with make-up air supply (exhausting properly). If your front door is suctioning shut/hard to open, it's a sign your air balance is off.
Clean and sanitize everything.
Descale all steam-generating equipment.
Clean off all coils on refrigeration equipment. Dirty coils impede units' ability to dispel heat.
Change filters on any equipment that uses them, from fryers to rapid-cook ovens.
Check gaskets on all doors to make sure they're clean, tightly fitted and show no cracks. Gaskets ensure the necessary door seal on steam, refrigeration and hot-holding equipment.
Verify all equipment is reaching the temperatures you set, whether hot for cooking and warewashing, or cold for refrigeration and freezing.
Empty ice makers, clean and sanitize, run (and dump ice) from first cycle(s), then allow to fill.
If your equipment is not working well, don't tamper with or try to repair it yourself. Consult a certified foodservice equipment service professional for assistance.