Articles
December 02, 2021
Raise a glass to beverage trends for 2022
Seltzers, sparkling water, spicy cocktails and more top our list of popular potables in the coming year.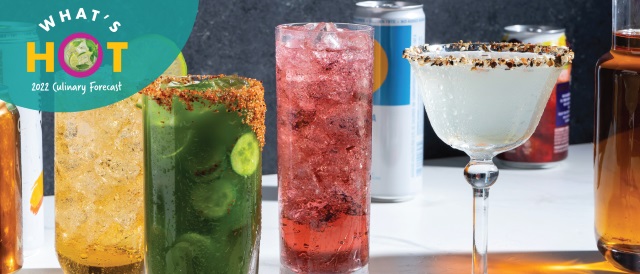 Association research indicates hard seltzers and spicy-rimmed cocktails will shine bright in the beverage category next year.
Restaurant guests, accustomed now to living in a pandemic, are looking for more healthy beverages that are also fun and indulgent, National Restaurant Association research finds.

At bars around the country—including ones serving non-alcohol drinks only—operators assumed alcohol-free beer would be their top seller, but it turns out cocktails made with zero-proof spirits are getting a lot of attention. In published reports, Billy Wynne, owner of sober bar AWAKE in Denver, notes those fancy cocktails, with spicy rims and flavorful garnishes, are his most popular.

In fact, the Association says, those are some of the drinks that will shine brightest in the beverage category next year.

According to 350 professional chefs who participated in our What's Hot 2022 Culinary Forecast, the most popular beverages will include:
• Cashew and pistachio nut milks
• Flavored sparkling waters
• Hard seltzers
• Spicy-rimmed cocktails
• At-home cocktail kits
• CBD-infused beverages
On trend: Simple, clean, fun
Maggie Gentile, vice president of Food and Nutrition Policy for Food Directions LLC in Washington, D.C., says the choices reflect a desire for beverages made with simpler, cleaner ingredients that provide comfort and fun.

"Demand for plant-based milks had increased over the last several years for several reasons, but chiefly because of food allergies and intolerances," Gentile says. "Now, however, more individuals are seeking them out due to concerns for different health outcomes, plus a desire to align with certain environmental and animal welfare principles." Nevertheless, she notes, "It's important to emphasize not all plant-based milks contain the same nutrient profile dairy milk does."

Gentile also says the popularity of seltzers and sparkling water is representative of more people cutting back on beverages with added sugar content, like soda, but still wanting to stay hydrated throughout the day.

"Not everyone always wants to drink plain water, so seltzer, with some flavor and fizz, can be a good alternative," she says. "This same thinking applies to hard seltzers, which do feature alcohol content, but are still somewhat lower in calories and sugar content, while a bit indulgent."

Health and wellness will continue to drive 2022's trends, Gentile says. "Consumers are now more aware of the connection between COVID-19 and health risks, including heart disease, diabetes, cancer, and obesity. Knowing the impact those diseases could have on COVID-19—that they could lead to more severe outcomes—plus a continuing interest in climate change and sustainability, will keep driving consumption of healthier beverages, like plant-based milks and seltzers."
Fancy presentation, and deeper flavors
When it comes to more upscale beverages, Emily Wines, master sommelier and vice president of wine and beverage experience for Cooper's Hawk Winery & Restaurants, has noticed two things in particular: a new appreciation for fancy cocktails that are visually attractive, as well as a desire for drinks with bitters or bitter flavors.

To answer that call, Cooper's Hawk created what it calls its Nightjar Sangria, which is made with premium cognac and bitters. At the same time, spritzes containing little to no alcohol content are also quite popular. Newest additions to the menu include Meyer lemon and pear-flavored hard seltzers.

"Spritzes are a strong part of the low ABV movement," Wines says. "We love the spritz movement and plan to add more of them to our menu."

The chain also plans to continue selling non-alcohol cocktails with flavors going beyond basic juice mixes, she adds.

Wines claims that the best thing to come out of the pandemic has been serving guests alcohol-to-go beverages.

"Having the option of pairing one of our wines with takeout, or getting a great cocktail in a bottle, is something consumers have latched onto," she says.

Download
What's Hot 2022 Culinary Forecast.