ProStart Invitational puts professionalism at center of plate
Students compete for top honors, and NRAEF chair James Fripp offers tips for career success.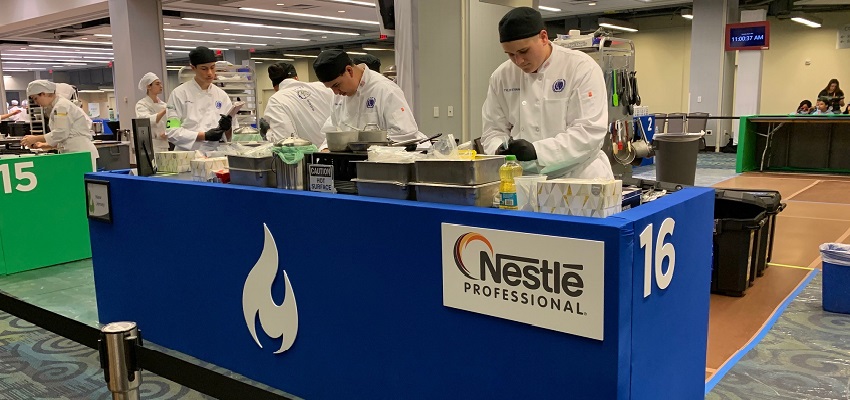 The New Jersey team got a taste of what it takes to become professional chefs and are talking about their career goals.
A lot of teenagers grow up thinking the world is their oyster, but for Tyler Evans, Percy Byrd, and Thomas Walker Jr., competitors at the 2023 National ProStart Invitational, cooking up plans to become the restaurant industry's next generation of successful chefs and entrepreneurs was the order of the day.
Entrée to the industry
Evans, a 15-year-old first-time competitor from New Jersey's Passaic County Technical Institute, worked with culinary teammates Jason Hunter, Alenise Perez, Michael Reyes, and Jose Dominguez, while Byrd, and Walker, his teammate from the Hershey Milton School in Hershey, Pa., competed for nearly $200,000 in scholarships.

Neither of the teams won the championship, which showcased the culinary and business talents of 90 of the best U.S. high-school teams in 46 states. Plymouth Canton Educational Park in Canton, Mich., took top honors in the culinary event and Wilbur Cross High School of New Haven, Conn., finished first in restaurant management at the competition, May 2-4 in Washington, D.C.

Still, the young competitors got a taste of what it takes to become a professional and are already talking about pursuing their career goals.

See the list of winners at the 2023 National ProStart Invitational

"It was an honor just to be here, and be on this team," Evans said. "We never thought we'd make it here. We learned so much. This competition is important. It teaches us to develop our skills and hone our talents so we can become better chefs and better people."

Byrd, who also competed for the first time this year, said the experience was a lot more professional than he anticipated.

"I got to talk to a lot of successful people and got a lot of advice," he said. "I'm thinking about the future, and applying to colleges in Pennsylvania and the Culinary Institute in Hyde Park, N.Y. I'd like to work in a kitchen, and eventually own my own business. It's been important to meet professional chefs and learn about their experiences, how they became successful."

Walker, who's already been accepted to the CIA and plans to study food business management this fall, said this year he'd hoped to ask professionals at the competition about their career choices and how they navigated them in college.

"I wanted to know how they made their choices during college," he says. "People say I'm probably going to change my mind a lot, but I just want to avoid having regrets one day."

Jacqueline Nelms, a 14-year-old freshman from Cape Henlopen High School in Lewes, Del., participated in the management competition and noted that she, too, wants to try her hand at running a foodservice business or become a food journalist someday.

"I'm a very good student, but I'd like to know what it takes, realistically, to get where I want to go," she said.
Four tips for career success
For industry professionals attending NPSI this year, the level of maturity and sophistication on display were nothing short of astounding.

"Those young adults on the management side were under so much pressure," said James Fripp, 2023 NRAEF chair and Chief Equity, Inclusion, and Belonging Officer for Yum! Brands. "They reacted and responded in real time to questions challenging their work, exhibiting total professionalism and grace. On the culinary side, the teams would complete a task, watch what their competition was doing, and then try to add things to make their entries better. That self-improvement mindset was fantastic. I know when I was 14, I wasn't doing what the kids at ProStart were doing."

Fripp, who as a teenager started working as a self-described "lot guy" at a Taco Bell in Omaha, Neb., said it's important for the kids to know that he was once the guy who had to go in on Saturday and Sunday mornings and clean up the trash in the parking lot from the night before. "You can do it," he says. "You can start on the very front lines and work your way up. I hope it inspires them to know that."

He also offered them four tips to follow when pursuing their own careers.
You are responsible for your own success. Understand that it's not the employer's job to make you successful. It's the employer's job to set you up for success, but it's up to you to make yourself successful. Be on time, ready to listen and learn. Show people the respect that you, yourself, would like to receive. Treat people the way they want to be treated, and be accountable, responsible as a valuable member of the team.
Be a leader. You can't do everything by yourself, but you can do your part well and be supportive of the broader team as well. You don't have to have the title of manager. You can lead from whatever seat you sit in by being an example.
Always perform to the best of your abilities. Do the right thing all the time, not some of the time, even when no one is looking. There'll be times when people might say they don't have to work as hard because the manager's not around, but trust me, the leadership knows. Role model what integrity looks like for your peers. How you show up impacts others. When I cleaned the lot, I took pride in cleaning it the best I could. I took pride in making sure there weren't cigarette butts in my lot, that there weren't any fingerprints on the windows I cleaned, and that the restrooms were clean. Take pride in your work and be willing to do your part.
Be consistent. It's not good if someone asks if you're moody. That's an indicator that you're inconsistent in how you show up every day. I choose to be high energy, to be engaging. That's how I show up to everyone, every day, not just to the leaders of my organization or my peers. I'm the same to everyone so people know they can count on me every single day.
Learn more about the National Restaurant Association Educational Foundation here