Articles
February 28, 2020
These programs will improve your restaurant's retention rate
ServSuccess and the Apprenticeship Program work well alone – and together – to help develop career paths for your restaurant employees.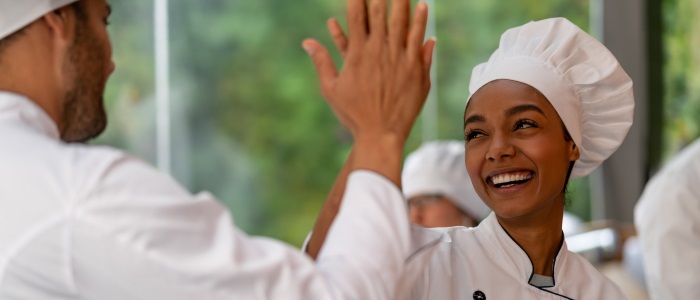 Two great programs now exist to help foodservice operators attract and retain employees, and provide employees career development opportunities. We heard details about both during the Association's Human Resources and Risk & Safety conference held mid-February and found out they're ideally suited to be used in concert.
ServSuccess
ServSuccess is the new career development offering for the restaurant and hospitality industry developed by the National Restaurant Association. The goal: to help attract, upskill and retain talent.
ServSuccess is a one-stop-shop learning suite that gives your employees a clear understanding of potential career paths available to them in the restaurant industry and delivers the learning resources and tools for the professional development these employees need to start them on that path.

The program provides:
Online courses designed to build critical skills and competencies in a series of professional levels. Do you have an employee who needs to brush up on one specific skill? Or do you have an existing training program that's missing a topic or two? All the courses from the learning suites are available for individual purchase.

Adaptive study guides, featuring interactive questions to identify participants' learning gaps, improve competencies and help prepare them for certification exams.

Certifications, presented after proctored exam results are in, validate skills and the experience gained and award outstanding achievement.
Online e-courses are organized into bite-size chunks of 10- to 20-minute modules designed to fit into busy schedules. An individual course can be finished in 45 minutes to two hours. The entire learning suite for the Professional level can be completed in about four hours. The Supervisor level takes about five hours, and the Manager level will take from 12 to 18 hours when it becomes available.

For both restaurant and hospitality operators, ServSuccess offers a way to:
Attract and retain quality talent

Engage promising leaders with career paths

Build higher level skills and competencies

Reduce training costs by providing a ready-to-go, systematic program
NRAEF Apprenticeship program
In 2016, the U.S. Department of Labor awarded the National Restaurant Association Educational Foundation a contract to develop the first-ever apprenticeship program specifically for the restaurant, foodservice and hospitality industries. Called the Hospitality Sector Registered Apprenticeship (HSRA), the program already has more than 2,000 apprentices at 74 enrolled companies.

The program encourages employers to identify employees suited to apprenticeship. An "earn while you learn" model, apprenticeship combines job-related instruction and education with on-the-job training.

The advantage to employees is an affordable alternative to a four-year degree without incurring five- or six-figure student loans.

For employers, the apprenticeship program reduces turnover and its related costs, increases productivity and creates a more skilled, diverse and competitive workforce.

While the Apprenticeship program provides suggested coursework, it allows integration of existing employer training programs by cross-walking shared competencies between the restaurant manager industry-developed competencies in the apprenticeship standards and the employers' existing training program.

NRAEF provides guidance on any training gaps that may exist. Once the gap analysis is complete and employers match the competency crosswalk at 80% or higher, the employer can sign on to the program and meet the requirements of both DOL and HSRA.

All apprentices are employees and to achieve completion of the program, apprentices need to complete:
Paid on-the-job training

225 hours of "classroom" education, which can be attained by the following or a combination of
College or community college courses

Manage First curriculum

Employer-based training online

Coursework (ServSuccess is an option)
Mentorship

Apprentices are required to obtain a valid ServSafe Food Handler Certificate and ServSafe Protection Manager Certification, as well.

A minimum of one wage increase during the term of the apprenticeship.
The program takes approximately two years to complete, and to-date it has a retention rate above 90%.

Employers who implement an HSRA program are eligible for grants from the Foundation for $1,000 per apprentice for the first 50 enrolled and $500 for each additional apprentice from 51 to 100. Employers can use the grant money in one of six stipulated ways:
Design and implementation of the apprenticeship program

Mandatory industry credentials such as ServSafe

Related instruction

Development of a train-the-trainer program

Apprentice transportation to and from the job

Apprentice's childcare
How they work together
While neither program is dependent on the other, they complement each other well. ServSuccess is an ideal choice to aid apprentices to fulfill their 225 hours of "classroom" education. Sitting for the ServSuccess exams demonstrates competency mastery and can accelerate the apprentice through the program faster. Employees who have completed ServSuccess modules are likely to be great candidates for the Apprenticeship program, as well.

Both programs go a long way toward attracting and retaining employees while providing them with enhanced skills. And in today's competitive job market, operators need all the help they can get.