Articles
December 19, 2019
Plant-based protein is here to stay, say restaurant experts
Restaurant experts ranked plant-based proteins as the No. 2 food-and-menu trend over the next decade.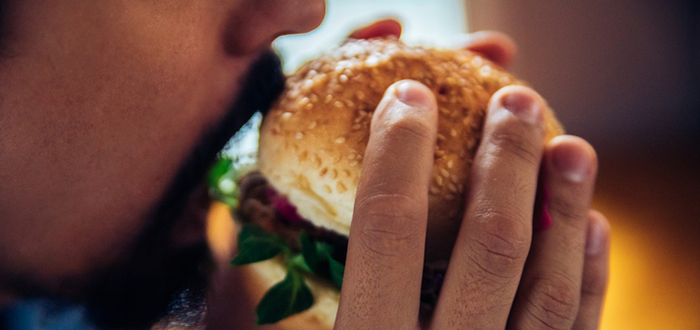 Restaurant experts surveyed for the National Restaurant Association's Restaurant Industry 2030 report identify the growth in popularity of plant-based protein food products as the No. 2 most likely food-and-menu trend over the next decade.

That's no surprise: Consumers' palates have been getting more diverse for a while, and suppliers and operators have been adapting to expand the range of options as a result.
What does a "plant-based" restaurant diner look like?
Gone are the days when restaurant guests feel they should call ahead to inquire if there is a vegetarian option. Now, they expect entire menus devoted to vegan- and vegetarian-centric dishes.

According to Technomic:
59% of consumers say they eat meatless meals at least once a week.
49% of consumers say they would be likely to order a dish described as a plant-based.
44% of consumers would order dishes described as meatless of meat-free.
33% of consumers are actively trying to reduce their meat consumption (without sacrificing taste).
These diners don't all classify themselves as "vegetarian" either! Now more than ever, diners are looking for more options, and that often means they are looking for plant-based cuisine as a protein source.
How is the food industry responding?
As restaurants look for new ways to cater to the tastes of Americans, suppliers and operators are looking for new ways to expand the range of options. Putting plant-based protein on the menu is becoming easier as suppliers collaborate with foodservice partners to meet guest expectations.

The result is a wide range of plant-based protein offerings as manufacturers work to make plant-based protein sources more widely available… and delicious, yielding not only burgers but meatballs, tacos, pizza and more. Some suppliers, such as Nestlé, are driving other options, including its vegan bacon cheeseburger, The Awesome Burger, tempting diners with vegan versions of bacon and cheddar cheese.

If the trends continue, it looks like the side of the menu that offers plant-based options is only going to get larger. Just remember: Sacrificing taste won't win you any points.

Restaurants that want to stay ahead will need to continue to offer better tasting, healthier alternatives that allow consumers to make a choice that's right for them … and their taste buds. Read more about all the restaurant trends over the next decade in Restaurant Industry 2030.

This article was created in partnership with Nestle Professional