Plant-based meats create a paradigm shift for consumers
Plant-based meat selections appeal to meat eaters in a way traditional vegetarian substitutions haven't.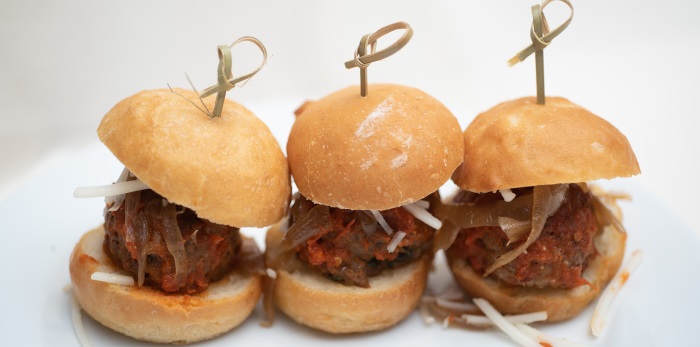 Some industry watchers believe that plant-based meat is on its way to becoming the fifth protein, in with beef, chicken, seafood and pork. Photo: Nick Klein
The plant-based meat trend hits on many consumer touchpoints: health, sustainability, transparency, food safety, animal welfare, and consumer taste preferences. It crosses multiple daypart categories, has unlimited innovation potential, captures investors' attention, and has global reach.
According to Zak Weston, foodservice and supply chain manager for the Good Food Institute, "plant-based is more than a trend, it has created a paradigm shift in how the world eats meat."
The burger that launched a new food category
Beyond Meat™ and Impossible™ emerged in 2018 and disrupted the meat industry by creating (with their plant-based burgers) a whole new plant-based-meat food category known as meat analogues.
Meat analogues are designed to:
Have the aesthetic qualities and/or flavor/textural characteristics of meat
Display alongside meat on the grocery store shelves
Appeal to meat eaters
Directly compete with meat to get people to eat less meat
Almost overnight plant-based meats gained impressive traction. Unlike the often frozen plant-based meat substitutes marketed directly to vegetarians, these new products directly targeted meat eaters.
White Castle was the first major chain to offer Impossible Burger in 2018, and thousands of other U.S. independent and chain restaurants followed.
In 2019, according to NPD research (reported by the GFI), more than 11,000 commercial operators started purchasing meat analogue burgers and 93.5% kept them on menus. The meat-analogue category quickly innovated to include meatballs, sausages, chicken, seafood, and pork, and restaurants found that plant-based meat complemented menu variety. Pre-COVID-19 data from the GFI shows that commercial restaurants represent 72% of meat analogue volume and 68% of growth.
COVID-19 accelerates trend
COVID-19 magnifies health, climate, and meat supply-chain concerns that plant-based meats aim to correct and "has created a surge in demand for plant-based products in grocery stores," according to Rachel Soeharto, communications manager for Impossible Foods. "We saw scorching demand for Impossible Burger…and people are trying the products in record numbers.
"Based on Nielsen data tracking dollar sales of U.S. foods in retail outlets, fresh or frozen plant-based meats surged 264% since March 2020," she says.
Burger King and Starbucks launched plant-based breakfast sandwiches with Impossible Foods' new plant-based pork year ago. With the onset of COVID-19, and questions about animal protein supplies, "…plant-based meats and other plant-based foods have a role to play to help rebuild the restaurant industry," says GFI's Weston. "It's a way to recapture growth, build-up check average, appeal to younger consumers, and overall help restaurants rebound," he says.
He believes plant-based meat is on its way to becoming the fifth protein, in with beef, chicken, seafood and pork.
Is it better for you?
Plant-based meat analogues are made from plants such as soy, wheat, fungi and pea proteins. Health experts advise to eat less meat and eat more plants to improve overall health. But do plant-based meats fit that bill?
The answer is complicated. On one hand, the answer leans toward "yes" if you're occasionally substituting a plant-based meat for traditional meat because plant-based burgers do not contain cholesterol and have fiber and antioxidants animal meat does not contain (and which American diets often lack).
On the other hand, the answer leans towards "no" because they often have about the same number of calories, total fat, and saturated fat as their traditional meat counterparts. They're featured in indulgent menu items such as burgers and can contain ingredient formulations that our bodies have not encountered before.
So, for now the answer is balance. Plant-based meats are still new and are in their first and even second recipe revisions; they may become healthier to help people be healthier.
Plant innovation breeds plant innovation
Plant-based meats got the world talking about plants taking center plate.
They stirred up the plant conversation, helped revive and renovate longstanding plant-based products like black bean burgers and veggie-burgers, and made it cool to substitute meat with vegetables. And restaurants are finding success with new menu additions.
This renovation of the whole-plant category is something health and nutrition experts can get behind.