Articles
September 23, 2021
Nothing chicken about opening a restaurant in a pandemic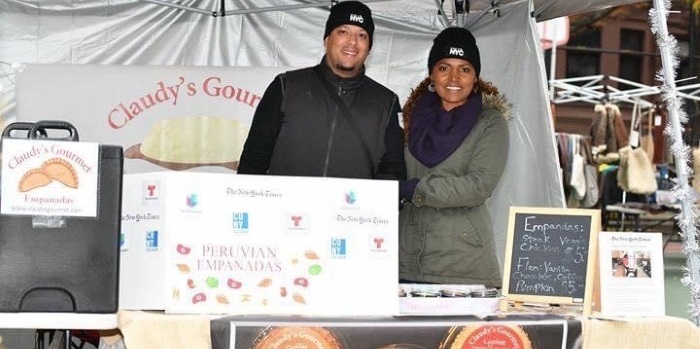 Rich and Claudia Berroa started Claudy's Kitchen as a stand at local street fairs, where their empanadas and flan were huge hits with community members.
Rich Berroa leads a double life.
By day, he and his wife, Claudia, run Claudy's Kitchen, a Peruvian quickservice restaurant in The Bronx, N.Y.
At night, he's a paramedic for the fire department. The jobs, both gratifying, couldn't be more different, he says.
---
RELATED: Hispanic businesses turn the tables on COVID-19
---
The restaurant, which specializes in Peruvian chicken and flan, started out as a stand at local street fairs, where Claudia, an accomplished chef, sold her food to the community. The husband-and-wife duo were on track to open their first brick-and-mortar in 2019, but delays pushed them to June 2020—during the height of the pandemic.
The good news was the couple always planned to focus on takeout business—an 80% off-premises/20% on-premises split from the get-go—so when restaurants were forced to pivot to all takeout and delivery, they were prepared. They'd already done their homework on packaging, determining which styles and materials worked best for their menu.
The restaurant's location is perfect, too. Smack in the middle of the neighborhood, it's anchored by a transportation hub consisting of local bus lines, a subway station, and express bus to Westchester County, allowing them to feed locals and commuters.
Despite never running a restaurant before, the Berroas won a Michelin Bib Gourmand award this year, for serving "great food at reasonable prices." Claudy's, he says, is a labor of love, maybe more so because of the challenges they've navigated since opening.
For example, they weren't entitled to a Paycheck Protection Program loan because they opened after the eligibility cutoff.
They did apply for and receive a $10,000 grant from the PepsiCo Foundation, as part of its Juntos Crecemos (Together We Grow) program, a $50 million initiative that helps Hispanic-owned foodservice businesses.
Berroa used the money to purchase equipment to increase production of some items, including Claudia's savory empanadas, popular for their quality and portability.
Opening during COVID-19
Berroa's health-care skill set came in handy when establishing operational safety measures to protect them, their employees, and customers, from COVID-19.
"We set up a communal table at the entrance of the restaurant," he says, "as sort of a barricade so people couldn't go further than the initial entrance. That gave us a good 7 to 10 feet between it and the counter where we have our register. People placed their orders and picked up their food from the table when it was ready."
He continues to draw on his paramedic training when handling customers who get upset or angered by such things as mask mandates.
"I deal with people on their worst day ever, so customer service is easy by comparison." He's able to de-escalate situations and find common ground, he says.
Learn more about the MFHA and diversity in the restaurant industry
From the lessons of this past year, Berroa cites 4 things to think about when starting a restaurant.
Do your research. Develop a business plan before you go and open your business. Know who your clients are. And, try to work in retail, either in a street-fair setting or at a pop-up, anything that gives you outside feedback. "You can't rely on just family and friends to tell you the truth because, well, they're your family and friends. They love you, and might not be the best ones to give you criticism or feedback on your food or operation," he explains.

Choose your location wisely. "We've been approached to open more restaurants—in midtown Manhattan—but we're not ready to commit to that yet. We're waiting to see what happens with the pandemic. If you're located in or near a corporate park or office building, make sure you're able to serve takeout and delivery since most people still haven't returned to the office."

Learn about packaging. Make sure you choose the right product for your operation. Focus on efficient, cost-effective items that travel and hold your food well. "You've got to get that right because so much of business now is takeaway," he says.

Don't waste anything. "At our restaurant, the main protein is our roasted chicken, but we also use it to make our chicken noodle soup, and also for cooking stock."
"It's been tough sometimes, but worth it," he says. "I'm lacking sleep, but I never lack enthusiasm or love for what I'm doing. This pandemic, the sheer volume of calls the fire department has had, especially in 2020, has been the hardest thing I've ever dealt with. Thank God for my wife and support network. I'm also pretty good at compartmentalizing. When it comes to answering the [emergency] calls, you sometimes have to have a short memory to be able to move on."