No relief for restaurateurs: Food costs still on rise
Operators know, and commodities experts confirm: Everything on your menu costs more to make.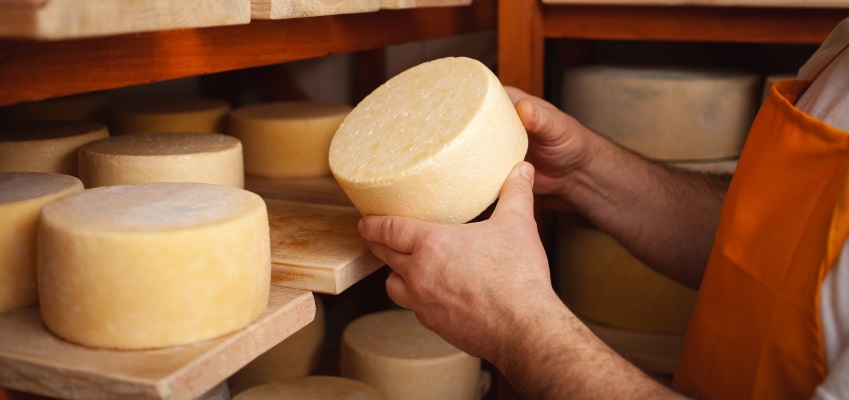 The USDA says Chicago Mercantile Exchange block cheddar cheese in 2022 will average $2.19/lb. vs. $1.67/lb. in 2021.
Skyrocketing food costs continue to bedevil the restaurant industry, and commodities analysts say things are going to remain volatile, for the short term at least.

Restaurants in all segments—QSR, fast casual, casual, family and fine dining—are feeling the pinch, especially when it comes to stocking items like beef, poultry, eggs, dairy, and oil.

The Bureau of Labor Statistics reported that from April 2021 to April 2022, average wholesale food prices increased 17.5% year over year, the largest 12-month increase in nearly five decades. In May, prices were up 15.6%, year over year.

Commodities analyst John Barone, founder of New Jersey-based Market Vision, cited the increase in gas prices—a direct result of Russia's invasion of Ukraine—as a significant driver of increased food costs.

"In June, the price of diesel per gallon was around $5.78, up 79.5% from $3.22 a year ago," he said. "This has largely affected haulers who move product from manufacturers and processors to suppliers, distributors and restaurants."
Cows, chicken and soy
Barone said the U.S. Department of Agriculture July Supply and Demand Estimates Report suggested cows, chicken and soy oil are among the most volatile commodities operators need to factor in costing:

Beef: Multiple years of drought, poor pasture conditions and high feed costs have prompted ranchers to liquidate herds, he said. In July, the USDA projected that 2022 would see a 0.1% decline in beef production, followed by a 7.1% drop in 2023. The USDA also indicated cattle prices could average $1.41/lb. during 2022 vs. $1.22/lb. in 2021 and predicted an average of $1.53/lb. in 2023.

Dairy: Fewer cows could affect dairy production going forward, he added. High feed and fuel costs will offset milk production gains despite higher product prices, leaving profitability unchanged or worse. However, the USDA forecasts milk output throughout 2022 will be on par with 2021 volumes. Butter prices are skyrocketing as well, hitting a 6-year high in June, and looking to average $2.76/lb. through the rest of the year. That's up 60% from 2021. In addition, the USDA says Chicago Mercantile Exchange block cheddar cheese in 2022 will average $2.19/lb. vs. the $1.67/lb. it was 2021.

Poultry: In June, Highly Pathogenic Avian Influenza (Avian Flu) resulted in the culling of 31.4 million egg layers, 5.5 million turkeys, and 2.4 million broilers. Because of this, the egg-laying flock is 8% lower than it was a year ago. However, the number of outbreaks is receding as the spring migratory season winds down for wild birds that spread the disease. Nevertheless, the USDA has raised its 2022 large egg price forecast to $2.10 a dozen, compared with a $1.18 a dozen average in 2021.

Avian Flu mostly spared broilers/chicken, but producers can't seem to turn the corner on increasing production, despite record profits, Barone said. Broiler hatchery is flat and breeder (rooster) issues are a problem. Last month, the USDA projected broiler production would be up just 0.9% in 2022 and 0.8% in 2023—not enough to keep pace with the industry's deluge of chicken offerings, particularly in the sandwich category.

Soy oil: Vegetable oil could become one of foodservice's biggest challenges. U.S. soybean oil futures recently hit a record high of 90 cents/lb. Soy-oil averaged 58 cents/lb. in 2021, following a 6-year stretch (2015-2020) where it averaged around 31 cents/lb.

Renewable diesel initiatives are likely to keep prices elevated in the U.S. for a while. The USDA reported that 12 billion pounds of soy-oil would be earmarked for biofuel production during the 2022-23 soybean crop year. That would account for 45.4% of all soy-oil produced in the U.S., up from 40.8% in 2021-22 and 35.4% in 2020-21.

"Sky-high fuel prices mean that demand for renewable diesel will continue to support prices for soybeans and soy-oil, while taking acres away from corn and wheat," Barone said.