Articles
February 15, 2022
New chairs look forward to helping industry recovery efforts
Lance Trenary and Kent Walrack pledge to aid Association and Foundation in quest to revive restaurant businesses.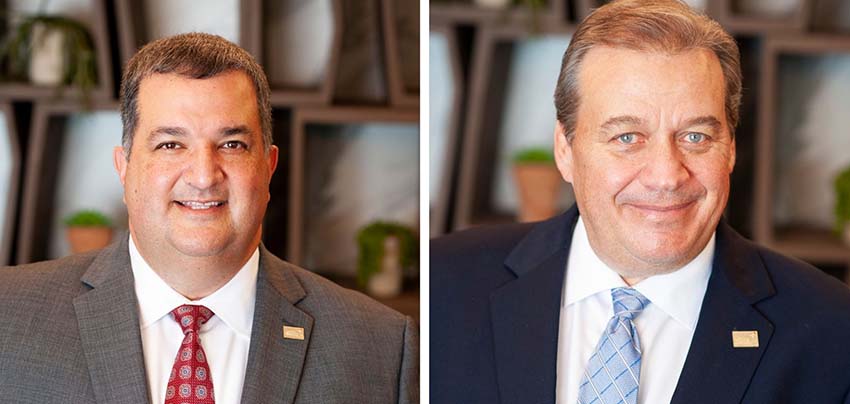 Trenary, left, and Walrack will help guide efforts to assist the industry's recovery from the pandemic.
Two foodservice veterans—Lance Trenary, president & CEO of Golden Corral Corp., and Kent Walrack, retired executive vice president and chief strategy officer of supplier Lyons Magnus—have started into their one-year terms as 2022 chairs of the National Restaurant Association and National Restaurant Association Educational Foundation.

Both will help guide the Association's and Foundation's efforts to assist the industry's recovery from the COVID-19 pandemic.
Optimism for the future
At the organization's winter board meeting last month, Trenary expressed optimism for the future despite the ongoing pandemic, labor challenges, inflation, and supply-chain disruptions that are affecting the industry.

He said the Association's leadership role would be critical to the industry's recovery and success.

As chair, he plans to focus on:
Continuing to build and strengthen relationships with our State Restaurant Association partners
Providing full support to our advocacy team to shape policy efforts at the national and grassroots levels
Working with the Foundation and its leadership to ensure it achieves its goals
"We must work together and rise to the occasion like never before because we're faced with times like never before," he said. "The last few years have taxed us all personally, and our businesses have suffered, but without the support our Association secured, many of us wouldn't have survived."
Creating a roadmap to ease labor challenges
Walrack echoed Trenary's sentiments, saying 2021 was extremely challenging for the industry and its workforce. He said the Foundation's efforts to create new ways to connect with program participants, engage partners and employers, and develop long-term financial support for its programs was and is inspiring. The hard work, he added, would go a long way toward helping the industry overcome the challenges associated with the labor shortage.

"We all know how difficult this has been on restaurants large and small," he said. "The Foundation and the Association are working together to spread the word about the opportunities our industry offers."

Walrack also said the Foundation is now in the second year of a five-year plan developed to help the industry rebuild its businesses and workforce.

The plan, developed in 2020, includes:
The creation of a Diversity, Equity & Inclusion Industry survey, its first since 2014, fielded by the Foundation, Multicultural Foodservice & Hospitality Alliance, the Association, and Cornell University
A continued commitment to preparing high-school students for restaurant jobs and careers
Offering scholarships to students pursuing careers in the industry
Helping military service members transition into civilian restaurant careers
Providing earn-while-you learn apprenticeships, and giving justice-involved individuals job skills and mentoring necessary to build better lives
"We must do everything we can to help create pathways of opportunity for people everywhere," he said.