Marketing execs focus on recruitment and retention
The industry has half a million job openings and needs more employees to grow. Good marketing plays a key role in hiring.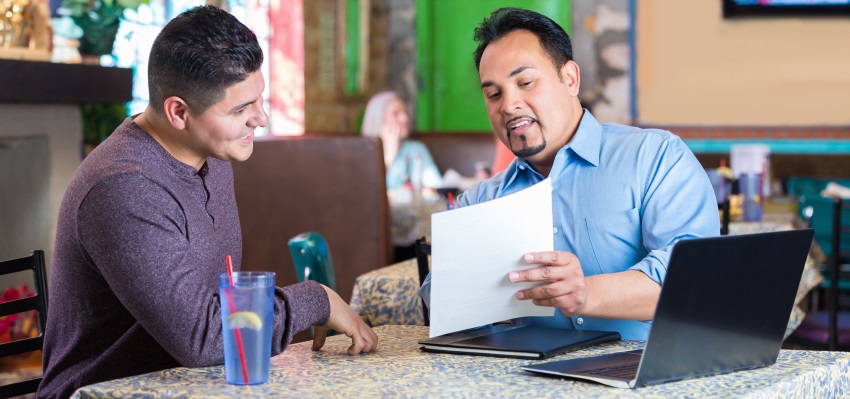 Restaurants must refine marketing tactics not just in customer-facing outreach, but to find and keep good staff members, too.
A presentation and panel discussion on recruitment and retention during the recent Marketing Executives Group (MEG) Conference demonstrated how much has changed in the industry. Restaurants need to refine their marketing tactics not just in customer-facing outreach, but to find and keep good staff members.

Meeting in person for the first time in three years, the National Restaurant Association's MEG meeting, just before the National Restaurant Association Show in May, focused on how marketing must evolve to meet new expectations, preferences and habits—for customers and employees.

The labor market was tight even before the industry entered two-plus years of off and on business rife with service restrictions. Restaurant owners and managers continue to struggle to fill the gaps in their staff rosters now that business is returning.

Session moderator Joshua Secrest, vice president, Client Marketing & Advocacy, Paradox, kicked off the session with a short cautionary tale about a quickservice restaurant brand where he was head of global talent acquisition.

When he joined the company, he says, it was losing a lot of money in recruitment and retention because the hiring process was not streamlined or responsive. Candidates, feeling forgotten, lost interest.

Faith Hurley and Stacy Callighan, co-founders of PinPoint Collective, Chicago, followed Secrest with a presentation on a qualitative research study done on behalf of the Association.

PinPoint conducted a series of conversations with a group of current and former restaurant employees. They dug deep into these workers' experiences, focusing on what mattered most to them in terms of job satisfaction, what convinced them to take their jobs, why they stay, and just as importantly, why they leave.

The reasons employees stay in the industry and with their employer include:
Flexibility: The ability to adjust their schedules and hours to meet other needs in their lives such as kids, second jobs or other pursuits is the biggest benefit of working in restaurants, according to those surveyed. Having the opportunity to work in something other than a nine-to-five job is also a big draw.
Leaving work at work: Employees like the fact that when their shift is over, they can truly "clock out." They don't have to worry about emails, phone calls or their boss's demands following them home.
Potential for more money: Employees in tipped jobs have an opportunity to make more per hour than other hourly jobs, including in other industries, a very attractive proposition.
"Foodie" culture: Restaurant employees like the culture of the business, and typically describe themselves as foodies. They enjoy interacting with guests and other people, and feel a sense of community in the business, and enjoy bonding with others in the industry over their shared interests.
Transparency and communication: Good communication and feedback, and transparency in the hiring process, scheduling, overtime, and time-off policies make people feel respected.
Investment in people: Employees appreciate restaurants that invest in them and set them up for success. Beyond gratitude and encouragement, employees expect management to put its money where its customer service starts, with its employees. Whether it's Spanish classes, tuition assistance, or cross-training, employees want options that will help them advance.
Not surprisingly, employees leave for reasons that often are the flip side of the coin:
Toxic management. Managers who criticize but don't encourage, who lack communication skills and transparency.
Stigma. Restaurant jobs are seen by those outside the industry as just that, jobs, not careers, or as way stations to something "better" or to a "real" job.
Physical and mental toll. Many industry jobs are demanding, and without supportive management allowing flexibility, it becomes too taxing for many.
Security of livelihood. Some jobs may lack advancement opportunities. Where management advertises a path to management, the compensation needs to be compelling enough for candidates to make the leap. Others may desire benefits that aren't offered in their current position.
Flexibility is no longer unique. With many more employers offering work-from-home accommodations, the flexibility that was once a huge draw for hospitality jobs isn't anymore.
What these insights mean for restaurants was the subject of a panel discussion following the presentation moderated by Secrest. Karen LuKanic, owner and operator, Chef Zorba's, Denver; Kaffee Hopkins, director of brand marketing, Marlow's Tavern, the Woodall, Sterling Culinary Management, Atlanta; and Dan Bejmuk co-founder and CEO, Dreambox, San Dimas, Calif., all offered ideas on how restaurants can improve marketing themselves to existing and potential employees.

Among their recommendations:
Market to job candidates the way you market to customers. "Make them feel like 'these are my people,'" says Bejmuk. "You want them to be guests as well as employees."
Offer examples of your culture during the interview. "We know we're being evaluated during the interview, so our managers dress well, use polite language, and we make sure a server comes to the table to offer them a drink," says LuKanic.
Use time wisely. "You have to get candidates in for the interview first," says Hopkins. "Schedule it within two days of the initial contact, not next week. And with only 30 minutes to interview, have a checklist to make sure managers get through all the points they want to cover and information they want a candidate to know."
Offer meaningful incentives. "Pay an incentive for referring someone," Hopkins says, "but instead of a $500 bonus if the new hire stays for six months, pay $100 in 30 days, and another $100 if the person stays another 30 days, and so on."
"During the summer, our patio doubles our capacity," says LaKanic. "We're insanely busy. To keep people working and motivated, from Memorial Day through Labor Day, for every week you work you accumulate a 'summer hour,' which can be traded in for PTO, vacation pay, etc. Employees talk about this program all the time."