Articles
November 10, 2021
Kids LiveWell changes are better for everyone
Program's revamp refocuses on empowerment, better-for-you choices, and … it's free!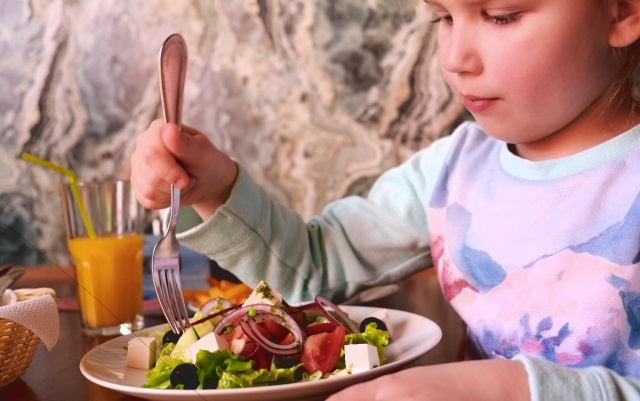 Participating restaurants are required to offer a minimum of two entrees and two sides that have undergone the program's free dietary analysis.
The National Restaurant Association relaunched its Kids LiveWell™ initiative in a continuing effort to help restaurants offer more better-for-you choices to customers and their children when dining out.

The Association collaborated with its nutrition consultant, Food Directions LLC, to relaunch the program Nov. 2. Together they're working with leading restaurant brands to promote healthful, great-tasting menu items that appeal to kids while also meeting sugar, sodium and calorie thresholds set by nutrition experts.

The meals consist of fruits, vegetables, lean proteins, whole grains, and low-fat dairy.

"We are invested in helping the industry find solutions to issues related to health and nutrition," said Association interim President and CEO Marvin Irby. "Caregivers and children are more educated than ever about the food they choose for their lifestyles, so we hope restaurants of all sizes will find value in participating in this free program, and look forward to expanding its reach."
Participation requirements
Participating restaurants are required to offer a minimum of two entrees and two sides that have undergone the program's free dietary analysis to ensure they are aligned with current nutrition standards, such as the 2020-2025 Dietary Guidelines for Americans and U.S. government regulations from organizations such as the Food & Drug Administration's Nutrition Facts Panel.

They must also participate in a default beverage policy that puts water, juice and milk first; with other beverages available upon request. In addition, menu items must be clearly marked with the Kids LiveWell logo.
Where to start
Restaurant companies interested in joining the program should follow these four simple steps:
Email KidsLiveWell@restaurant.org to get started. Food Directions will contact you to explain first steps.
Be ready to gather nutrition information from suppliers on your menu items. You'll need to know calories, sodium, fat, and sugar content, and submit that information to Food Directions in an Excel spreadsheet.
Work with Food Directions to tweak menu items as needed to KLW-certify two meals and two sides options, and adhere to the default beverage policy. Food Directions' certification process can take from four to six weeks depending on the menu items.
After your certification, you'll receive a toolkit that sets you up to post KLW logos on your menus, promote your participation on social media, and let customers know about your commitment to kids' nutrition. You'll also need to make sure your nutrition information is available upon request.
What's changed?
"We launched Kids LiveWell in 2011, but over the last year we focused on helping families feel empowered so they could maintain the healthy lifestyles they've created at home when they dine out at restaurants," said Jeff Clark, the program's director. "Simply put, they don't have to make overly complicated choices."

Clark noted the relaunch features five big nutritional changes:
Elimination of artificial trans fats. The FDA has banned the ingredient, so Kids LiveWell no longer allows industrially-produced trans fats in its meals.
The fat calorie allowance is gone. The program no longer assesses total fat calories, but it continues to limit calories from saturated fat.
The focus on calories from total sugar changed. The new program has shifted to limits on added sugars.
Sodium levels are reduced. in response to public health recommendations, the new criteria lowers the threshold in meals and sides to reduce sodium by 10%.
A change in dairy products allowed. New default beverages include nonfat and 1% milk varieties only, or water, and 100% fruit or vegetable juices only.
Brands joining Kids LiveWell enjoy several business benefits:
Publicity from the Association, nutrition organizations and the media about the brand's participation in Kids LiveWell
Becoming part of a community of operators making the effort to offer better-for-you menu options to kids
Access to the icon identifying certified Kids LiveWell choices on menus, social media and in promotional materials
Interested in joining the program? E-mail KidsLiveWell@restaurant.org to get started today!