Articles
October 07, 2021
Jesus Daza brings a little bit of Cuba to Miami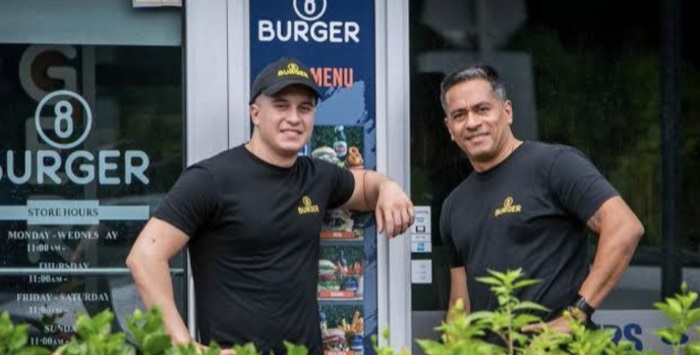 Jesus Daza, right, and his son, Gustavo, have big plans for 8 Burger, their Miami, Fla.-based restaurant concept.
Jesus Daza's recipe for achieving the American Dream calls for one part Cuban culture and a dash of sheer determination. The result is 8 Burger, a quickservice concept serving fusion-style food popular with Florida tourists and locals alike.
Daza opened the restaurant in March 2019, almost exactly a year before the pandemic began. Today, he runs the business with his son, Gustavo, and is making plans to grow. He says the challenges have been great, but the rewards are too.
Failure is not an option
Speaking in what he says is "Miami Spanglish," Daza explains that failure was never an option and that he's done everything possible to survive. That includes changing the menu, pricing and even the clientele to some extent.
"As Hispanics, we've always been taught to work hard, heard our parents tell us it's up to us to succeed," he says. "That's part of our background, our Spanish heritage. We never give up."
---
---
Daza says 8 Burger is quite popular with Miami's large Hispanic community. They like the authentic street food he serves in American-style burger platters, salads, sandwiches, and bowls, at a price point of less than $12. One of its best sellers is La Frita, his take on the traditional Cuban burger, made of beef, egg, tomatoes, onions, potatoes, and mojo sauce.
Though he originally set out to attract tourists to Miami, he and his son turned 8 Burger into a takeout-and-delivery-only operation when the pandemic hit and travel stopped. He re-engineered the menu, created value bundles, and lowered prices to attract more local customers. But Daza says his two biggest challenges were the fees he had to pay third-party delivery services—especially when sales were down, and having to lay off seven of his 10 employees when he could no longer afford to keep them on the payroll.
Getting back on track
A year later, sales are on the rise and business is getting better. "We did really good our first year, but our second year was horrible," he says. "Now, we're kind of bending back up to better numbers. They're not the numbers we want to see, but they're definitely better than what we did in 2020."
Labor, however, remains a problem, Daza says that even though he can now afford to hire more employees, not enough are available.
Still, things are looking up. Though they didn't get much help last year in the way of PPP loans, Daza and his son received a grant from the PepsiCo Foundation, part of Juntos Crecemos, its recently launched initiative that helps Hispanic-owned foodservice businesses meet current financial challenges and prosper over the next five years. Daza says the $10,000 grant helped them launch an 8 Burger food truck and begin licensing the restaurant at other locations, including Brooklyn, N.Y.
"We've worked very hard these last three years," he says. "Our neighbors in the community are visiting us. They know who we are. It's exciting. We want to expand our business, and who knows? Maybe 10 years from now, you'll see us in a lot of different places—all over the United States, in Hispanic countries, and maybe in Belgium, and even China."
In the meantime, Daza offers three tips to help other aspiring Hispanic business owners achieve success.
Have passion for what you do. This is really important, especially when you hit the tough days, and think you may want to quit.
Be active in your community. Make a name for yourself, and let others get to know you.
Be creative and innovative. Always bring new ideas to the table.
Visit the Multicultural Foodservice & Hospitality Alliance to learn more about diversity and engagement in the restaurant industry