Articles
September 15, 2022
Is your restaurant prepared if a natural disaster strikes?
Free guide from the National Restaurant Association provides step-by-step recommendations.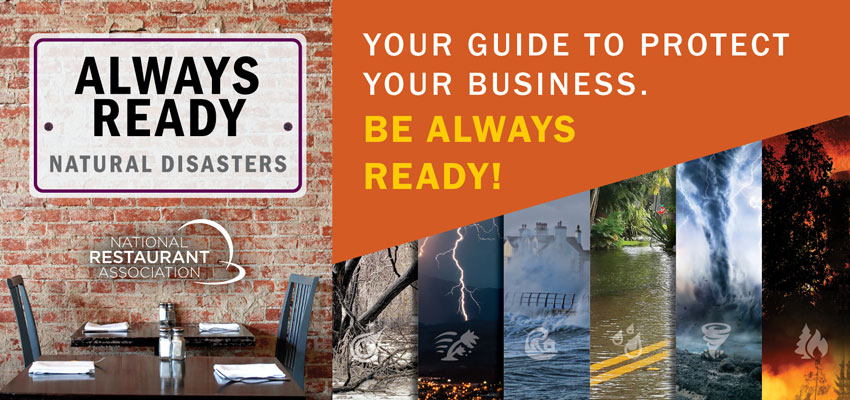 Hurricanes, wildfires, tornadoes and other natural disasters wreak havoc on everyone in their path, including restaurants. To help restaurants weather the storms, the National Restaurant Association has created the first industry-specific disaster preparation guide, "Always Ready: Natural Disasters."

The free downloadable guide helps restaurants prepare for the worst, leading them through the preparation and planning process, providing tips on what to do when disaster strikes, and offering advice on how to recover stronger than ever. By being "always ready," restaurants can help prevent injuries among team members and guests, mitigate losses, and reopen faster to serve their communities.

According to the U.S. Small Business Administration, about 25% of businesses don't reopen after a catastrophe. If you are prepared for a disaster, you'll be in a much better position to recover should one strike.
"Always Ready: Natural Disasters" takes restaurants through four stages:

1. Preparation: What to do in advance. Natural disasters can strike at any time, so it's essential to be prepared. This section guides restaurateurs through the prep process including:
Evaluating your insurance needs and choosing the appropriate coverage
Creating two contact lists: one with emergency contacts and one for recovery efforts
Developing a communication plan that designates roles and sets up contingency communications methods
Ensuring that you have access to critical documents in an emergency and that you can maintain your payroll
Stocking emergency supplies.

2. Create a disaster response plan. When disaster strikes, should you hunker down or hit the road? This section guides restaurateurs in creating an adaptable plan, where they can respond appropriately given a particular situation. You'll find tips on how to create both an evacuation plan and a shelter-in-place strategy, with safety taking top priority in either case.

3. What to do when disaster strikes. You're likely to encounter different natural disasters depending on where your restaurant is located geographically, whether its wildfires and earthquakes on the West Coast, tornadoes in the Midwest, severe winter storms in the North or hurricanes along the East Coast and Gulf areas. This section of the guide discusses some of the unique concerns associated with different disasters. Choose the most salient points to incorporate into your specific disaster plan based on your risk assessment and storm weather experience.

4. Recovering after the storm. This section offers tips for getting your business up and running after a natural disaster, whether it takes a few hours or several months. You'll find advice on how to safely clean up whatever the storm blew in and how to get yourself powered back up for success. Highlights include ways to keep customers in the know, strategies for reopening with limited staff and resources, and guidance on how to determine what food can be salvaged after a disaster and what must be tossed. (Tip: If your insurance reimburses for food loss, be sure to track what you trash.)

To download your free copy of "Always Ready: Natural Disasters" from the National Restaurant Association, click here.

---
A special note:
In the wake of Ian's devastation, rebuilding has begun. Restaurants often play unique roles in disaster recovery, providing food, power, and information to those who need it most.
If you are an operator impacted by Hurricane Ian, there are local resources available to help in your recovery.
The Florida Restaurant and Lodging Association has resources and recovery information for local operators on its
website
.
South Carolina operators impacted by Ian can get the latest recovery information from the state
Department of Health and Environmental Control
.
If you want to support the recovery efforts in Florida, please consider donating to the
Florida Disaster Fund
or
World Central Kitchen
.
Restaurant Disaster Relief Fund
DoorDash
, in partnership with Hello Alice, will provide $10,000 relief grants to eligible local restaurants affected by state- or federally-declared natural disasters through the $1M.
Restaurant Disaster Relief Fund
. If your restaurant is experiencing hardship due to natural disaster, has three stores or less, employs fewer than 50 employees per location, and has revenues of $3M or less per location in the last 12 months,
apply today
.