Articles
January 19, 2021
Is now the right time to ditch your old point of sale for something new?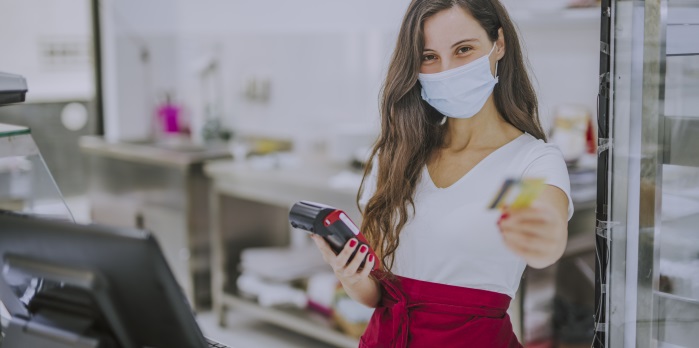 Tech providers began upgrading products and developing new features to help small business owners thrive when business turned
anything but
usual.
Like most businesses, restaurateurs threw their 2020 plans out the window after pandemic shutdowns shuttered locations. But restaurant operators aren't the only ones who altered their plans. As they adapted to new business imperatives, so did their suppliers, including tech providers.
They too began upgrading products and developing new features to help small business owners survive when business turned anything but usual.
Here are six new product features available today you might want to consider when deciding to upgrade your point of sale.
Is your POS more than you bargained for?
POS systems aren't one size fits all. Some solutions are designed for complex businesses, offering features that you might not need or use. Often, complex solutions require a complex user experience. If you're having trouble navigating the display screen, think about the new server you just hired. How many hours will it take to cross-train team members on the system?
Support. Support. Support.
If location is most important in the small business success hierarchy, support is the next bullet on the list. Make sure you're getting the POS support you need as the business grows. Is the vendor offering consulting support? If not, find a partner who's aware of the latest payment tech trends and products so you have the tools you need today and in the future.
Does it have online ordering?
Online ordering's not new, but before you skip ahead to the next tip, make sure you understand the benefits of integrating online ordering with the POS.
A cloud-based POS with a built-in online ordering tool lets you accept orders on your website and manage them at the POS. And since these are cloud-based systems, you can track online sales from anywhere, on any web browser—this is critical for remote work.
Make sure it's restaurant approved
Choose a POS system that's tailored to your restaurant. Some newer, cloud-based POS systems offer an array of features including real-time sales reporting, time and attendance, inventory management, and tracking customer buying behaviors. These systems are ideal if you want to optimize your menu throughout the day, reduce overtime wages, and manage food costs.
Can't touch this
Payment companies invested a ton of resources into contactless and touchless payment technology over the last year, with Scan to Pay and Pay-to-Link being the latest to hit the market. These two features are transforming the way restaurants accept payments.
Scan to Pay technology lets customers scan a unique QR code with their smartphone, usually printed on the check, and pay for their meal at the table, host stand, or from the car.

With Pay-by-Link, you can create a unique payment link and text it to the customer. No more taking card numbers over the phone; no more unpaid to-go orders from no-shows.
Keep scheduling, payroll, and the POS under one roof.
Why should you find a solution that combines these three functions? Fewer headaches for one, but by combining scheduling, payroll, and payments, you'll spend less time scrolling through spreadsheets and more time growing your business.
An integrated solution shares data, so if a server enters her tip on the POS, it syncs with the other programs. And since these are cloud-based systems, you can create schedules from anywhere. Staff members can view schedule updates from their phone in real time.
Assess how your operation runs now, what data you need to operate most effectively, and dig into the information about what's available in advance and you'll equip yourself to make the perfect POS purchase.
Learn more about how Heartland can help you upgrade your Point of Sale.