Articles
February 03, 2021
As Black History Month begins, industry celebrates MFHA's 25th anniversary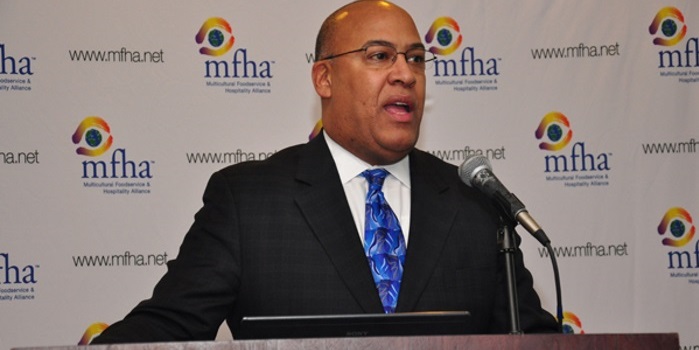 Fernandez said the MFHA is committed to making the
business case
for DEI, and explaining to companies why diversity is so important.
America celebrates Black History Month each year in February. It honors the contributions of African-Americans who've helped shape and change the country and its businesses.
The celebration is even more significant this year because the Multicultural Foodservice & Hospitality Alliance is also preparing to mark its 25th anniversary. Co-founded by current President Gerry Fernandez during a Women's Foodservice Forum meeting in 1996, the MFHA, works to promote diversity, inclusion, and career opportunities for minorities in the foodservice industry. The organization became a National Restaurant Association affiliate in 2018, part of MFHA's effort to grow its outreach and message promoting equity in business.
Today, MFHA continues making inroads; the latest is Pathways to Black Franchise Ownership, a new program in partnership with PepsiCo and 4thMVMT that aims to increase opportunities for Black restaurateurs to own and operate their own franchised stores.
Fernandez recently moderated a webinar on MFHA's beginnings. He and founding members Catalina Ganis of industry recruitment firm the Elliot Group, NBCUniversal Media's Salvador Mendoza, and now-retired McDonald's HR exec Pat Harris, shared their memories of the organization's beginnings. University of Maryland professor Ernest Boger and former Denny's executive Magaly Penn, also founding members, expressed their joy over MFHA's success. The Jan. 27 webinar was the first in a series celebrating the 25th anniversary.
"For those of you who weren't with us in that room at the Chicago Park Hyatt hotel in September 1996, we conceived this organization with these basic tenets: to expand people's awareness of diversity, and show the economic opportunity that diversity, equity and inclusion, and minority business development could create," Fernandez said. "We also wanted to convince communities of color that the industry was a good place to grow a career, a place where success could happen."
Harris recalled that during that eventful WFF conference, she and two of the other founders agreed there was a need for something more that focused on people of color. And, they recognized Fernandez's sense of urgency, passion and energy to build it.
"We all went back to our companies, spoke with the leadership, and told them we wanted to support this organization and get things started," she said.
Ganis added, "It's 25 years later and we're celebrating—largely because of Gerry's assertiveness and ability to influence all of us to follow him."
With its roundtable training sessions, the Pathways to Black Franchise Ownership program, the Seat at the Table podcast, and a revamped Showcase of the Stars initiative, which explains to students the benefits of building careers in the hospitality industry, MFHA still sets the course for success for minorities eyeing executive-level positions, and for the restaurant and hospitality industry's growth. Fernandez also noted that once the pandemic ends, he plans to introduce more DEI training to the supply chain side of the business.
"After this pandemic, there's an opportunity for us to build on all of this," he said. "There is increased energy and commitment to do things for people of color. We need to make sure that people and companies are aligned for success.
"We've got to keep on making the business case for DEI, explain to companies why it's so important. At the same time, we also must have patience with people struggling to understand what they need to do, and why it's a long-term commitment. Things are a lot different now than they were a year ago."
Learn more about the Multicultural Foodservice & Hospitality Alliance