Articles
December 10, 2021
HR execs talk hiring in a pandemic, and next year
Extreme competition for employees and higher wages are just a few of the challenges restaurants are facing.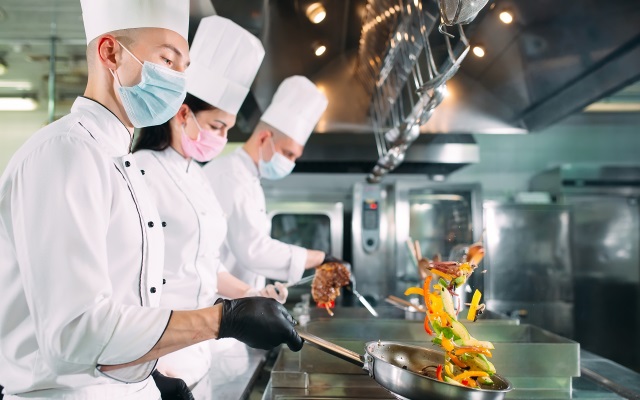 Some restaurant businesses have had to increase the hourly rate of non-tipped positions, such as line cooks, because competition for those employees is so fierce.
If you're hiring employees for a restaurant somewhere in the U.S., chances are you won't see anything predictable when it comes to filling your open positions.

Shelby Rojas, HR director for Rusty Bucket Restaurant & Tavern, a Cameron Mitchell restaurant concept in Columbus, Ohio, says the unpredictability of when people are applying, and even who is applying, are some of the most challenging aspects of today's hiring landscape. The pandemic, she says, has changed everything.

As customers return to dine at the restaurants they love, and others continue to order for off-premises, businesses are challenged with not only increasing current work staff, but also replacing employees they lost as a result of COVID-19 attrition. Some lost their jobs and didn't return, others left for different opportunities, and still more were forced to quit to avoid exposure to the virus or care for kids being schooled at home.

"We're so systematic in the way we run our restaurants, that the current unpredictability in this hiring environment is extremely challenging," she says. "Before the pandemic, we would hire college students during the spring/summer season and some stay-at-home moms looking for work when their kids returned to school in the fall. This year, there wasn't an influx of applications at all. It's been a very slow flow."

For Rojas, hiring front-of-house employees, like bartenders and hosts, has been difficult, but other HR executives say back-of-the-house workers are toughest to find.
Hourly rates rise as competition increases
Jen McGonigle, director of people and talent development for PJW Restaurant Group in Westmont, N.J., says her company, like many other restaurant businesses, has had to increase the hourly rate of non-tipped positions, such as line cooks, because competition for those employees is so fierce. The current starting rate for line cooks in her region of the country is about $15 an hour, but experienced workers are asking for—and getting—more than $20 an hour in some cases.

"It depends on the geography—we're outside of Philadelphia—and the competition there is really crazy," she says. "Most of our stores are paying at least $15 an hour; many are at $16 or $18 for experienced employees, and it can go up to $20 or more an hour.

"They know they can get whatever they want in this competitive market right now," she continues. "They'll tell us they can get $19 an hour from one of our competitors, and if we won't pay that rate they'll go to someone who will. They'll start working for you, but keep their ears to the ground, and jump somewhere else where they can get that extra dollar an hour. That's what we're dealing with…competition constantly taking candidates away."
Survey offers some answers to hiring questions
Restaurant owners and operators in Ohio, responding to the Ohio Restaurant Association's most recent Business Impact Poll (Nov. 28-Dec. 1), indicated higher wages, return-to-work incentives and more stringent enforcement of search-for-work requirements (to collect unemployment benefits), could increase the number of job applications in the pipeline.
66% would like to see more enforcement of search-for-work requirements
42% say they'll increase wages
39% want return-to-work incentives funded by the American Rescue Plan
28% think retention bonuses are a good solution
26% think marketing the industry as a career could help
20% want immigration reform
20% said hiring bonuses could help
17% are interested in workforce development for justice-involved individuals
14% would like to see more emphasis on culture and opportunities
John Barker, ORA's president and CEO, says his members are cautiously optimistic about business in 2022, despite the many challenges they continue to face.

"We're watching the COVID-19 variants because they could impact consumer confidence," he says. "Supply chain disruption and soaring inflation are concerns, and the employee shortage remains a crisis, but our operators are smartly focused on their culture, total rewards and career development as they encourage employees to return to working in restaurants and recruit new people. The goal is to be prepared for a major rebound as the pandemic eases."
5 hiring tips from Pizza Lucé
Nichole Parsch, HR director for Minneapolis-based Pizza Lucé and a member of our Expert Exchange HR/Risk committee, says her company is anticipating a better 2022, but is prepared for the tough staffing situation to continue a little while longer. She shared some tips used to attract candidates:

1. Write up job posts that are edgy, use attractive words and graphics, and catch people's attention.

2. Streamline your recruitment efforts so the HR department can quickly manage the application process and not lose any prospective candidates.

3. Send out hiring flyers and a list of addresses with delivery drivers so they can drop them off.

4. Offer referral and sign-on bonuses upon hiring the new employee.

5. Offer appreciation bonuses and extra pay to keep current employees working and happy

"We were using pretty bland words in our job description," she says. "We made it more personalized, explained what we can offer the applicant, and put the focus on them. We're also showcasing our benefits—we have great ones. It's a work in progress, so collaborate with your marketing and HR teams on this."

McGonigle, who serves as chair of the Association's HR/Risk committee, also thinks things will improve next year. Her company is already seeing some stability.

"Management turnover is starting to normalize," she says. "I think people are starting to feel more confident and excited about the future, that we're moving out of this, but it's gradual. We're doing more team building, and trying to get people back into a positive thought process. Our senior leadership is focused on what we can do to get our employees—current and future—into that frame of mind, support them, and make sure they know we're here to support them."