How tech helps restaurants prep for the future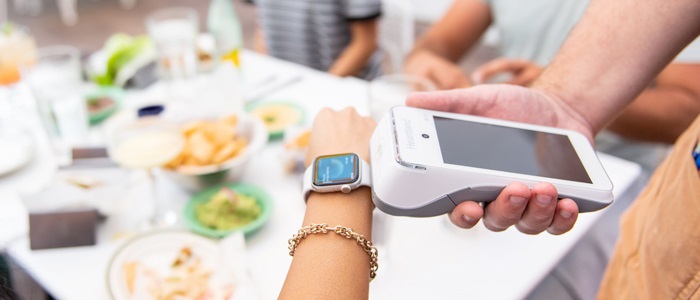 These days, customers can pay using their mobile phones and other electronic devices, using apps like Apple Pay or Google Wallet.
Consumers' preferences have shifted in a big way—and quickly. Restaurants have had to rethink the way they do business, implementing tactics to reach customers off-premises, and create a pandemic-safe dining experience, all of which can be facilitated by advanced restaurant technology.
With the need for more digital engagement, operators have accelerated their dependence on restaurant tech, upgrading systems for online ordering and contactless payment options, delivery tracking, and to stay visible through offers and promotions.
Many of these accelerated tech adoptions are here to stay. Born of the digital shift necessitated by the pandemic, these technologies are quickly establishing themselves as transaction norms not only for the way they mitigate risk, but for their operational efficiency and the way they enhance transaction speed and quality.
Innovation through digital advancements
As restaurants begin to reopen for traditional service in communities across the U.S., they face strong headwinds. Consumers convey that the chance to return to on-premises dining gives them a sense of normalcy. Yet when they do arrive, they'll be much more attuned to the restaurants' handling of service, transactions, and overall cleanliness. People will need to feel a restaurant environment is safe.
Technology can help build trust and loyalty through safe commerce in seven key ways.
Digital ordering. Digital systems allow for mobile and online ordering from anywhere. Customers can create an order, reserve a table and pay for the service from mobile apps and devices. For pickup and delivery, it minimizes interactions between restaurant staff and delivery-service drivers.
Touchless payments integration. Operators can take advantage of QR codes on digital menu boards in the drive-thru or printed on receipts in the restaurant. From there, customers can pay using their mobile phone, using such apps as Apple Pay or Google Wallet.
Digitally powered inventory. Digital systems allow operators to modify menus with a click or a tap—even for brands with multiple locations. Any alterations to pricing or menu selections update instantly on digital ordering interfaces or on the POS screen.
Agility in the cloud. Cloud-based platforms streamline a variety of tasks, including food ordering, digital menus, drive-thru operations, and kitchen management. They also help with customer intelligence and managing the operation's social media reputation by centralizing reporting and analytics to gain deeper insights into customer behavior. With these tools and insights at their disposal, owners and managers can quickly react to fulfill customer expectations.
Guest-list management. Digital POS systems make it easy for restaurants to manage a waitlist and tables. Customers can receive texts when their table is ready and place their orders while waiting.
UV-C light cleaning. Operators can equip POS devices and kiosks with ultraviolet light to kill or inactivate 99% of microorganisms. The technology can retrofit onto existing hardware and even has the ability to monitor surfaces to track when they're cleaned.
Low-contact server tip management. Cloud-based tip processing lets employees receive credit-card tips on a prepaid card, reducing cash handling. By integrating tipping software with restaurant POS systems, managers can allocate tips to multiple employees to pay tip-outs digitally after each shift.
The realities of the past year have already shifted consumers' digital expectations. Moving forward, it's likely technology will play an even bigger role in the industry than it already has.